Louie Gohmert, GOP Rep Who Led Election Lawsuit Against Pence, Accuses Pelosi of Impeachable Comments
In his defense of President Donald Trump, Representative Louie Gohmert turned attention to past comments Speaker of the House Nancy Pelosi has made to back up his point that Trump's words on January 6 don't constitute an impeachable offense.
On Wednesday, legislators began debate over whether to impeach Trump for "inciting an insurrection," in part because of his rhetoric at a rally before a mob breached Capitol security. Democrats already have the votes necessary to impeach the president, but removing Trump from office will require Republican support and the debate gave legislators time to vocalize their opinions.
Gohmert has no intention of voting to impeach the president and used his time at the microphone to throw Pelosi's own words back at her. The Texas Republican pointed to a comment Pelosi made in 2018, when she wondered why there weren't "uprisings all over the county" over migrant children being separated from their parents and an August MSNBC interview when she called allies of the president "enemies of the state."
"From our side, we didn't take those to be impeachable because we didn't believe she surely meant that but by the Democrats taking this action, you're telling me, 'No when we say those things we mean to incite violence,'" Gohmert said.
Newsweek reached out to Speaker Pelosi for comment but did not receive a response in time for publication.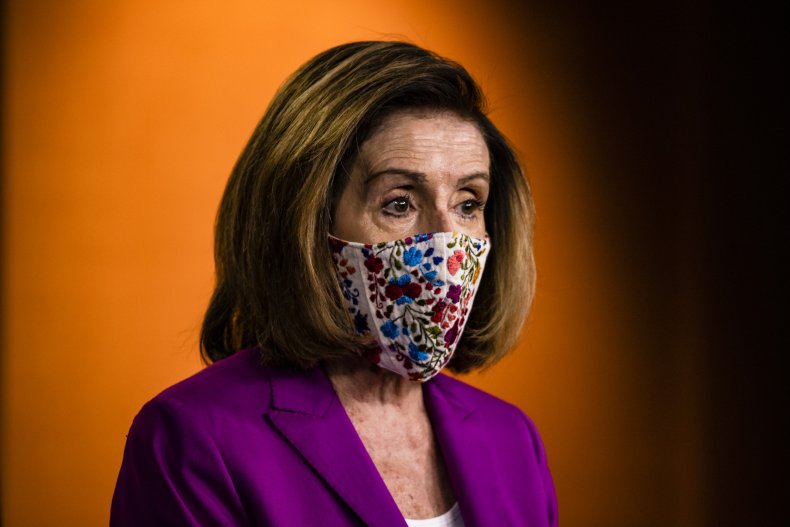 He wasn't alone in criticizing Democrats for their rhetoric. At least two other legislators, Representatives Lauren Boebert and Matt Gaetz, took issue with comments Democrats made in the past. Gaetz, who faced calls to resign after the riot, targeted Pelosi for tearing Trump's State of the Union speech in half last year and said "words don't matter when they're uttered by Democrats."
In December, Gohmert filed a lawsuit against Vice President Mike Pence, alleging that any action he was to take on January 6, the day Congress certified the Electoral College results, would be fraudulent. A Trump-appointed judge in Texas rejected the suit on January 1 and the 5th Circuit Court of Appeals also dismissed it.
The rejections didn't deter Gohmert and on January 6, he asked the Supreme Court to rule on his case. His appeal came moments before Pence called the joint session to order and the case sought to give Pence the ability to effectively change the results. On Thursday, the Supreme court also rejected Gohmert's case, writing in a single sentence, "the application for interim relief presented to Justice Alito and by him referred to the court is denied."
Ahead of the joint session, Pence pushed back on calls from the president and others to insert himself in the proceedings beyond his largely ceremonial role. In a statement, he said his review of the Constitution guided him to allow objections to be heard, but to also not take on the role of choosing the next president. Shortly after, the House and Senate went into a sudden recess as a mob breached Capitol security.
Trump's faced harsh criticism, even from some members of his own party, for riling up the crowd with claims that the election that was stolen from him and encouraging them to walk down to the Capitol and "cheer on" Senators.
"We're going to the Capitol and ... we're going to try and give our Republicans, the weak ones, because the strong ones don't need any of our help, we're going to try and give them the kind of pride and boldness that they need to take back our country," Trump said.
Democrats introduced an article of impeachment on Monday, specifically citing Trump's comments on January 6. Gohmert criticized them for bypassing an investigation and going "straight to the floor."
"This is so dangerous what you're doing," Gohmert said. "You're using this as a weapon and you're destroying this little experiment in self-government."