Louie Gohmert Says He Was Fined $5,000 Under Nancy Pelosi's Rules After Going to the House Bathroom
Texas Republican Representative Louie Gohmert said Friday he had been fined $5,000 for violating the House of Representatives' new rule on metal detectors after ducking into the restroom.
Metal detectors were installed in the House in the aftermath of a riot at the Capitol in January. Supporters of former President Donald Trump breached the Capitol building, forcing some lawmakers to go into hiding. House Speaker Nancy Pelosi spearheaded the rule change.
On Tuesday, she announced that members who did not submit to being scanned by metal detectors would be subject to a fine. Gohmert said Friday he was surprised to learn that he had been fined.
According to Gohmert, Capitol police had never scanned him as he walked from the restroom to the House floor entrance.
"I said they had witnessed me walk the few feet to the men's room, enter and take the few steps back," Gohmert wrote. "No one ever mentioned or made that a requirement until yesterday."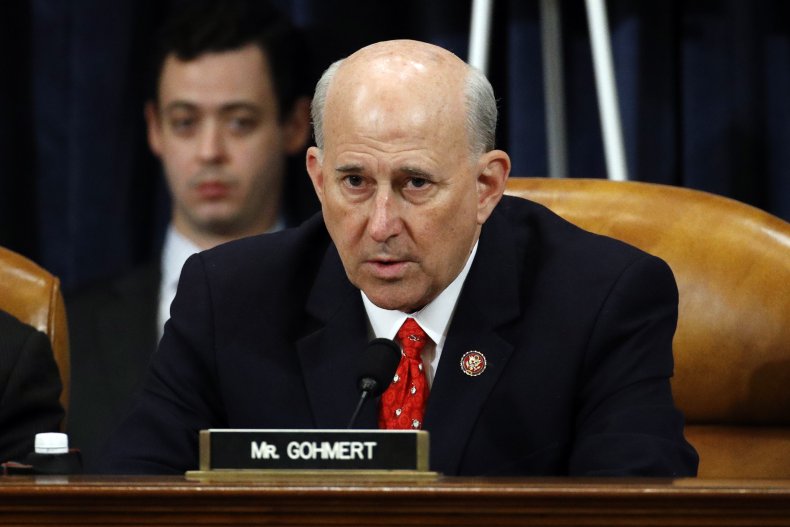 "Since I had been complying with the metal detector requirement despite the Constitutional issue, I was surprised to receive a notice today stating that I had not complied with their policy and that I would be fined $5,000," Gohmert continued. "I will be appealing the fine and taking whatever action is necessary, especially considering this policy is unconstitutional."
Gohmert alleged that the new House rule was part of a Democratic scheme to "demonize and punish their political opponents."
Newsweek reached out to Pelosi's office for comment.
Pelosi said Tuesday that the metal detectors were installed because some House members were attempting to avoid being scanned and had even attempted to bring weapons on to the House floor.
"It is beyond comprehension why any Member would refuse to adhere to these simple, commonsense steps to keep this body safe," Pelosi said in a statement. "It is sad that we have been forced to move forward with a rule change imposing fines on those who refuse to abide by these protections, but the People's House must and will be safe, so that we can honor our responsibility to do the People's work."
Colorado Representative Lauren Boebert, a fierce gun rights advocate, said in January that metal detectors would have done no good during the riot. Boebert posted an advertisement in January in which she said she would carry her Glock firearm to Congress.
"I am legally permitted to carry my firearm in Washington, D.C. and within the Capitol complex," Boebert tweeted. "Metal detectors outside of the House would not have stopped the violence we saw last week—it's just another political stunt by Speaker Pelosi."