Email Records Show Louisiana Police Used N-Word, Expressed Racist Sympathies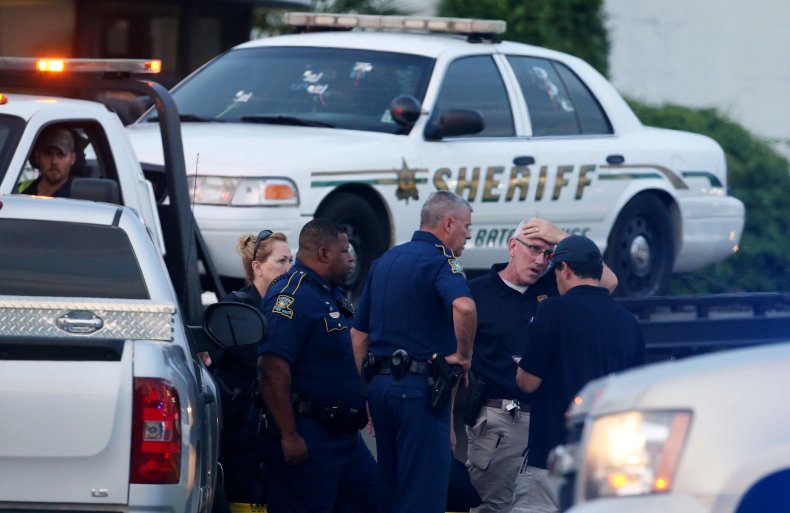 A public records request has revealed 10 pages of emails in which Baton Rouge, Louisiana police officers used racist language, including the n-word, to describe constituents and their colleagues.
The records, made public Tuesday by the office of New Orleans attorney William Most, who filed the records request in conjunction with Harvard Law School, revealed two instances in which officers used the unprintable epithet back in 2014 and 2015.
In the first exchange, dated August 15, 2014, and redacted by the Baton Rouge Parish public records office, a Baton Rouge officer, denoted by a brgov.com email address, sent an email to a Louisiana National Guard employee expressing frustration over what sounds like a professional setback. The two-sentence email concludes "F*cking [n-word]"
Newsweek subscription offers >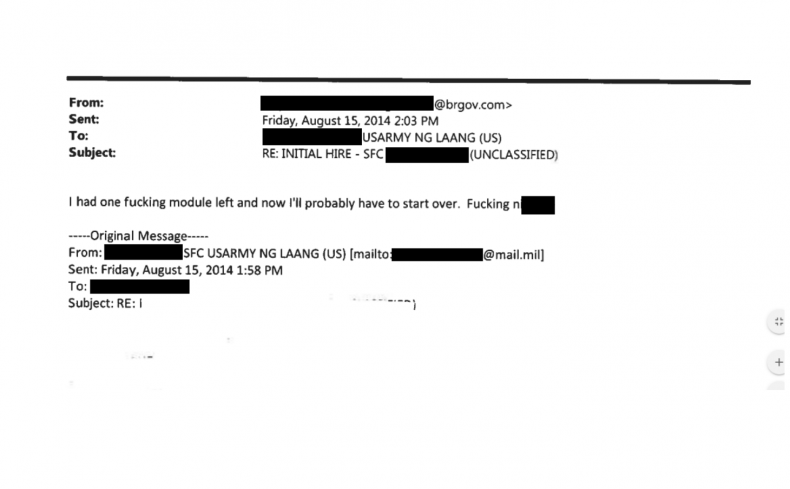 In 2015, the sentiment was similar. A Baton Rouge officer was on the receiving end of multiple profanity-laced emails sent by an individual Most's office says is a law enforcement officer at another agency. The first email began "They wonder why their (sic) called [N-word]s !!!" A follow-up email ended with the sentence: "My blood is boiling but I will kill them with kindness no [n-word] will ever bring me down.. Lol sorry it's just they have Nothibg (sic) better to do !!" To which the officer replied sympathetically, "Sorry about that boo."
In a phone conversation with Newsweek, Baton Rouge Police Sergeant L'Jean McKneely emphasized that the n-word was only used once by a Baton Rouge officer between the two exchanges.
After Most alerted Baton Rouge Police Chief Murphy Paul to the archived messages in July, the department took action, McKneely said, "They found some situations in which the n-word was used. After we found out we did an internal investigation on it. The officer received a slight disciplinary action."
Newsweek subscription offers >
Asked what the disciplinary action entailed, McKneely described it as "like a conference worksheet." The officers involved were also asked to attend a "voluntary but highly suggested" training.
The training, "Disrupting Dehumanization" was led by Dr. Rhonda Bryant of the non-profit Forward Promise and organized by Baton Rouge non-profit Metromorphosis. Neither Dr. Bryant nor Metromorphosis Director Raymond Jetson were informed that two of the police officers participating in the event had already been caught up in racist exchanges.
"I have lived in Baton Rouge most of my life," Jetson told Newsweek, "so to learn that someone who works for the police department uses the N-word does not come as a great surprise to me."
The Baton Rouge Police Department has previously found itself on the wrong side of history on more than one occasion. In 1961, the United States Supreme Court ruled against the department in the civil rights case Cox vs. Louisiana. Following Hurricane Katrina 2005, police troopers from Michigan and New Mexico deployed to Louisiana refused to work with Baton Rouge officers after just three days, after witnessing local police "actions that were an affront to their sense of dignity and respect."
In 2016, a Baton Rouge police officer shot and killed Alton Sterling, a father of five who was selling DVDs in front of a convenience store. Most currently has two lawsuits pending against the city of Baton Rouge for police actions against demonstrators who protested after the shooting. The officer who killed Sterling was later fired and Chief Paul issued a formal apology to Sterling's family.
Most declined to comment on whether the findings of his office's records request would lead to new action against the city, but revealed to Newsweek that more shaming emails might be on the way: "BRPD is not the only Louisiana law enforcement agency we have sent public records requests to, nor the only one where we have found officers using slurs."
In the meantime, Thomas Frampton, a lecturer at Harvard Law School, wrote in a press release: "The East Baton Rouge District Attorney should have a plan in place to notify criminal defendants and their attorneys. These sorts of emails call into question the credibility of the cases these officers have worked on."
Email Records Show Louisiana Police Used N-Word, Expressed Racist Sympathies | U.S.