Louisiana Governor Begins Three Days of Fasting and Prayer for State During Coronavirus Spike
Louisiana Governor John Bel Edwards will begin three days of lunch-hour fasts and prayers on Monday in response to the state's spike in coronavirus cases. Acting on requests from Louisiana's faith leaders, Edwards announced the initiative during a press conference last week and encouraged all residents to participate.
The governor shared a reminder on Twitter Monday morning and reiterated calls for statewide involvement.
"Starting today, I am beginning three days of fasting and prayer for our state through July 22. The people of Louisiana need our prayers right now," Edwards tweeted. "If you are inclined, please join me, @FirstLadyofLA and faith leaders from across Louisiana in prayerful reflection and fasting on these three days. I encourage and welcome people of all faiths and denominations to participate."
Edwards said he believes "in the power of working together and being good neighbors to overcome COVID-19," in a subsequent message added to Monday's social media thread. The governor initially called for lunchtime fasts and prayers during a conference last Thursday to discuss updates related to the novel coronavirus' impact in Louisiana.
"I know it's a little bit unusual, but I think it's something [that's] important, at least for me and those people on the call and many other Louisianans," Edwards said, referring to an earlier phone call with faith leaders. "This will be the spiritual diet and exercise that I, as a Catholic Christian, believe is very important, anyway."
He said prayers for Louisiana's health will particularly acknowledge those residents who are ill from COVID-19, those caring for them and those who have lost loved ones to the respiratory infection caused by the virus.
Newsweek reached out to Edwards' office for additional comments but did not receive a reply in time for publication.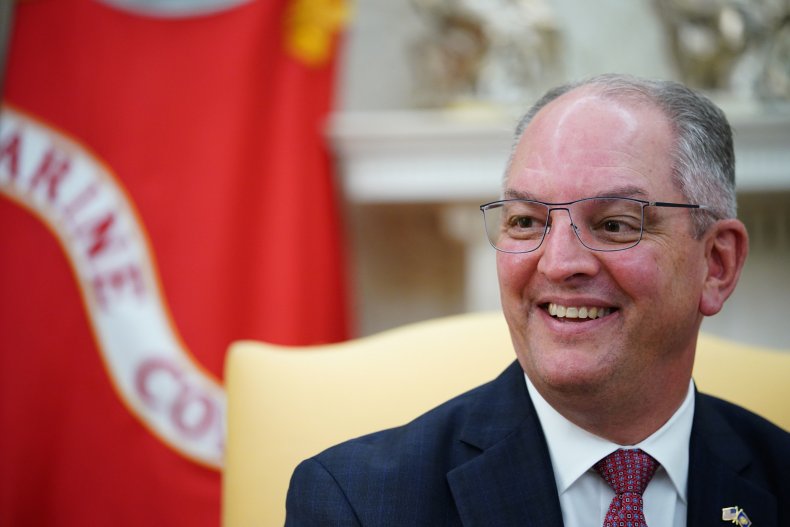 Edwards' push for collective action follows weeks of increasing virus diagnoses, hospitalizations and deaths reported across Louisiana. Data published by the Louisiana Department of Health confirms the upward the trend. A graph charting daily case figures shows a sharp uptick in numbers beginning in early June and continuing through July.
Louisiana has set and surpassed several record daily increases in confirmed virus infections since the start of its summer spike. The state health department reported more than 91,700 overall cases and 3,400 related fatalities as of Sunday, July 19. At the time, Louisiana hospitals recorded close to 1,500 patients admitted for medical problems caused by the virus, with 177 of them requiring ventilators.
On July 11, Edwards passed a statewide face mask mandate, temporarily ordered bars to close and limited group gatherings to 50 people. The measures, enacted to curb further spread of the virus, became effective two days later.