In a press conference on Thursday, Louisiana's Democratic Governor John Bel Edwards called for three days of fasting and praying during lunchtime from July 20 to 22.
"I know it's a little bit unusual," Edwards said. "This will be a spiritual diet and exercise that I, as a Catholic Christian, believe is very important anyway."
He said the prayers are intended for the people of Louisiana, the sick, caretakers and the families of those who have passed on. The idea arose from a telephone conference he had last week with religious leaders from across the state of Louisiana—Edwards said he hosts such a call every three weeks.
Edwards invited all state residents to take part, regardless of their religious faith. Many religions—including the Christian, Jewish and Muslim faiths—use prayer and fasting in rituals that emphasize community observance.
During the press conference, Edwards reported that the state has reported 24 new deaths, bringing its total COVID-19 death toll to 3,375; and currently has 1,400 hospitalizations, more than double the total state amount at mid-May.
His press conference occurred on the fourth day of the new mask mandate and closure of bars, an executive order signed by the governor which went into effect on Monday.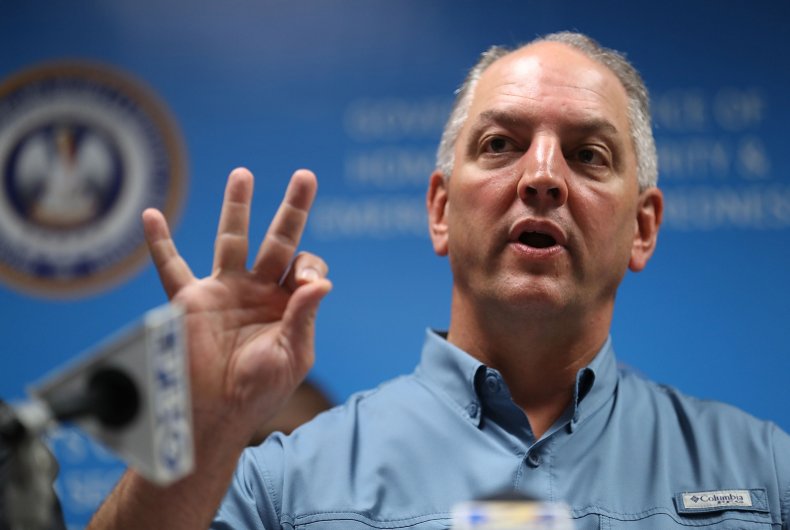 Edwards' bar shutdown allows bars that sell food or drinks to-go to remain open. However, the order limits indoor gatherings to 50 people, and requires social distancing at outdoor events. Those violating the mandate can receive citations and fines for trespassing, although Edwards said their issuance wouldn't be a first response.
He also said that while the mask order applies to churches, he has no intention of issuing citations to pastors.
Edwards signed the executive order to try and decrease a dramatic resurgence of COVID-19 cases. While the state's initial surge of confirmed coronavirus cases began decreasing on April 9, reaching around 200 or 400 new cases a day, the numbers began increasing again on June 12.
Since June 30, the state has reported anywhere from 1,000 to over 2,000 new cases each day. As of July 16, the state ranks 12th among states with the highest number of overall COVID-19 cases.
"We can turn this around again," Edwards said in his Thursday press briefing, adding his belief that face masks, limiting crowd-sizes and closing bars are essential to reducing infections.
While Edwards didn't specifically mention the state's plans to reopen schools, during public remarks made alongside the governor last Tuesday, Vice President Mike Pence urged state schools to reopen.
On June 14, Republican Louisiana Senator John Kennedy said that people who oppose schools' reopening for political purposes in the upcoming November elections "can kiss my a**," and that when it comes to those who in good faith believe that schools should be closed, he said, "I'm willing to have that debate. We can talk about how many, many other countries have done it safely."
While some school districts nationwide have planned to reopen in the fall, other districts, educators and teachers' unions have raised serious concerns about returning to classrooms during the ongoing pandemic.
Update (6/16/2020, 9:17 p.m.): This article has been updated to include additional comments from Kennedy.