Louisiana Governor John Bel Edwards Knew Real Story Behind Black Motorist's Death: Report
Text messages recently obtained by the Associated Press seem to show that Louisiana Governor John Bel Edwards was informed that Ronald Greene's 2019 death was not caused by a car crash, as police claimed in the following months, but that officers also engaged in a "violent, lengthy struggle" with Greene following a high-speed chase.
The new report from the AP contradicts two years of public comments from Edwards refusing to dispute the official story from police officers that Greene died from injuries sustained in a car crash after a chase in which authorities say he topped 100 miles per hour.
At 10 a.m. on May 10, 2019, about nine hours after the 49-year-old Greene's death, Edwards received a text message from then-Louisiana State Police Superintendent Kevin Reeves informing him of the incident, according to the AP.
The message read: "Good morning. An FYI, early this morning, troopers attempted to stop a vehicle in Ouachita Parish. The driver fled thru two parishes in excess of 110 mph, eventually crashing. Troopers attempted to place the driver under arrest. But, a violent, lengthy struggle took place. After some time struggling with the suspect, troopers were joined by a Union Parish deputy and were able to take the suspect into custody. EMS was summoned to assess the suspect's injuries. The suspect remained combative but became unresponsive shortly before EMS arrived. The suspect was later pronounced dead at the hospital. We are investigating the suspect's death."
A spokesperson for Edwards' office said that the text was standard in terms of notifying the governor of the incident, the AP reported. The text, though, contradicted the story that Greene's family says it was told asserting that he died on impact in the crash.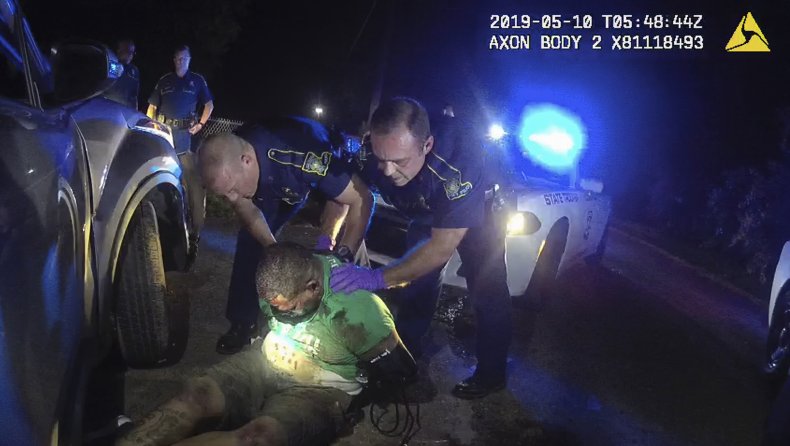 A coroner's report and the official State Police report repeat that story, with no mention of the troopers having to use force, which was later revealed by video obtained by the AP last year, months after Greene's family had filed a wrongful death lawsuit.
A second autopsy commissioned as part of the ongoing federal investigation into Greene's death contradicted the crash story by attributing his death to injuries he sustained at the hands of the officers as well as cocaine found in his system, the AP reported.
Following the release of the bodycam footage, Mona Hardin, Greene's mother, released a letter and made public comments accusing the state troopers of covering up the violence that caused her son's death.
That sentiment was echoed by other community activists and state lawmakers in Louisiana, who wanted answers from Edwards and law enforcement officials about who knew what really happened to Greene and when, and whether they said anything publicly that contradicted the real events, the Lafayette Daily Advertiser reported earlier this month.
"I already know there are people who participated in the coverup who haven't been held accountable; I just don't believe we've been able to definitively identify them yet," state Senator Katrina Jackson said, according to the Daily Advertiser. "It's frustrating, but I don't care how long it takes, we have to get to the truth."
An FBI investigation into Greene's death is ongoing and includes whether police officials obstructed justice or lied to protect the officers involved in his death, according to the AP.
Governor Edwards' office did not immediately respond to a request for comment from Newsweek.