Ronald Greene's Mother Calls Police Handling of Son's Death 'Organized Crime'
The mother of Ronald Greene, a Black man who died two years ago following an encounter with Louisiana State troopers, has accused police of covering up their responsibility for his death.
Mona Hardin's comments come following the release of more body camera footage capturing the circumstances of the violent and fatal arrest of Greene on May 10, 2019.
Police had initially said that Greene died from injuries after crashing his car into a tree following a high-speed chase near Monroe after he failed to pull over for an unspecified traffic violation.
But video made public this week showed Greene emerging from the car and then being tased, dragged face first, and choked. Authorities in Louisiana have released further videos of the car chase, Greene's arrest, and its aftermath.
Greene's daughter, Tayla Greene has filed a wrongful death lawsuit and his family is demanding justice for the officers involved.
In an interview with CNN on Friday, Hardin said she believed that the troopers "were planning to kill Ronnie way before the car was stopped. That was their goal and they succeeded."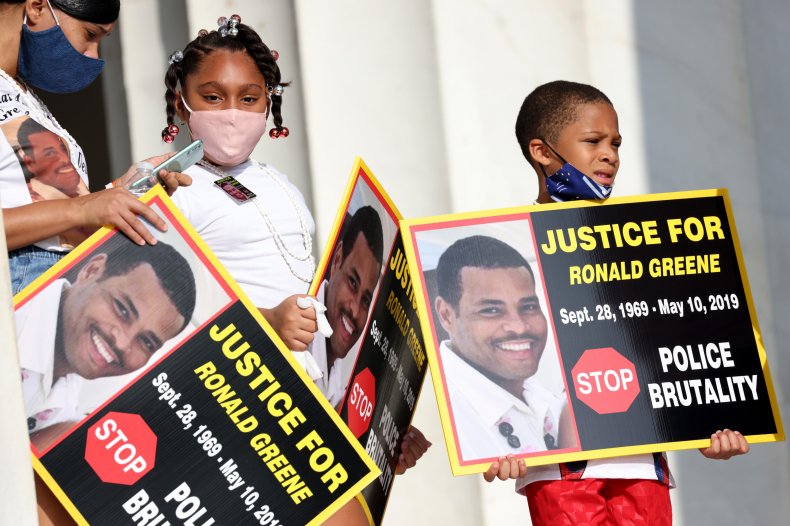 She said that the videos showed that "they took pleasure in torturing my son," and that it was behavior that the state of Louisiana had endorsed, "because these troopers for two years have not been dealt with."
"It's shameful for the state of Louisiana, and all those who run that state," she told host Anderson Cooper.
"We were told from the very beginning...this is going to be a long battle for you because the state troopers run the state of Louisiana, not the government, the state troopers."
Louisiana State Police had initially argued the troopers' use of force was justified and did not open an investigation until 474 days after Greene's death.
A probe is being undertaken by the FBI which is working with prosecutors with the Western District of Louisiana and the Civil Rights Division of the Department of Justice.
But Hardin said there had been "a coverup from the very beginning, from the top down," adding that it "it's organized crime within the state of Louisiana, especially Troop F."
David Thomas, a former police officer and now professor of forensic studies at Florida Gulf Coast University, described the arrest as "torture", telling NBC "there was no regard for humanity."
"As a Black man, I am torn between what I know a good cop should be and what this profession is doing to my community," he added.
In releasing the latest evidence, Louisiana State Police Superintendent Lamar A. Davis told a news conference: "This has been a tragic event. When we look at Mr. Greene's family and all that they're going through, what I don't want is for this to keep resurfacing and bringing up old wounds."
Meanwhile, Hardin said that she did believe she would get justice for her son. "My strength is my son," she said, "Ronnie will always be with us in spite of what they did to him and the horrific way he died."
"He loved people", she told Cooper, "I just hate the way... he was killed at the hands of people who hated the hell out of him."
Newsweek has contacted Louisiana State Police for comment