Louisiana Officer Shot Dead by Her Boyfriend in Their Driveway, Police Say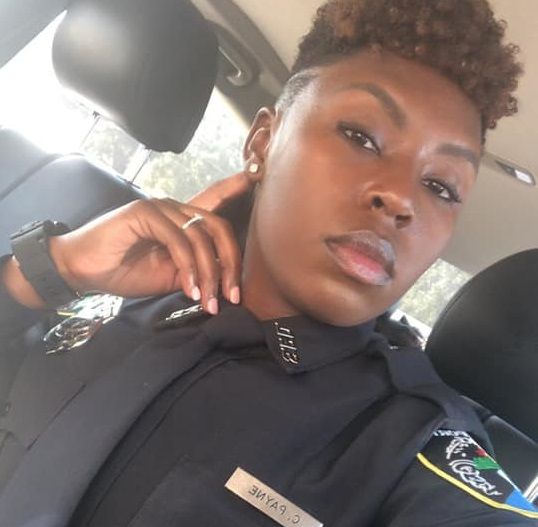 Three people have been arrested and charged on suspicion of the murder of a Louisiana police officer who was shot outside her home. One of the suspects is the victim's boyfriend.
Treveon Anderson, 26, has been arrested in connection with the killing of Shreveport Police officer Chatéri Payne, who was shot multiple times in her driveway as she was making her way to work on January 9.
Read more: Louisiana police officer in uniform about to start her shift shot
Police believe that Anderson, who has a 2-year-old child with Payne, is the person who fired at the officer. He has been charged with second-degree murder. Lawrence Pierre, 22, and Glenn Frierson, 38, were also charged in relation to the killing.
Shreveport Police Chief Ben Raymond announced the charges in a press conference along with officers, detectives and other law enforcement agents from several state and federal departments who have assisted in the investigation.
"We are still mourning the heinous murder of officer Payne, but thanks to these men and woman, we can have some peace in taking three evil cowards off of our streets so they cannot harm anyone else," Raymond said.
At around 8:19 p.m. on January 9, officers responded to reports of a female gunshot victim at an address in Midway Avenue in the Caddo Heights neighborhood of Shreveport.
Officers arrived at the scene to find Payne suffering from several gunshot wounds. She was taken to a local hospital, but died from her injuries a short while later.
Anderson claimed he was inside the home when he heard gunshots and then went outside and shot at a person wearing all black clothing, who then escaped.
Anderson was questioned and released by police following his statement in which he claimed to have seen the person who killed Payne. Evidence from the investigation soon led police to determine Anderson was a suspect and that he made-up the story about the unknown assailant.
Raymond said that Pierre and Frierson are accomplices in the killing, but did not say what they are accused of. According to police documents seen by WREG, Pierre admitted "being present during the murder and admitted his participation," and that Frierson accompanied him to the scene of the attack.
"We will never understand the evil that exists in this world," Raymond said during the press conference. "One of my favorite quotes is 'the only thing necessary for evil to triumph is for good men to do nothing.' Thank God for the men and woman who proudly wear a uniform every day."
Raymond said that Anderson and Payne's young child was inside the home at the time of the shooting, but he does not believe the child witnessed it.
When asked why only second-degree murder charges have been brought forward, Raymond said: "It is still an ongoing investigation. Just because we make arrests doesn't mean we are done at this point. And certainly, the District Attorney's Office, when reviewing the case, always has the option of amending charges."
In a statement paying tribute to the slain officer, Shreveport Mayor Adrian Perkins said: "As children, we look up to police officers. As we grow older, we too often take their sacrifices for granted. They are society's phalanx, the wall between us and those who have no respect for law and order. They form that wall with their life. We must never forget that."