Louisiana Students Taken to Transphobic Church Event Instead of Career Fair
Thousands of Louisiana students were allegedly forced to participate in a sexist and transphobic church event after being told they would be attending a "career fair" this week.
More than 2,100 high school seniors from the East Baton Rouge Parish School System attended an event dubbed the "Day of Hope" on Tuesday, according to local newspaper The Advocate. The event was sponsored by the Christian group 29:11 Mentoring Program and held at Living Faith Christian Center in northeast Baton Rouge.
While the event was billed as a "college and career fair," some students and parents later said that it was more focused on pushing religious indoctrination than providing any real career advice. The event allegedly featured sexist lessons taught after students were separated by gender, while transgender students were allegedly discriminated against and experienced bullying that those in charge allowed to take place.
Brittney Bryant, a teacher Woodlawn High School and the mother of a transgender student who attended the event, said on Facebook that she had been forced "to endure watching over 2,000 children's rights be violated" while acting as a chaperone at the "traumatic event."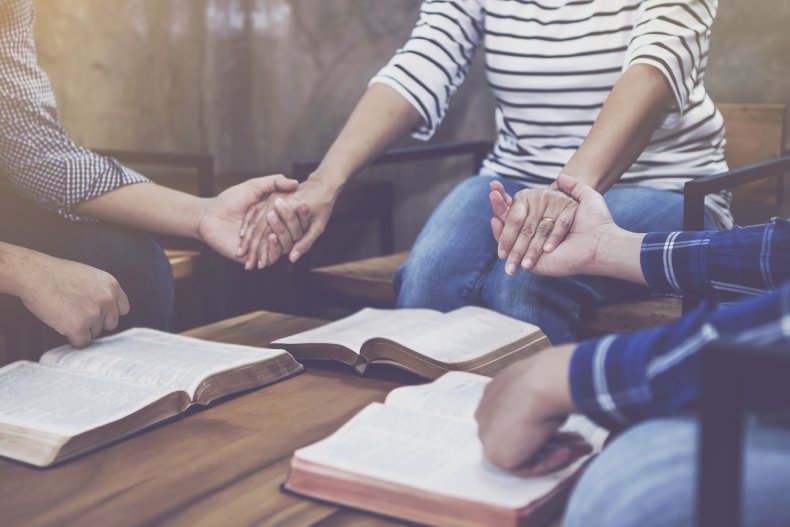 "Inside the church, boys were instructed to go outside while the girls were left in the church for 'girl talk,'" wrote Bryant. "My transgender child was discriminated against for walking out. I stayed and listened to the discussion. They talked about rape, forgiving the offender in life, suicide, prayer leadership, and many more dark controversial topics. We had females in the bathrooms crying due to the topics of discussion."
"Mean while the boys were left outside in the extreme heat," she continued. "The boys then were escorted in and the girls outside. The boys topic was titled 'real talk.' From the beginning no topics were discussed but began male chauvinistic competition for monetary reward for winners. Then proceeded to compete for push ups for more money. They were hyped up and egged on."
Bryant went on to say that she was "sad to hear from students that there were transgender students who were bullied," saying that "other students poured water on top of transgender students heads without any repercussions by any of the adults present."
In addition to alleged religious indoctrination, sexist lessons and transgender bullying, the event also allegedly forced some students to register to vote in order to receive food.
Bryant said that she was "appalled" by the event and pointed out that she personally would have been "put under leave until investigation completion" if she had ever dared to "mention anything about sexual orientation, religion, or political agendas in my classroom."
Alexis Budyach, a student, also denounced the event in a Facebook post, calling it a "horrible experience" that was deceptively "not advertised as a religious event, but rather a college fair."
"The majority of students chose to attend this field trip on the promise of free food and the opportunity to skip class," Budyach wrote on Tuesday. "The majority of students were not only disappointed by this event, but traumatized as well. I attended this college fair as someone who plans on applying to colleges soon, so I was disappointed once I saw what the event actually was."
The school district praised the event as an "amazing" opportunity for students to "address the issues they face and to provide them with motivation and guidance to empower their choices" in a Facebook post on Tuesday evening.
The post included comments from an anonymous student and an anonymous parent who also praised the event, although most of the comments on the post were far from complimentary.
"DAY OF HOPE? More like day of trauma," commented parent Bonnie Kersch. "You prayed over my child, told her that she should remain abstinent, talked to her about suicide, and told her that if she's being abused in a domestic violence situation that she should forgive her abuser even if he's not sorry."
"Then, she was forced to register to vote and given a slice of pizza in exchange for doing so, which is highly illegal. I signed a permission slip for a College and Career Day," she continued. "What I got was indoctrination and trauma."
Letrece Griffin, chief of Communications and Family Engagement for the East Baton Rouge Parish School System, defended the event in a statement issued Wednesday. The allegations of religious indoctrination, transphobia and sexism were not addressed.
"By providing entertaining activities with an educational focus, this event was an elevation of a traditional college and career fair," Griffin said. "We look forward to seeing what our over 2,100 student participants will continue to achieve with the resources and knowledge gained from this event."
East Baton Rouge Parish School Board Vice President Dawn Chanet Collins said in comments made to ABC affiliate WBRZ on Wednesday that the religious nature of the event may have made it unconstitutional for the school to sponsor.
"There is a separation of church and state, and it seems like those lines may have been crossed," said Collins.
Newsweek reached out to the East Baton Rouge Parish School System for comment.