Teacher Under Investigation for Handing 'Transphobic' Note, DVD to Students
A high school teacher is being met with vitriol from some parents and students because of a note he allegedly wrote pertaining to gender identity.
Jeff Danielsen, superintendent of the Watertown School District in Watertown, South Dakota, confirmed to Newsweek that "a faculty member handed a letter to four students in our high school."
"In this letter, the faculty member attempted to open a conversation about the students' gender identity," the district's statement reads. "The Watertown School District does not support this sort of action, and we respect the rights of our students to be who they are.
"We strongly condemn any discrimination based upon sexual orientation or sexual identity. We want to provide a safe learning environment for all students. We are currently investigating the situation to determine an appropriate outcome."
The faculty member is reportedly Calvin Hillesland, a German teacher at Watertown High School.
When asked by Newsweek if Hillesland would receive any disciplinary action for the letter in question, Danielsen said, "At this point, anything related to the staff member is considered [personal], and therefore I cannot speak to that."
Hillesland's letter allegedly discussed gender identity and said it would be "wrong" and "a lie" to call students by their requested masculine names.
An alleged copy of the letter was posted on Twitter by Lee Bruns, who claimed to be from South Dakota and describes himself as a father in his biography.
The one-page letter leads with a message of "trust," "respect" and "support" for his students, mentioning how he would warn them if a rattlesnake presented a danger on their path.
He then goes on to say that "feelings are like a mirage" and "not an accurate reflection of reality." After asking what the real truth is, he answers his own question.
"Biologically, every cell in your body is female–feminine," he writes. "That's the biological truth. The same is true for your friends. And it's the truth that I want to encourage you to pursue. That's what a good teacher does, right?"
Prior to concluding the note with a German goodbye, Hillesland mentions a DVD that "will explain everything more clearly than I can – the spiritual as well as the scientific facts."
Bruns, in a Twitter comment, claimed that the letter was handed to several students while they were in school – as well as emailed to some students via the school's communication network.
"The principal did not know that the teacher had planned to do this and only found out AFTER it happened," Bruns tweeted. "I'll give them the benefit of the doubt, for now."
While the district never responded to an inquiry from Newsweek regarding the context of the DVD mentioned in Hillesland's letter, Bruns alleged that "copies of it are being prepared by a third party to share with concerned adults."
Newsweek reached out to Bruns for comment.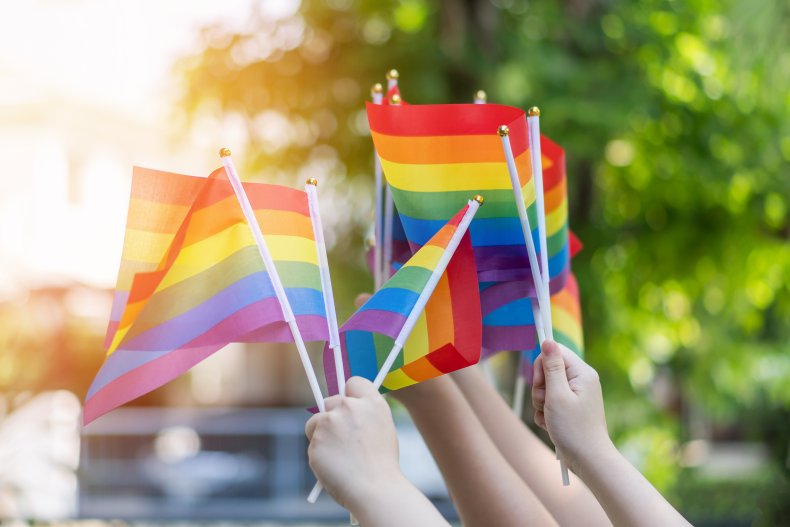 Amy Rambow, a parent of a 17-year-old Watertown High junior, told Newsweek the letter reads as both very religious and "transphobic." While her child did not receive the letter, two of the students who did were at her home Tuesday evening.
"I was floored," Rambow said. "My jaw hit the floor. Then I was angry and very sad for the kids. ... It was a premeditated attack on these kids."
Rambow actually had Hillesland as an English teacher during the 1996-97 school year, calling him an educator she "really liked." She never personally had any odd encounters with him.
Ashley Bakke, mother of transgender Watertown student Alex Bryant, told the Watertown Public Opinion that after she found out about the letter, she immediately informed counselors and the high school principal Brad Brandsrud.
She reportedly said it was akin dealing with a politician.
"(Brandsrud) was dancing around the issue and would rationalize it as generational and religious," said Bakke, who plans to immediately pull her child from the school district altogether. "I don't feel like anything was addressed. It sounded like he was defending a friend."
Rambow is the president and founder of the nonprofit LGBTQ+ group Watertown Love, which she said started in 2019 after a child committed suicide. It is described as "a safe space for all" LGBTQ+ youth, adults and allies.
She said Hillesland is actually intending to retire at the end of this current school year, but she would like to see his teaching career "ended now." She would also like to see the administration require some sort of mandatory training in LGBTQ+ youth issues.
"These kids need to have trust in the adults that are around them, and for a lot of kids that was just completely shattered by what some people see is a simple letter," she said. "But it means more than what was on that single piece of paper."
Newsweek reached out to Hillesland and the Watertown School Board of Education for comment.