BYU Student Flashes Rainbow Gown at Graduation to Protest Anti-Gay Rules
A woman went viral after flashing a rainbow gown during her graduation from Brigham Young University, a private university in Utah known for its strict honor code prohibiting students from being in a homosexual relationship.
Jillian Orr posted a TikTok of her putting together the gown and wearing it to graduation where it received more than 2.7 million views and 5,700 comments since Sunday.
"At BYU it's against the honor code to be in a homosexual relationship," the on-screen text read as Orr used a sewing machine to stitch a rainbow pride flag inside her graduation gown.
"If you are discovered to be dating or just holding hands there are severe consequences," the on-screen text continued. "They threaten to take away your degree and kick you out of the university."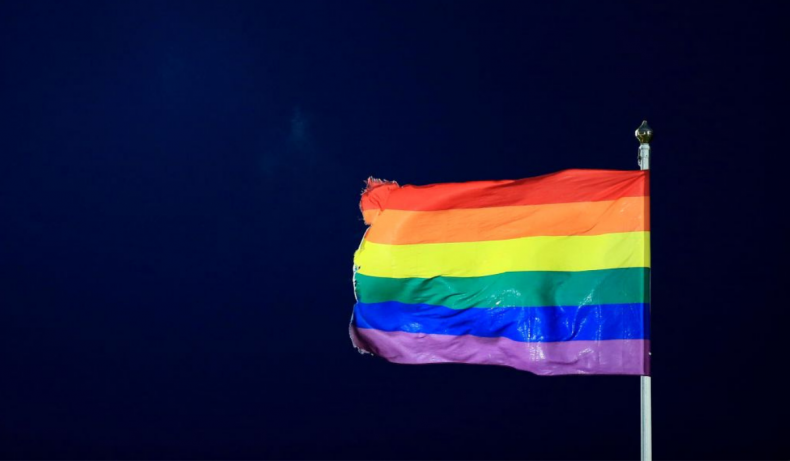 BYU, located in Provo, Utah, is sponsored by The Church of Jesus Christ of Latter-day Saints.
Students who attend must follow the university's honor code, which includes abstaining from "alcoholic beverages, tobacco, tea, coffee, vaping, and substance abuse" as well as living a "chaste and virtuous life, including abstaining from any sexual relations outside a marriage between a man and a woman."
An estimated 7.1 percent of American adults self-identify as lesbian, gay, bisexual, transgender, or non-heterosexual, according to data collected by Gallup. Nearly one in six Generation Z—born 1997 through 2012—adults identify as bisexual.
In the video, Orr tried on her homemade graduation gown which looked normal on the outside but was lined with a pride flag on the inside.
"Students are afraid to be who they are. So they hide out of fear until they get out," she explained. "I will not hide. I will be seen."
The TikTok then cut to Orr wearing her navy blue graduation dress and standing in front of the BYU sign while flashing the pride flag inside her gown.
During the ceremony, Orr went on stage to receive her diploma and opened her gown to reveal the flag while on the jumbotron.
Orr also shared photos of her in her graduation gown on Facebook after the ceremony on April 22.
"Today I showed BYU my true colors. While making my way through the crowd after the ceremony another graduate stopped me and she said 'my girlfriend saw you on live tv and was so proud of you! I had to meet you, thank you for doing this!'" she wrote in the post. "It's hard being gay at BYU...Today I took a chance and sent a message to other students - you can make it too! Be authentic, brave, and unapologetically you!"
Nearly 6,000 users commented on Orr's video, many supporting her but others questioning why she stayed at BYU for four years.
"I didn't know I was bisexual until halfway through my degree," she clarified in the comments. "There are many credits that don't transfer so you just stick it through."
"I guarantee you gave several attendees comfort and courage that day," one user commented.
"Not all heroes wear capes...some wear gowns with rainbows," another wrote.
Newsweek reached out to Jillian Orr and Brigham Young University for comment.