Louisiana Woman Forced to Endure 'Painful' Labor to Deliver Nonviable Fetus
A woman in Louisiana was forced to endure a "painful" and hours-long labor to deliver a fetus that was not viable, her doctor wrote in an affidavit supporting a legal challenge to the state's abortion ban.
The case was highlighted before District Judge Donald Johnson on Monday, who is considering whether to allow the enforcement of the ban.
The U.S. Supreme Court's decision overturning Roe v. Wade on June 24 triggered a Louisiana law that immediately outlawed abortion with no exceptions for rape or incest. There are exceptions for "medically futile" pregnancies and if there is substantial risk of death or impairment to the mother.
Joanna Wright, an attorney representing the abortion providers, said the law's ambiguity is forcing doctors into difficult situations—under one Louisiana law, providers of abortions not permissible under the law face up to 10 or 15 years in jail.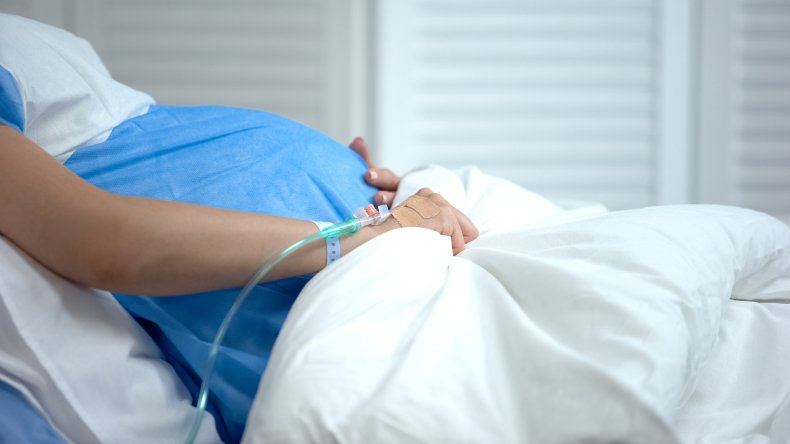 "Doctors are unsure what counts as a 'medically futile' pregnancy," she said, according to The Advocate. "This is not academic."
She pointed to the case of Dr. Valerie Williams, an OB-GYN in New Orleans, who was prevented from performing a dilation and evacuation (D&E)—an abortion procedure—to remove a non-viable fetus from a patient whose water broke while she was 16 weeks pregnant.
"A D&E would have lasted approximately 15 minutes," Williams wrote in the affidavit posted on Twitter by reporter Sam Karlin.
"After our consultation, the patient expressed that this was her preferred option, since she was already traumatized from her experience and felt that an induction, which would require labor and delivery of the fetus, would be too much for her."
But the hospital's lawyer had advised against it, according to the affidavit.
"Going back into that hospital room and telling the patient that she would have to be induced and push out that fetus was one of the hardest conversations I've ever had," Williams wrote.
The patient "was forced to go through a painful, hours-long labor to deliver a nonviable fetus, despite her wishes and best medical advice," Williams added.
"She was screaming—not from pain, but from the emotional trauma she was experiencing."
The woman then hemorrhaged close to a liter of blood before the doctor was able to stop the bleeding, according to the affidavit.
"There is absolutely no medical basis for my patient, or any other patient in this state, to experience anything like this," Williams wrote.
"This was the first time in my 15-year career that I could not give a patient the care they needed. This is a travesty."
Johnson on Monday left a restraining order against enforcement of the state's ban in place and gave both sides until Tuesday morning to submit their "proposed findings of fact and conclusions of law" in the case.