Louisville Church Where Breonna Taylor Protesters Hid Surrounded by Police After 9 p.m. Curfew
Louisville, Kentucky, police officers surrounded a church where dozens of people protesting the Breonna Taylor case were hiding to avoid arrest after the 9 p.m. citywide curfew.
Around 20 protesters were inside the First Unitarian Church of Louisville's sanctuary, and at least 50 protesters remained outside in its courtyard in an hour-long standoff with Louisville Metro Police Department (LMPD) officers, the Courier Journal reported.
The church had opened its doors specifically as a refuge for protesters to visit after the 9 p.m. curfew hit, as it does not apply to people commuting to work, going to houses of worship for services or seeking medical attention, Louisville Mayor Greg Fischer said.
Peggy Muller, president of the church's board of trustees, told TV station WLKY that part of its mission is to believe in social justice and equality.
Around 10 p.m., police officers headed to the church located on Fourth Street in the city's downtown area. According to WKLY, the protesters had wanted to leave the church but were blocked in by authorities for more than an hour.
Officers had initially responded to the church's general area because of a report that the Louisville Free Public Library, located across the street from the church, had been set on fire. Police blocked off surrounding areas and didn't allow people to leave because they needed to conduct an arson investigation, WKLY reported.
There were conflicting reports Thursday night as to whether the police officers had plans to enter the church's grounds where the protesters were waiting. The Rev. Lori Kyle, the church's minister, told the Courier Journal that she spoke with police officers, and they had no intention of entering the church.
"Contrary to rumors on social media, the LMPD, at no time, was waiting for 'a decision from legal about whether or not they can storm the property,'" the LMPD wrote in a statement. "No arrests were made for being on church property. No National Guard was deployed."
The standoff ended around 11 p.m., when protesters reached a negotiation with officers allowing them to exit the church grounds, return to their cars, and head home without facing arrest.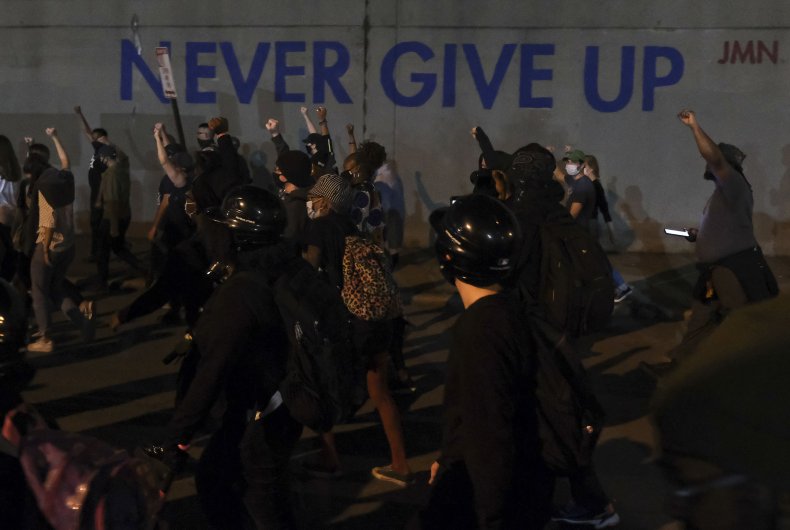 Fischer extended the citywide curfew through the weekend in anticipation of further protests over a grand jury's decision to charge only one of the three officers involved in Taylor's March 13 death.
The grand jury indicted former LMPD officer Brett Hankison on three felony counts of first-degree wanton endangerment for "wantonly placing three individuals in apartment three in danger of serious physical injury or death," said Kentucky Attorney General Daniel Cameron.
Protesters around the country were outraged that the decision to indict only one officer in the case stems from his actions relating to Taylor's neighbors and not Taylor herself, who died after being shot six times.
Demonstrations erupted in Louisville almost immediately after Cameron announced the grand jury's decision Wednesday afternoon, and have continued for two days. At least 160 people have been arrested since, with at least 24 people arrested Thursday night alone on charges including unlawful assembly, failure to disperse and riot in the first degree, according to AJ+.