Louisville Cop Kim Burbrink Demoted for Involvement in Breonna Taylor Investigation
Kim Burbrink, the Louisville Metro Police Department (LMPD) major who oversaw officers involved in the March 13 shooting death of 26-year-old Black woman Breonna Taylor, has been demoted to lieutenant after allegedly defying an order from her commanding officer not to question departmental investigators looking into her department's behavior in the raid that led to Taylor's death.
In a January 19 memorandum, Chief Erika Shields wrote to Burbrink, "[You] failed to follow a direct order given to you from Lieutenant Colonel Andy McClinton to not contact or ask questions regarding any investigations pertaining to the Criminal Interdiction Unit."
While the memorandum didn't include complete details of Burbrink's failure in following McClinton's order, one instance may have involved Burbrink's attendance of a May 14 virtual briefing with investigators. Burbrink was commander of the LMPD's Criminal Interdiction Division, the division being investigated.
According to Sergeant Jason Vance of the Public Integrity Unit (PIU), Burbrink reportedly asked "pointed questions", casting doubt on the PIU's evidence collection methods at the shooting scene, WDRB reported.
When investigators mentioned that there had been inconsistencies in Detective Brett Hankison's account of the raid, Burbrink allegedly requested specifics despite the fact that investigators considered such details "sensitive" information. Vance wrote that it seemed as if Burbrink was conducting a "cross-examination" of the investigators.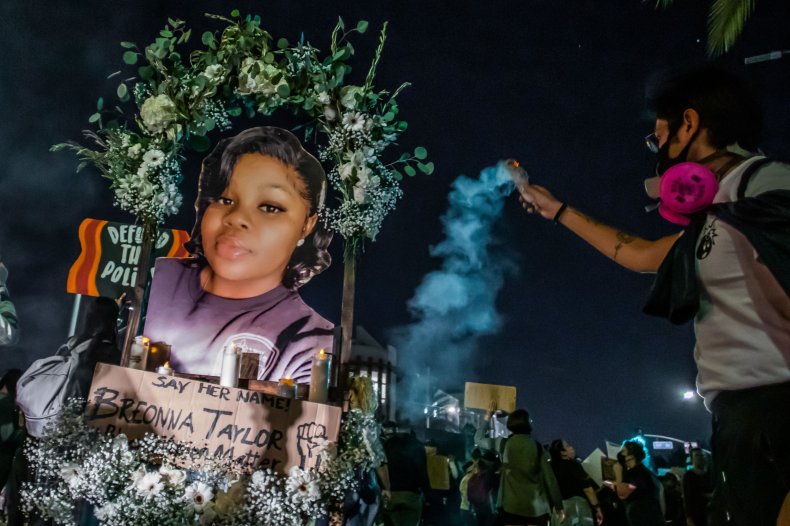 Investigators apparently requested then-Deputy Chief Robert Schroeder and other high-ranking department officials that Burbrink not attend the virtual briefings in the first place because she was considered an "informational witness." The then-Deputy Chief Robert Schroeder later apologized for Burbrink's behavior, calling her attendance of the meeting "a mistake," according to Vance.
In addition to being demoted, Burbrink was also moved from her old division to the Special Operations Division. At the time of her demotion, she was also under investigation for an October 16 conversation she had with Major Micah Scheu, though details about that investigation haven't been released by the LMPD.
"I consider the demotion and transfer to be both appropriate and necessary to the maintenance of good order and discipline within the Department," Shields wrote in the memo announcing Burbrink's demotion.
Police shot Taylor five times after knocking down her apartment door with a battering ram after midnight on a no-knock search warrant in pursuit of two suspected drug dealers who weren't in her apartment.
On June 19, the LMPD delivered a letter firing Hankison. In it, then-Police Chief Robert Schroeder wrote that Hankison's actions were "a shock to the conscience" and represented "extreme violations" of LMPD's operating regulations and departmental rules regarding the use of deadly force.
On September 23, the state of Kentucky announced three Grand Jury indictments against Hankison for wanton endangerment in the first degree. The indictments against him didn't pertain to Taylor's death, but rather his shots fired during the raid that traveled through walls into nearby apartments during the raid.
He was the only of the three LMPD officers criminally implicated for their roles in Taylor's death and was also the only officer fired.
Newsweek contacted the LMPD for comment.