Louisville Officer Punches Black Protester Several Times in Arrest Seen on Video
A Louisville police officer was captured on video Sunday throwing punches at a protester that he and his fellow officers were trying to arrest. The incident that happened near Jefferson Square Park around 4:30 p.m. in the afternoon, was posted to Facebook Sunday evening as a video.
Denorver "Dee" Garrett, a 29-year-old Black man who was protesting police brutality, is seen standing near a street corner with three Louisville Metro Police Department (LMPD) officers around him, and then more emerge as they try to handcuff him.
Officers can be seen taking Garrett to the ground, and one officer punched Garrett in the head several times. Bystanders recording the incident can be heard pleading with police to stop hitting the man. The officer threw four punches at Garrett's head, breaking his glasses in the process.
Here's the Facebook video.
LMPD Chief Erika Shields, just three months into her role, said the department has opened an internal investigation into the matter. She issued a statement saying the video "raises serious questions and is not consistent with LMPD training."
Garrett was protesting in a crosswalk prior to his arrest, according to Jamie Hendricks, who shot the video. Garrett has been a regular protestor at demonstrations in Louisville since the death of Breonna Taylor, who was unarmed and shot dead by Louisville police just 13 months ago.
He carries a cross at these demonstrations and protests, which makes him stand out among the rest, according to the Louisville Courier-Journal.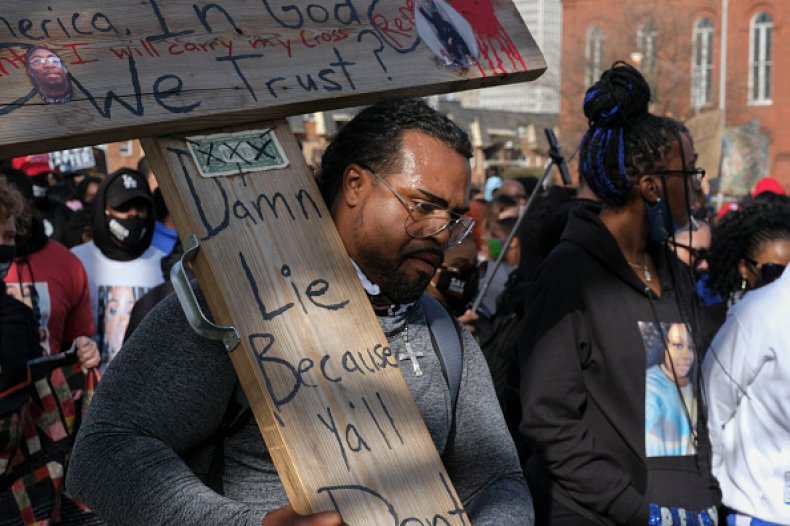 The police citation states that Garrett was "causing a disturbance" before his arrest, and that he "resisted the officers' movements to put his hands together close enough to put handcuffs on. He was given loud verbal commands to stop resisting ... which he did not follow," the citation stated.
The citation said Garrett was in the crosswalk for 30 minutes causing a disturbance.
Hendricks, who filmed the incident, told the The Courier Journal that she didn't think Garrett was putting up any resistance.
"It's unreal to me that that just happened right in front of me," she said. "He was just making his voice heard, and he has a right to do that. It shouldn't take 10 cops to come over and take care of that."
Protests against police brutality in Louisville became even more abundant after the May 2020 death of George Floyd, an unarmed Black man who died at the hands of Minneapolis police. Derek Chauvin, the police officer who knelt on Floyd for nearly nine minutes before Floyd's death, is currently on trial. Closing arguments for that case begin this week, and a verdict could be reached as soon as midweek.
This also comes as a Minnesota police officer shot and killed Daunte Wright last week during a traffic stop. Kim Potter, who shot Wright, tendered her resignation this week.