Louisville Police Fire Two Detectives in Breonna Taylor Shooting Death
Two Louisville Metro Police Department (LMPD) detectives involved in the raid that resulted in Breonna Taylor's death have been fired, multiple news outlets reported on Wednesday.
Leaders in the Kentucky city's department made plans to terminate detectives Myles Cosgrove and Joshua Jaynes last week, according to WDBR-TV. Those terminations were made official on Tuesday, the Louisville Courier-Journal reported.
Cosgrove was fired Tuesday for neglecting to "properly identify a target" while firing a weapon at Taylor's Louisville apartment the night she died, and Jaynes was fired for lying on the warrant seeking approval for the raid, according to the Associated Press.
In addition to the two terminations, Detectives Anthony James and Michael Campbell received one-day suspensions for violating the LMPD's body camera policy the night of the raid. Sergeant Kyle Meany was issued a letter of reprimand for breaking with the department's policy regarding risk assessment in pursuit of a warrant, according to the Courier-Journal.
One other officer involved in last year's March 13 raid, former LMPD Officer Brett Hankison, was terminated last June for showing "extreme indifference" when he "blindly fired" 10 rounds into Taylor's apartment. Hankison was not charged in Taylor's death but was indicted in September on first-degree wanton endangerment charges for the bullets he fired that went into other apartments.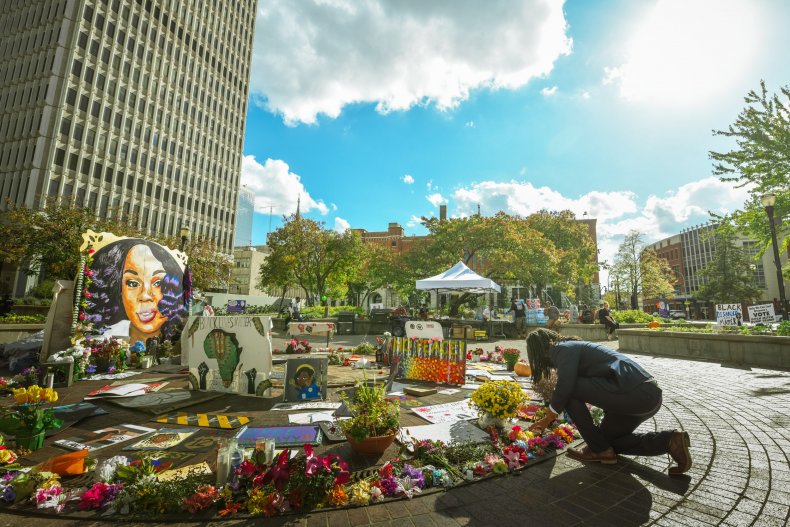 Contacted for comment, a spokesperson for the attorney representing Taylor's family, Ben Crump, pointed Newsweek to a statement Crump and co-counselors Sam Aguiar and Lonita Baker released when word first spread about the LMPD's intentions to fire Cosgrove and Jaynes.
"Thanks to the assertion from Louisville postal inspector Tony Gooden in May, we've known for over seven months that the warrant executed in the Breonna Taylor case was based on lies. Yesterday, the Louisville Metro Police Department finally admitted it in their intention to terminate the employment of Det. Joshua Jaynes and Det. Myles Cosgrove.

"By including false information in a warrant affidavit, Det. Jaynes committed perjury and should be arrested and charged for breaking his oath as the affiant. Likewise, Det. Cosgrove recklessly opened fire into Breonna's home with a complete disregard for human life, never identifying or acquiring a specific target before shooting and killing Breonna Taylor. Ultimately, both should be held criminally liable.

"There is no revelation here. We've known since Bre's killing that her death was a direct result of the lies, corruption, and complete malfeasance of the Louisville Metro Police Department. We applaud the diligent efforts of Chief Gentry who stepped in to investigate the events surrounding Breonna Taylor's murder and not simply defer to the incompetence of the attorney general's office.

"Breonna and her family have been denied justice over and over again, first by the LMPD and then by Attorney General Daniel Cameron. It is time for that to stop. And it stops with the arrests and convictions of Det. Joshua Jaynes, Det. Myles Cosgrove, and all other officers whose lies, deceit, and reckless actions led directly to her death. Anything less than criminal charges here by a competent prosecutor is unacceptable."
Taylor, a 26-year-old Black woman, was fatally shot as LMPD officers attempted to serve a no-knock warrant at her Louisville apartment. Her name became one of many that protesters chanted during Black Lives Matter protests last year that called for an end to systemic racism and changes in policing policies.
Newsweek reached out to the LMPD for comment but did not hear back before publication.
This story has been updated with additional information, background and a statement from attorneys Ben Crump, Sam Aguiar and Lonita Baker.