Louisville Police Officer Filmed Giving Advice to Heavily-Armed 'Militia'
Video has been shared of a Louisville officer speaking to members of a heavily-armed 'militia' group who claimed they were attending a protest sparked by the verdict in the case of Breonna Taylor in order to protect the police.
The unidentified officer can be heard urging them to avoid areas of the city where the demonstrations were expected to take place and offering advice on where to stand, before warning them that they faced arrest if they did not follow his instructions.
"I don't want any of that kind of stuff to happen, OK?" he can be heard telling the woman, who is clutching a gun and wearing army fatigues. Standing next to her are two men holding weapons, one of whom is wearing a military-style uniform emblazoned with the word 'Militia.' They have with them radio equipment and handcuffs but do not appear to be part of the police or national guard.
In the video, which was shared on Twitter, the officer says: "If you go down there, if you choose to, there is a grassy area along the north side of the road. Those people who want to come down today to exercise your second amendment rights or your first amendment rights..."
The woman in the video interjects "we're not protesters," to which the officer replies: "Fantastic." The woman adds: "That's not what we're here for, that's why we're sitting over here."
The officer continues: "I'm going to watch over and protect everybody, that's all I do, right? Just be prepared later on today there will be several hundred, several thousand [protesters]... but don't try to come on Central, and don't try to take that south sidewalk, I don't want any of that kind of stuff to happen, OK?"
The woman replies: "We're here for y'all, we're just here on standby, we're not out there in that rally, we don't want to be in that rally, because last time we got shoved, like we were counter-protesters, and that's not what we do."
She adds: "All my people have orange on them so they'll all be together," suggesting she was part of an organized group.
The officer responds: "I just wanted to make sure you knew that don't try to come to those areas, anybody that tries to come in there is going to have a problem."
Newsweek contacted the Louisville Police Department and the Twitter account that shared the video, which has been viewed more than 400,000 times, for comment.
Louisville was at the center of nationwide protests Wednesday after a grand jury charged only one of the three officers involved in the death of Taylor, who was shot and killed in her Kentucky apartment in March.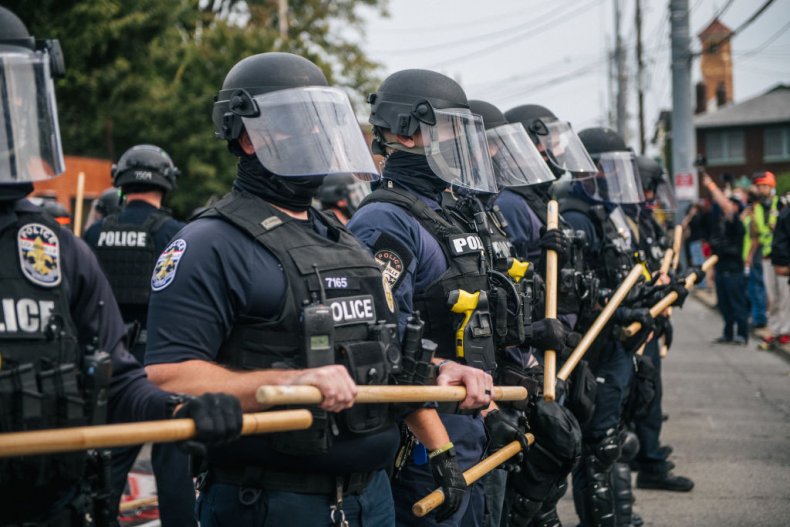 Brett Hankison was indicted on three charges of wanton endangerment related to bullets that went into other apartments. The two other officers who fired their weapons, Jonathan Mattingly and Myles Cosgrove, will not face charges.
After the verdict was announced, a rally was held near the city's main courthouse.
Flash-bang devices were used by police while demonstrators threw plastic water bottles as peaceful protests earlier in the day turned violent, according to reports. A curfew was imposed from 9 p.m. local time in an attempt to clear the streets.