Protests have erupted in cities across the U.S. over the decision not to indict police officers on criminal charges directly related to the death of Breonna Taylor, who was shot and killed inside her Kentucky apartment during a police raid.
From California to New York, thousands of protesters took to the streets to voice their anger at the outcome of the Taylor case as well as alleged police brutality.
Two officers were shot and police said rocks were thrown and fires started, while heavily-armed officers used tear gas and made arrests as small pockets at some of protests turned violent on Wednesday night.
However the majority of the demonstrations remained peaceful with crowds demanding justice for Taylor and her family, and urging those in attendance not to give up in calling for police reforms.
In Louisville, Kentucky, where hours earlier a grand jury had charged only one of the three officers involved in Taylor's death with wanton endangerment for firing shots that went into another home, a rally was held near the city's main courthouse.
Two officers of the Louisville Metro Police Department were shot and wounded, authorities said, after going to investigate reports of gunfire close to where a large crowd had gathered. They are said not to have suffered life-threatening injuries and a suspect is in custody.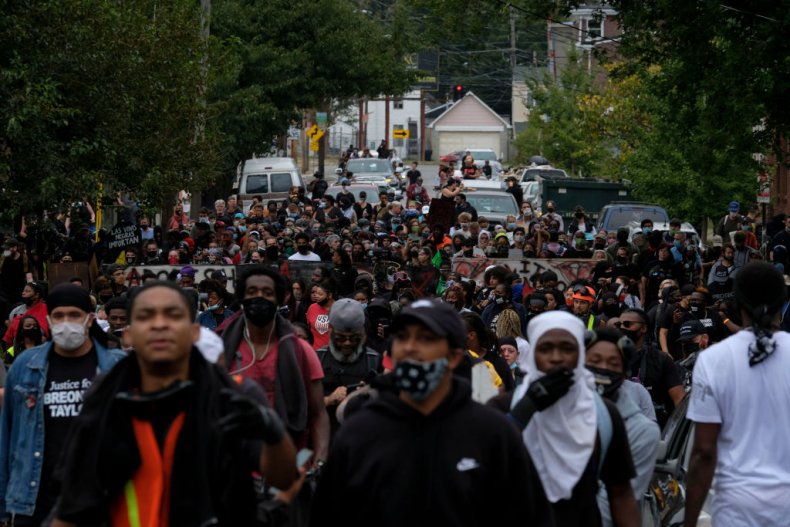 Protesters began to be arrested in large numbers after officers dressed in riot gear swarmed the area and military-style vehicles blocked off roadways, the Associated Press reported.
Flash bang devices were used by police while demonstrators threw plastic water bottles, according to reports. A curfew was imposed from 9 p.m. local time in an attempt to clear the streets.
In Portland, which has seen nightly protests for more than 100 days following the death of George Floyd in police custody in May, several hundred people turned out in the rain for a rally.
Crowds chanted "Say her name, Breonna Taylor," while speakers encouraged people not to give up protesting and urged them to vote on November 3, OregonLive reported.
Portland police later declared a riot, having tweeted that one member of the protest had thrown a Molotov cocktail at officers while an awning outside the Central Precinct had been "lit on fire and multiple rocks [were] thrown at [an] upper glass window," causing "substantial damage."
In Atlanta, heavily-armed police used chemical agents to try and disperse demonstrators who they said had tried to climb onto a SWAT vehicle. A number of arrests were made.
But Georgia State Patrol Spokesperson Franka Young told AP many of those marching followed police instructions.
"They were given orders to get off of the vehicle and when they ignored the orders, the SWAT team was forced to utilize less lethal gas to deter them," he said.
About 300 people gathered in several locations in downtown Chicago—including outside the Chicago Police Department headquarters—while in New York a march took place from Brooklyn to Manhattan as people chanted Taylor's name.
Protesters in Los Angeles laid flowers at a temporary altar to the 26-year-old emergency medical technician, who was fatally shot by police inside her Kentucky apartment during a no-knock drugs raid on March 13. No drugs were found inside.
Later, they marched through the city calling for the police to be "abolished."
In the nation's capital, protesters marched towards the newly named Black Lives Matter Plaza shouting Taylor's name.
Denver, Oakland and Philadelphia were among the other cities to see protests.
Wednesday's demonstrations were triggered by the verdict of the Kentucky grand jury in Taylor's case.
Police officer Brett Hankison was indicted on three charges of wanton endangerment.
However, those charges related to bullets that went into other apartments and the two other officers who fired their weapons, Jonathan Mattingly and Myles Cosgrove, will not face charges.
An FBI investigation into potential violations of federal law in connection with Taylor's death remains open.