Two Officers Shot as Louisville Protests Breonna Taylor Decision
Two officers of the Louisville Metro Police Department (LMPD) have reportedly been shot as the city experiences protests following the criminal indictment of a police officer involved in the March 13 shooting death of Breonna Taylor, a Black 26-year-old medic in Louisville, Kentucky.
Mass arrests of protesters have also occurred throughout the evening, following a largely peaceful protest event near the city's main courthouse.
According to the LMPD, one officer was hit in the abdomen, below their bulletproof vest, and is in surgery. The second officer was hit in the thigh. The LMPD has said neither injury was life-threatening and both officers are expected to survive. Police have also arrested an unnamed suspect who is currently in custody.
It's unclear if either officer was shot amid the protests themselves or whether they were attacked away from protest groups.
Fallon Glick of WDRB News reported in a tweet Wednesday evening that MetroSafe, the local emergency services hotline, confirmed that one officer was shot at Brook and Broadway. The intersection is just a few blocks away from where protesters had gathered outside of the Louis D. Brandeis Hall of Justice, the city's main court building.
In a tweet issued Wednesday night, Republican President Donald Trump wrote, "Praying for the two police officers that were shot tonight in Louisville, Kentucky. The Federal Government stands behind you and is ready to help. Spoke to @GovAndyBeshear and we are prepared to work together, immediately upon request!"
The mayor has since put a county-wide curfew into effect for the next 72 hours from 9 p.m. to 6:30 a.m. local time, according to the LMPD. Smaller instances of civil unrest and mass arrests of protesters have occurred throughout the evening as well.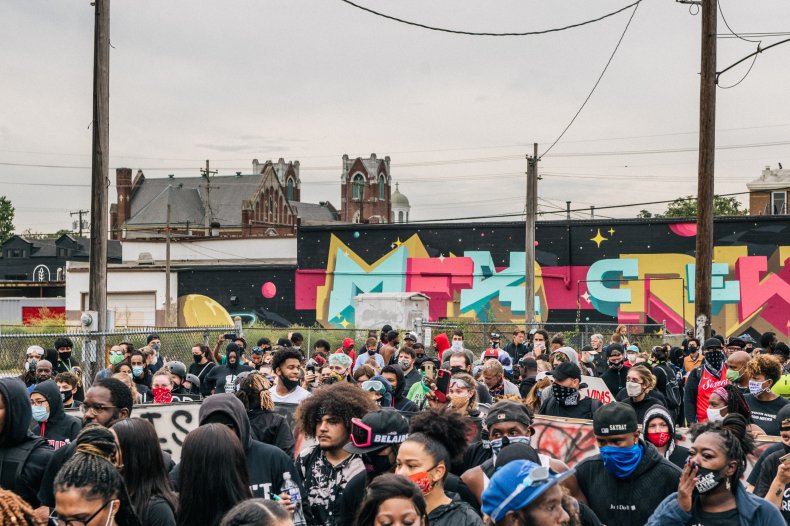 The Louisville Courier-Journal reporter Phillip M. Bailey wrote that hundreds of protesters gathered in Jefferson Square Park across the street from the Hall of Justice. There, Bailey encountered former Kentucky Senate candidate Charles Booker.
Following a largely peaceful protest at the Hall of Justice, Shelby Talcott, a reporter with The Daily Caller, alleged that protesters started a fire started outside the building.
Talcott said that police eventually arrived to extinguish the flames, but retreated after one officer fell from being "hit with something." A few smaller cardboard boxes filled with trash had also been set on fire near the building, she wrote.
Hayes Gardner, a journalist covering the protests for the Courier-Journal, posted images and videos showing a large group police in riot gear facing off against protesters at Bardstown Road and Midland Avenue, roughly a mile away from the mayor's home.
"Police have fired pepper balls. Protesters throwing bottles of water," Gardner wrote. "Police announce this is unlawful assembly. Threats of chemical agents and arrests."
Shay McAlister, a journalist with WHAS-TV, backed up Gardner's assertions by posting similar observations and photos on her own Twitter feed. She added that police had formed a "secure perimeter" around the street and had loaded protester shields and plywood boards into a van to be taken away.
Jeff Young, a managing editor of the Ohio Valley ReSource journalism partnership, posted an image of police wielding batons and dressed in riot gear. The police surrounded several alleged protesters seated on the ground with their wrists zip-tied behind their backs. Young said the police had declared the protest an unlawful assembly.
McAlister later said that police departed from the Bardstown and Midland area, and that she saw windows in two Bardstown road businesses shattered by a protester with a bat.
Police and city officials worried that unrest would break out in the city following the announcement of three Grand Jury indictments against former officer Brett Hankison for wanton endangerment in the first degree. He was the only of the three LMPD officers criminally implicated for their roles in Taylor's death and was also the only officer fired.
The indictments against him didn't pertain to Taylor's death but rather his bullets that traveled through walls into nearby apartments during the raid which killed Taylor. His bond was set at $15,000, which was posted soon afterward.
Anticipating the potential for civil unrest over the indictments, Louisville Mayor Greg Fischer and the LMPD both declared a state of emergency in the city. Police announced their intention to restrict car access to downtown and canceled officer vacations and requests for time off. Federal officials also closed a courthouse and other federal buildings for the week.
Sadiqa Reynolds, a downtown resident and CEO of the nonprofit Louisville Urban League, told The Associated Press the preparatory measures were "overkill."
"This is certainly an over-response to the local protests that have been happening in our community," she said. "This city keeps meeting the desire for justice with this preparation for war."