'Love Is Blind: After the Altar': Are Gigi and Damian Still Together?
Love is Blind: After the Altar is streaming on Netflix now. For almost two years, fans have been waiting to catch up with the contestants and find out who is still together from the reality series. Only two couples Lauren Speed and Cameron Hamilton, and Matt Barnett and Amber Pike remain officially together and married at the reunion.
Giannina 'Gigi' Milady Gibelli and Damian Powers shared they had been dating ever since the show ended, but are Gigi and Damian still together after the Love is Blind: After the Altar reunion? Newsweek has everything you need to know.
Are Gigi and Damian Still Together?
Things didn't quite go according to plan for Gigi and Damian at the Love Is Blind: After the Altar reunion.
At the start of the reunion episodes, Gigi and Damian are still dating. They do not live together and are not engaged, with no rush to get married. Both of them talk openly and honestly about the ups and downs of their relationship but share they are determined to make it work.
Unfortunately, the couple got into a pretty big fight over Damian's friendship with Too Hot to Handle star Francesca Farago, who he unexpectedly invited to the reunion without informing his girlfriend Gigi she was attending.
The entire situation blew up, with Gigi telling Francesca to stay away from Damian and Francesca calling out Damian for not being fully honest about the seriousness of his and Gigi's relationship.
After Francesca left the party, Gigi told Damian she could not trust him anymore, causing him to storm out of the party exclaiming Gigi's remarks were "b*******."
Love is Blind: After the Altar did not reveal whether Gigi and Damian managed to reconcile their relationship following their fight and sadly, it remains unknown today whether they are officially together or not. Both Gigi and Damian have not spoken publicly about their relationship status but if their social media accounts are anything to by, they have not been photographed together in over six months.
The last picture of them together was in October 2020 on Damian's Instagram.
He captioned the post: "Love Is Blind! So incredibly lucky and blessed to have grown with you over these past two years! Thank you for doing life with me."
Damian and Gigi also did not post anything on Valentine's Day 2021 and stopped commenting on each other's posts in March, reports TheCinemaholic.
Damian was also nowhere to be seen during Gigi's birthday trip to Mexico in April.
However, the pair still follow each other on Instagram.
Most recently, Gigi posted a trailer ahead of the reunion's release on her Instagram with the caption:
"HoW aRe YoU aNd DaMiAn?" @loveisblindnetflix @netflix #loveisblind."
As for Francesca and Damian, they do not follow each other and have not been spotted together since.
Newsweek has approached Netflix for comment.
What happened between Gigi, Damian at Jessica at the 'Love is Blind: After the Altar' reunion?
Before the Love is Blind: After the Altar reunion took place, Damian met up with Francesca at a bar and invited her to the party, even though he was meant to be going with his apparent girlfriend, Gigi.
Puzzled about the status of their relationship, Francesca asked whether she was going as his date or as a friend, to which Damian replied: "We will go as friends and see where the night goes."
Francesca and Damian may be insisting they are just friends, but the pair did spark dating rumors in August 2020 when they were spotted holding hands outside of an LA restaurant.
At the time, Damian denied they were dating but the publicity and rumors still obviously hurt Gigi.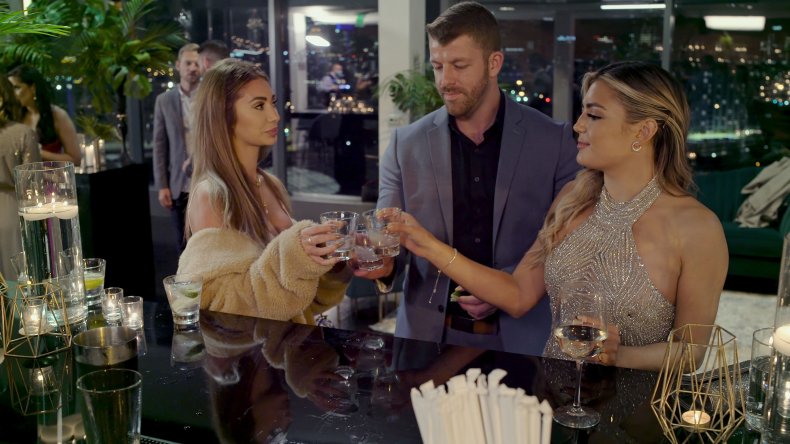 He told E! News in a statement: "Francesca grabbed onto me in an attempt to shield herself from the paparazzi as our entire group entered the car.
"Francesca and I are not dating or romantically involved but remain friends."
In the end, Francesca did show up at the Love is Blind reunion party and Gigi was not happy about it at all.
She eventually approached the pair for a chat about their friendship, warning Francesca not to try and date her man, exclaiming "you messed with the wrong b****".
When Giannina asked if they were "dating," both Francesca and Damian did not deny it, despite their claims they were "just friends."
Shortly after the confrontation, Jessica decided to leave the party and Gigi told Damian she could no longer trust him. Sadly, the trio left the party separately and went home alone.
Love is Blind: After the Altar is streaming on Netflix now.