David Fincher waited to direct his own short film for Netflix anthology series Love, Death + Robots in case the show "sucked," show creator Tim Miller joked in an interview with Newsweek.
Miller, who spoke alongside the show's supervising director, Jennifer Yuh Nelson, has worked with Fincher for over a decade, as the prolific filmmaker has been part of the Love, Death + Robots team since its early days.
Fincher and Miller originally wanted to make a Heavy Metal reboot back in 2008, an idea that transformed into the animated series once Netflix decided to develop it. While he's been an executive producer since day one, Fincher decided not to go behind the camera until Volume 3.
Fincher directs Bad Travelling, an animated short that follows a ship's crew as they are attacked by a giant intelligent crustacean that threatens all their lives, and that the captain is determined to outwit.
Working with Blur Studio, Fincher filmed his cast using motion-capture technology that Blur and Tacit Sign Studio then digitally animated.
Miller said: "I think he was just waiting for Volume 2 or 3, just in case Volume 1 had sucked. So he's like, 'Let me see how it goes and then I'll pitch it.' But he's been there from the beginning, we show him everything."
Despite the joke, Miller and Nelson explained that Fincher has been a staunch supporter of the show since the beginning, and that they always "show him everything" they have planned for their respective seasons from start to finish.
The show has a total of nine episodes in its third season, and alongside Bad Travelling there is also Three Robots: Exit Strategies, Jibaro, The Very Pulse of the Machine, In Vaulted Halls Entombed, Swarm, Mason's Rats, Kill Team Kill, and Night of the Mini Dead.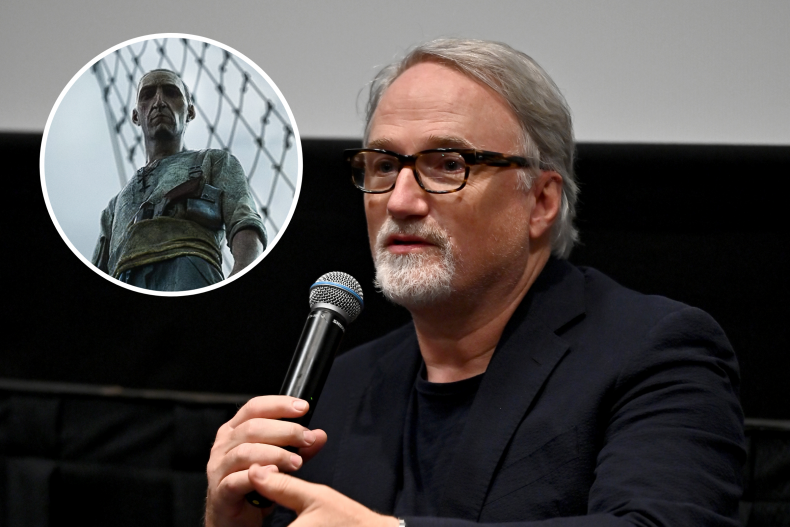 David Fincher Found It 'Liberating' Making His 'Love, Death + Robots' Episode
Explaining what it was like to work with the Fight Club director, Nelson said: "It was great. I mean, David Fincher has always been a huge supporter of the show.
"He's been a part of pitching it 15 years ago, trying to get it made when it was Heavy Metal. He's always been super supportive. Every time we send him anything that we think is cool, he goes, 'Oh it's amazing.'
"I think we sent him stop-motion stuff, which you wouldn't think that he would like, he said, 'I love this more than anything in life!'"
Miller added that Fincher's reacted to the stop-motion animation by saying that he loved it "more than life itself," and that the concept of Bad Travelling was one he originally intended to make when they were pitching their Heavy Metal reboot more than a decade earlier.
Nelson said: "He loved it so much and so when it came down to him doing his own episode, that particular story Bad Travelling was part of the original pitch. [It's] 15 years old as far as [being] in his head for that long, and he really wanted to do it.
"It was just so amazing because he brought in a lot of his experience and sensibility, and camera, and character, and all this stuff into this animation medium.
"I think that he found it exciting to have the freedom of putting the camera wherever he wanted, having the lighting, virtual lighting, so he could light things perfectly in the frame... it shoots the light exactly the way he wanted it, so, you know, it's liberating in some ways even though it's completely different as a process.
"So it was a real joy to work with him. I got to storyboard for him, so that was really great."
She continued: "For the crew, it was very much like going to film school, just seeing his process and everyone had such a great time learning, cross-pollination, this way."
On Working With John Scalzi on the 'Three Robots' Sequel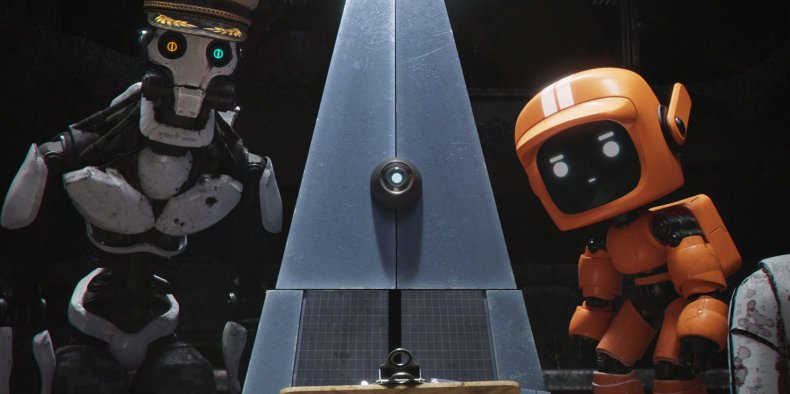 Another episode that fans of the show will likely get excited is the sequel to Volume 1's Three Robots, titled Three Robots: Exit Strategies, which marks the return of its titular trio of characters.
It is the show's first direct sequel, and Miller and Nelson shared that it was almost like they "never stopped" working with writer John Scalzi because he also wrote Volume 2 episode Automated Customer Service before coming up with several ideas for Three Robots.
Miller explained that after making the Season 2 short film, "John immediately started pitching stories for Three Robots, of which there were many before the one that we did here."
Given how Scalzi came up with multiple stories for the trio, the question remains whether the team would be interested in animating those, too. Well, we have some good news about that.
When asked about the other stories, Nelson said: "I think that really each set of episodes is kind of like a little box, so we figure out trying to find a different mix of everything.
"But really, the Three Robots stood out as being characters that seemed tattoo-worthy. People were getting tattoos of these characters. They were important to people.
"So we want to bring them back, I think if the right story proposed itself, we could maybe do more."
Miller added: "Stories about the end of the world end with the end of the world. But we found just from John's pitches that there's a pretty much endless variety of situations that these folks could explore, that say something about humanity even though humanity is no longer with us in the story.
"So I feel like it's pretty much a box of candies that will never be eaten completely. There's just so many stories."
On Alberto Mielgo's Return With 'Jibaro'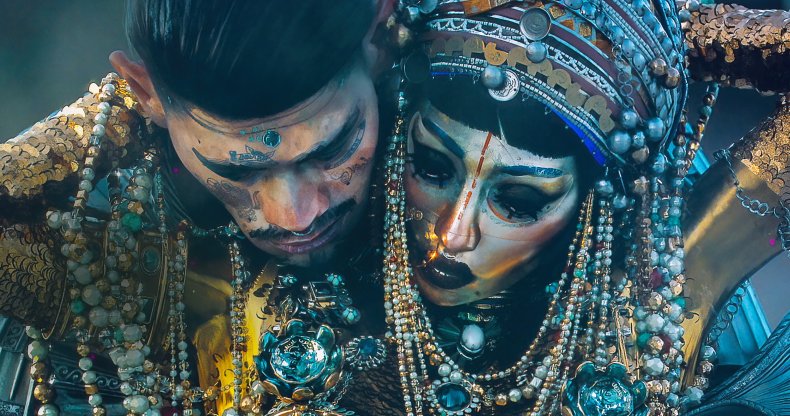 Scalzi is not the only creative returning to work on Love, Death + Robots. Alberto Mielgo, who directed Volume 1's The Witness, has come back with a new film Jibaro.
The short film has no dialogue but is incredibly powerful as it explores the dark pseudo-relationship that develops between an ancient siren and a deaf knight driven by greed.
When asked what it was like to work with Mielgo again, Miller joked: "You ever seen those rodeos here in America where people get on wild bronco and then they release it? He's like [that]... no, Alberto is great to work with.
"He's got so many ideas and he's got such a unique point of view on the world. The point for us is to support and make him feel like he can do his vision for the movie because it is so unique.
"It's hard to sit there and go, 'This is better than that. Or you should do this,' because his vision is so different [between Jibaro and The Witness].
"But he's a great guy, and he's just full of creativity and he works like a demon. He is possessed. The stack of storyboards, I s**t you not, were f***ing seven feet high. The storyboards are works of art themselves."
Nelson concurred as she said: "They're beautiful... Alberto wanted to do something that was challenging for him and scared him to death, and so when he pitched the idea and what he wanted to do with this, we were thinking 'that sounds impossible, great!' So that's kind of how it came about."
Love, Death + Robots Volume 3 is out on Netflix now.