'Lowest of Low': California Fire Looters Allegedly Stole AR-15 and Chainsaws
Six people have been arrested on suspicion of stealing from areas which had been evacuated as result of the deadly Camp Fire in California.
The Butte County Sheriff's Office said the suspects have been charged with a string of offenses, including entering into an evacuated area, vehicle theft and looting, after they were found with allegedly stolen items in places which had been cleared as a result of the Camp Fire which has so far claimed the lives of at least 48 people.
"The lowest of low in my opinion," Paradise police Sergeant Steve Bertagna said, reports KCRA 3. "We're going to deal with them to every extent of the law that we can."
On November 12, deputies from Butte County Sheriff's Office were patrolling an area in Butte Creek Canyon when a PG&E employee informed them he had spotted two males who appeared to be looting.
Jason Burns, 41, and Michael Salisbury, 48, were then seen running into a residence on Quail Run Drive and when the officers entered the home the pair were found hiding in a bedroom.
The suspects were in possession of a .45 caliber handgun, methamphetamine, heroin, drug paraphernalia, and loaded magazines for the firearm, the department said in a statement.
An AR-15 rifle, several chainsaws and other tools suspected to be stolen were also recovered from the garage of the home along with a quad bike outside which had been reported stolen.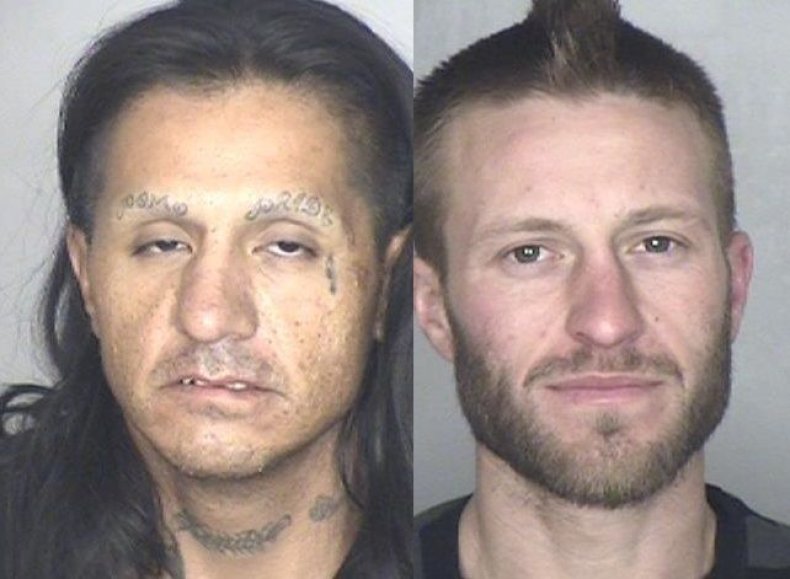 The home the pair ran into belonged to a family member of Burns although the family were unaware he had entered the residence after evacuations were issued.
Burns and Salisbury were both arrested on suspicion of being a felon in possession of a firearm, possession of an assault weapon, possession of a machine gun, possession of a controlled substance while armed, possession of a stolen vehicle, being a prohibited person in possession of ammunition, and entering into an evacuated area.
On November 13, Teddy King, 27, and John Brown, 38, were both spotted on a bike path on Skyway which is currently under an evacuation order. The pair were in possession of a laptop that didn't belong to either of them, as well as a ski mask, drugs and drug paraphernalia. They were arrested for possession of a controlled substance, and possession of drug paraphernalia.
Later that day, deputies were on patrol near Benatar Way in Chico when they spotted a motorhome which they knew was reported stolen out of Magalia in an area which had been evacuated.
After conducting a traffic stop, officers noted the key was not in the ignition and the ignition had been damaged. The driver of the vehicle, Shayne Tinnel Jr. 22, and the passenger, Tracy Sizer, 42, were arrested and charged with vehicle theft, possession of a stolen vehicle, and looting.