LSU's celebrations following a first national title in 12 years almost went up in smoke when a police officer threatened to arrest the players treating themselves to cigars in the locker room.
The Tigers defeated Clemson 42-25 in the College Football Playoff national championship game at the Mercedes-Benz Superdome in New Orleans, Louisiana on Monday night.
After the trophy presentation, players and staff left the field and were busy celebrating, when they received an unexpected visitor.
According to Michael Casagrande of AL.com, the officer entered LSU's locker room to inform the players they were not allowed to smoke the cigars on the premises.
Indulging in a celebratory cigar following a championship win is a long-established practice in U.S. sports and the Tigers were the latest national champions spotted holding stogies.
A number of LSU players reportedly thought they were being set up for a prank, but soon realized the officer's threat to arrest them was extremely serious.
AL added that when a more lenient officer told his colleague the Tigers weren't infringing any law, the cop who threatened to arrest players insisted his commander had made clear that smoking in the locker rooms was forbidden.
According to state law, the smoking age in Louisiana is 18. In May last year, the state House resoundingly rejected a proposal from Rep. Frank Hoffmann, a West Monroe Republican, to prohibit people under 21 years old from buying tobacco, alternative nicotine or vapor products.
Hoffman had argued raising the sale age of tobacco products would save lives and save money for healthcare, but his proposal was voted down by 55 votes to 24.
The officer didn't follow through with his threat and nobody was arrested, as LSU players and coaching staff continued the celebrations and Joe Burrow was spotted puffing on a cigar as he made his way to the postgame news conference.
In a season filled with highs, the recently-crowned Heisman Trophy winner delivered another superb performance as his team clinched a first national title since the CFP inception in 2014.
With LSU trailing 17-7 with 10:38 left in the second quarter, Burrow rushed for a three-yard touchdown, before hitting Ja'Marr Chase for a 14-yard touchdown that gave LSU a 21-17 lead.
Before the end of the period, Burrow completed a six-yard pass to Thaddeus Moss, which put LSU 28-17 up at halftime.
The Tigers never looked back, completing a perfect 15-0 season, dethroning the defining national champions and stopping Clemson's undefeated record to 29 games in the process.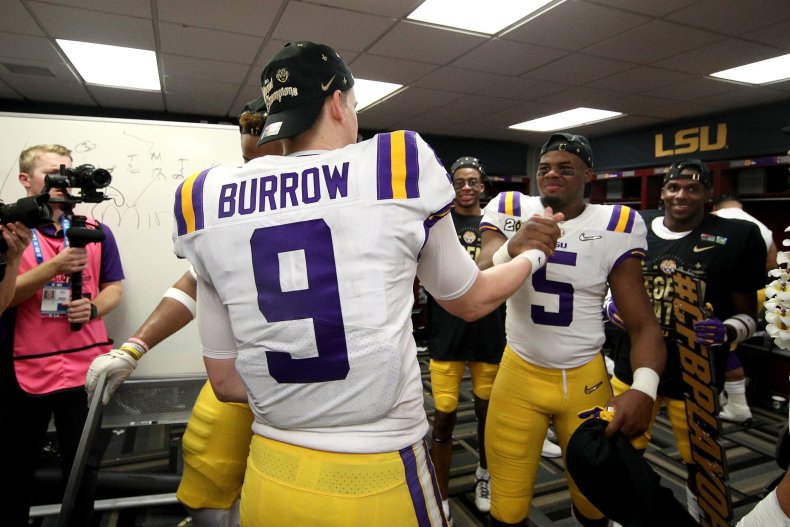 Burrow finished with 463 passing yards, five touchdown passes and one rushing touchdown as he completed 31 of his 49 attempts.
The quarterback became only the 16th player in history to win the national title and the Heisman Trophy in the same season and set a new college football single-season record for touchdown passes with 60.
"He's one of the greatest players in LSU history," Tigers coach Ed Orgeron told ESPN after the game. "He's done so much for the state of Louisiana and LSU. We are so grateful to Joe Burrow."
About the writer
Dan Cancian is currently a reporter for Newsweek based in London, England. Prior to joining Newsweek in January 2018, he was a news and business reporter at International Business Times UK. Dan has also written for The Guardian and The Observer.