Luca Lewis of New York Red Bulls Says He Was Threatened by Men With Knives Who Asked if He Was Jewish
Luca Lewis, a 20-year-old professional soccer player who plays for the New York Red Bulls, said he was threatened by men holding knives who asked if he was Jewish.
Lewis wrote about the experience in an Instagram post published early Friday afternoon. His post also referenced the recent Israeli-Palestinian conflict.
In his post, Lewis wrote that a group of six to eight Palestinian men confronted him and his friend during their walk around New York City on Thursday night.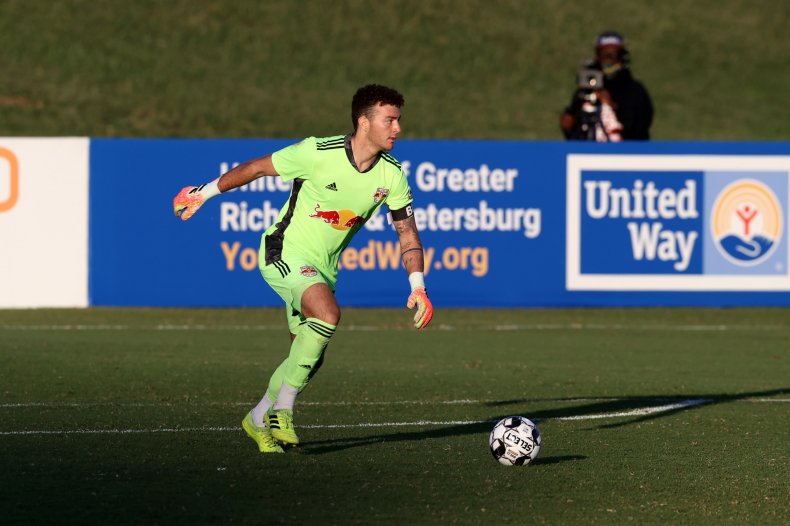 Lewis said the group asked where he was from. He replied, "New York." One man from the group then asked if he was Jewish.
"I paused for a moment in confusion and thought about it , than I saw them withdrawing knives," Lewis wrote in his post. "I obviously said no. The guy looked at me with such disgust in his eyes and said 'Good'."
As Lewis began walking away, he felt angry and as if he should say something. So he turned and asked, "What if I was Jewish?"
"The group of men walk up to my face and the same guy says ' I'll beat the f*ckin sh*t out of you and kill you '," Lewis wrote. "As I was face to face with this guy I told him ' What is the need for that ' he started charging at me but a few women who were with the group screamed at him to stop and to let it go."
Lewis wrote that those who seem "visibly" Jewish must be scared to walk around the city at night. He grew up in both Italy and New York.
"The people of Israel and Palestine are both amazing human beings who deserve to live in peace together," Lewis wrote in his post. "I have many friends in both countries and all they wish for is peace and happiness.... I personally believe there is wrong in both sides. However this constant promotion of violence is getting out of hand."
On Thursday night, a 29-year-old Jewish man named Joe Borgen was severely assaulted in New York City's Times Square during a fight between pro-Israeli and pro-Palestinian protesters.
Borgen said he was surrounded by 10 to 15 people who punched, kicked, pepper-sprayed and beat him with crutches. The group also made antisemitic comments towards him, he said.
The attack on Borgen is being treated as a hate crime. Police arrested one person in connection with the assault. They are searching for up to six more individuals.
"They were just wailing on my head, beating on me... I guess I could have died," Borgen said.
The demonstrations occurred as Israel and Hamas announced a cease-fire, ending 11 days of hostility. The 11-day conflict resulted in hundreds of deaths and demolished buildings throughout the Gaza Strip, as well as deaths in Israel.
Newsweek contacted the New York Red Bulls for comment.