'Lucifer' Season 5, Part 2: Tom Ellis Hints At Release Date
Lucifer's so-called "Lucifans" may have got used to long waits between seasons, but they are still eagerly awaiting news of Season 5, Part 2, and its final eight episodes. Netflix has not confirmed the release date, but the show's main star has hinted that fans may only have a few months to wait until Season 5B comes to the streaming service.
Right now, the cast and crew still have to film over half of the Season 5 finale, which was the only episode not completed when filming shut down due to the coronavirus. Per Lucifer actor Tom Ellis, the show still has five or six days left of shooting to do on Season 5, Episode 16, after which post-production will have to be completed on the episode.
Previously, Newsweek predicted that Season 5B could come out in late 2020 or early 2021, and now a release date around that time has been teased by Ellis. Speaking on the Pilot TV podcast, the actor said: "The second eight episodes, I'm not sure when they're going to drop because we've still got the finale."
The Lucifer and Michael actor added: "We were about halfway through it. So we go back, we start with that, and then we go straight into season six. So hopefully that'll be ready to go, I would imagine, sort of Christmastime or early next year."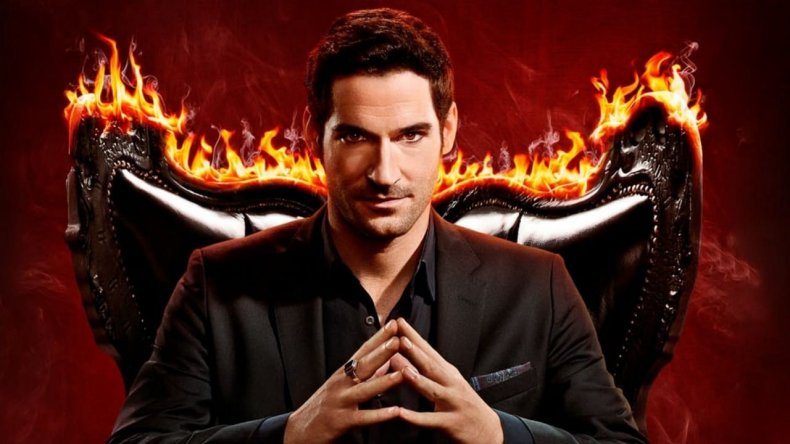 Once filming is finished on the finale episode, set to be titled "A Chance At a Happy Ending," shooting will go straight on to the sixth and final season.
With previous shows that have split their seasons into two on Netflix, there has usually been anything between three and six months between installments. The Chilling Adventures of Sabrina, for example, aired its first part in October 2018, and its second six months later in April 2019.
More recently, there were six months between Fuller House Season 5 Parts 1 and 2, after a three-month gap between the two parts of Season 3 in 2017.
If Lucifer Season 5 does have a six-month gap between its two parts, then it will come to Netflix in mid-February.
Currently, the plan is for the cast to restart filming Season 5 in mid-October 2020, as was revealed in a recent issue of Production Weekly. However, this target date will surely rely on the crew being able to film safely in Los Angeles. But with COVID-19 cases dropping in LA County (per the LA Times), it seems likely that the show will be able to finish filming in October ready for a Christmas or New Year release.
Lucifer Season 5 Part 2 is coming soon to Netflix.