Luke Bryan Mocks Aaron Rodgers' Vaccine Controversy at the CMA Awards
Luke Bryan took a swipe at Aaron Rodgers' vaccine controversy as he hosted the Country Music Association (CMA) Awards on Wednesday.
Green Bay Packers quarterback Rodgers has faced criticism and sparked debate, after it was revealed—following him testing positive for COVID-19—that he had opted against taking the vaccine for the virus as he feared blood clots and infertility.
And country singer Bryan drew on the subject for laughs as he opened the CMA Awards, held at the Bridgestone Arena in Nashville, Tennessee.
"Whatever makes you country, you are welcome here tonight," Bryan said, per Just Jared. "Rest assured, we're following all the health protocols to keep everyone safe, and it is so great to be here with all my fellow artists—tested and together."
Taking a swipe at beleaguered football ace Rodgers, Bryan then added with a laugh: "Or immunized? Who is it? Just playing."
Bryan's comment was in reference to Rodgers telling reporters in August that he had been "immunized" against COVID-19. He tested positive for the virus on Wednesday November 3.
After Bryan's quip, the camera panned to Carrie Underwood, whose husband Mike Fisher (also in attendance at the show) had spoken out in defense of Rodgers in an Instagram post.
The hockey player wrote: "I stand with @aaronrodgers12. I believe in the freedom to choose what we put in our bodies and the freedom of conscience. I agree with him in that the science clearly shows the vaccinated spread covid at basically the same rate as the unvaccinated.
"The @nhl @nfl and other leagues are ignoring the science and choosing to coerce and punish unvaccinated players with these restrictions. If they really cared about people's health they would have daily testing for all.
"But these past 2 years has clearly shown us that this is not about our health, it's about control over our lives. I won't stand for that. It's time to fight for our medical freedom and I feel for those that have been fired for choosing medical freedom.
"People losing their jobs over a medical choice is un-American and unacceptable. We need to stand up now before it's too late!!"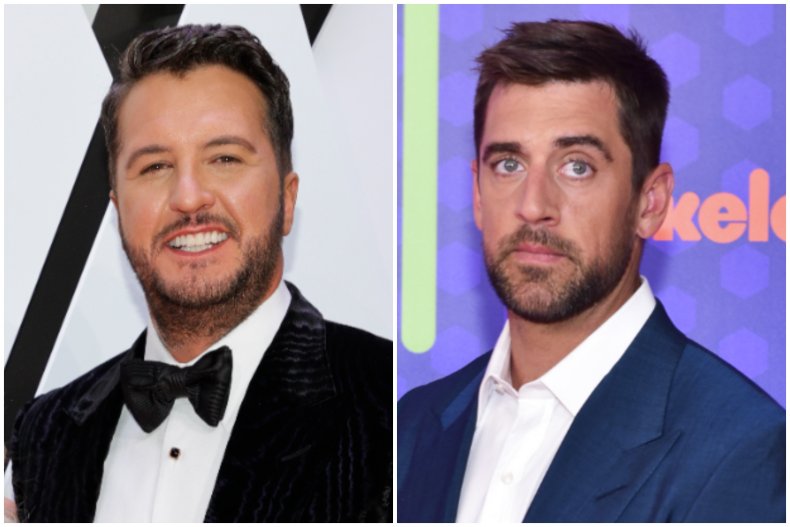 While Rodgers has shared his reservations about the vaccine, the U.S. Centers for Disease Control and Prevention (CDC) has stated that no clinical research links COVID-19 vaccines approved for use in the U.S. to male infertility.
The Johnson & Johnson COVID-19 vaccine has been linked to blood clots in adult women younger than 50, though the CDC has said that blood clots are rare for male recipients.
An Oxford University study found in August that the risk of developing blood clots is "substantially higher" from COVID-19 infections than from side effects of taking the vaccine.
Rodgers has said that since his positive novel coronavirus diagnosis he has been taking the anti-malaria medication hydroxychloroquine and the anti-parasite medication ivermectin to treat his symptoms since his COVID-19 diagnosis.
Medical authorities have stated that neither medication has any proven effect on alleviating symptoms of the virus.
On Friday November 5, Rodgers made an appearance on The Pat McAfee Show podcast, during which he criticized vaccine mandates and asserted that what happens to his body should be his personal choice.
"I'm not some sort of anti-vax, flat-earther," he said. "I believe strongly in bodily autonomy and the ability to make choices for your body, not to have to acquiesce to some sort of woke culture or crazed individuals who say you have to do something."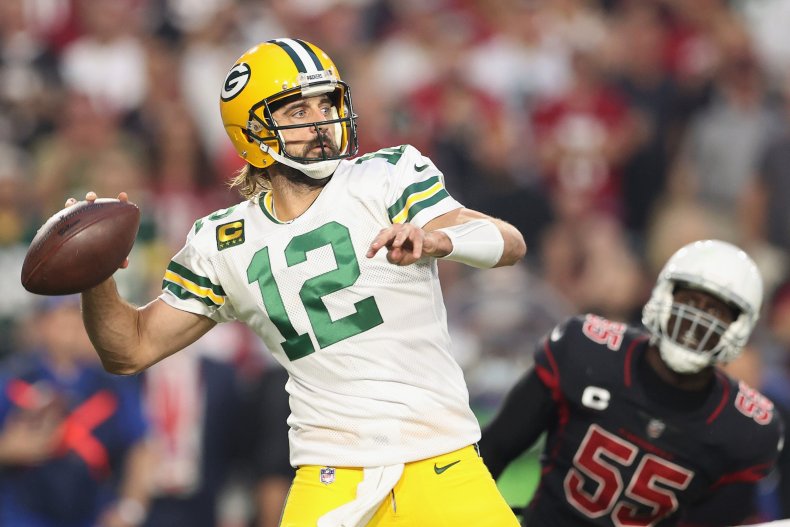 He said that he had avoided the Pfizer and Moderna vaccines because was allergic to an ingredient in them, while he cited his fear of developing blood clots for not wanting the Johnson & Johnson vaccine.
The sportsman, who said that he had followed the majority of the NFL's protocols for unvaccinated players, didn't wear a mask during news conferences and attended a Halloween party maskless—both violations of the league's rules.
"Some of the rules are not based in science at all," Rodgers said. "They're based purely in trying to out and shame people."
"The great M.L.K. said, 'You have a moral obligation to object to unjust rules and rules that make no sense,'" he added, paraphrasing Martin Luther King Jr.
During an appearance on the same podcast of Tuesday of this week, Rodgers conceded: "I made some comments that people might have felt were misleading and to anyone who felt misled by those comments, I take full responsibility for those comments."
The NFL on Tuesday announced that it has fined the Green Bay Packers, as well as quarterback Rodgers and wide receiver Allen Lazard, for violating COVID-19 protocols.
A fine of $300,000 was levied against the Packers organization, while Rodgers and Lazard were each fined $14,650, according to NFL Vice President of Communications Brian McCarthy.