Owners Buy Kitten for Their Rescue Cat As She Lost Hers in Touching Video
A mother cat's decision to take in an unrelated kitten as her own, after losing her own kittens, has melted hearts online.
According to her owner, Lulu the cat recently lost her own kittens and so with all that motherly love left with nowhere to go, was purchased a kitten to look after to help mend her broken heart.
The video has gained over 34 million views in just over two weeks.
"My cat Lulu lost her kittens so I decided to buy a kitten just for her," owner Lily wrote on-screen. Lulu the black cat could be seen licking the kitten like her own, while the kitten in turn played with her, licking her back and fiddling with her adoptive mom's tails.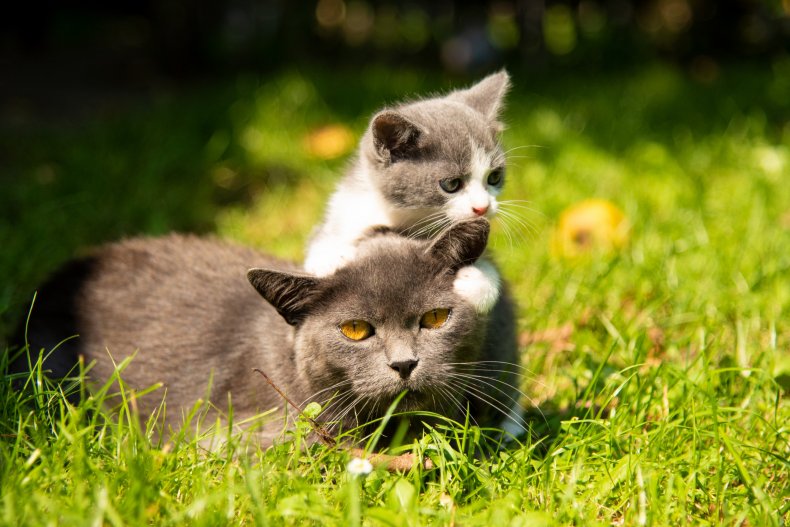 It's certainly not a one time thing either, as various clips showed their blossoming bond over time. Lulu appeared to treat Peggy the kitten as if she was one of her biological own.
According to pet company Chewy, licking offspring kittens is something that mother cats do in a bid to both groom their babies and create a bond. When kittens get older, they use licking as a way to show affection, taught by their mother.
Despite there being little research into cats looking after kittens that aren't biologically related to them, anecdotes online from fellow cat owners share similar stories of their cats adopting another.
The initial stages of life are important for a kitten's relationship with their mother, with the mom providing warmth and milk. Although Lulu and Peggy appear to be past that initial nursing stage by the time they became family, their bond is still akin to that of a normal mother-kitten relationship.
Their heartwarming moments with one another have touched cat-lovers online, who rushed to express their gratitude for the cats having one another in their lives.
"They both needed each other," wrote one user. "That's now her kitten forever," added another.
It certainly isn't the first time that the internet has become captivated by a surrogate cat mom. Earlier this year, a 9-year-old cat named Luna who took in a rescue kitten as her own also took Reddit by storm.
Luna could be seen grooming the kitten, just like Lulu does, in a video along with attempting to help stimulate the kitten's bowel movements.
The kitten was found abandoned behind a locked garage and was confirmed to have protozoa and an eye infection after being taken to the vets.
Usually, Luna is standoffish around newcomers but for some reason, loves the rescued kitten as her own.
Do you have funny and adorable videos or pictures of your pet you want to share? We want to see the best ones! Send them in to life@newsweek.com and they could appear on our site.