Who Is Lydia Jacoby? Teen Swimmer From Alaska Upsets Lilly King to Win Gold at Tokyo 2020
Olympic swimmer Lydia Jacoby is among the latest teenage athletes to bag a surprise win at Tokyo 2020. The 17-year-old from Alaska earned a gold medal at the women's 100-meter breaststroke final on Monday, overtaking fellow Team USA swimmer Lilly King, the former Olympic champion and the current world record holder.
Jacoby is the first Alaskan athlete to take home an Olympic gold medal in swimming.
She was the first swimmer from Alaska to qualify for an Olympic Game and second Alaska native to qualify to compete at the Summer Games in any sport, according to the Team USA website.
Who Is Lydia Jacoby?
Jacoby was born in Anchorage in southern Alaska, the state's most populous city. But she grew up in Seward, a port city, also in the state's southern region.
She is among 11 teenagers who qualified for the U.S. Olympic swimming team and is the fourth-youngest of the team's 50 members, according to the Anchorage Daily News.
Jacoby started swimming at the age of 6 years old, according to a November 2020 article by Alaska's Peninsula Clarion. She learned to swim after her parents, who are both licensed boat captains, wanted to make sure she would be safe in the water.
Her father is also a maritime instructor, while her mother is also an educational coordinator for a marine science program in Seward.
Jacoby told the Anchorage Daily News in June: "Most kids in Seward go through the swim team at some point, because living in a maritime community, it's important.
"I really enjoyed it. I had a big group of friends who did it. When I got a little older, I started winning, and I liked it and wanted to keep doing it—and here I am," she added.
Jacoby's Swimming Career
According to the Peninsula Clarion, Jacoby began hitting her swimming stride between the ages of 10 and 12. She earned her first Alaska state title at the age of 12, according to the swimming news website SwimSwam.
Jacoby's longtime Anchorage swim coach Cliff Murray told theAnchorage Daily News in June: "She had a really great breakout meet as a 10-year-old at the Western zone championships. Since then she's been on everybody's radar, at least in Alaska."
Murray highlighted that Jacoby's kick in the water is "a God-given gift."
"Her feet catch like a sail, and she has such power from her upper legs and glutes that she is just throwing water back with immense power.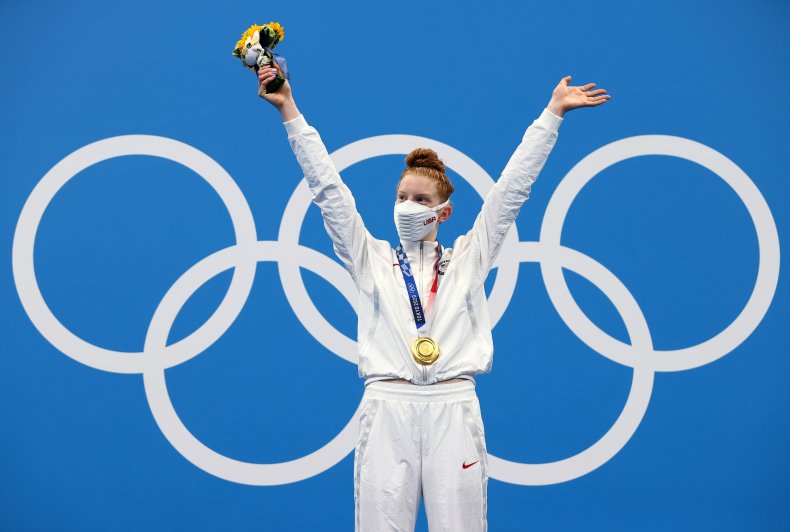 "She has absolutely without a doubt the best breaststroke kick I've ever seen, and I've seen a lot of Olympic-caliber athletes. She has it, and we've worked hard not to change it," said Murray.
Jacoby was only 14 years old when she qualified for the 2020 Olympic trials in the 100-meter breaststroke category at the U.S. Winter Nationals in North Carolina back in 2018.
Around a month earlier, Jacoby had set an Alaska high school state record in a 100-yard breaststroke event.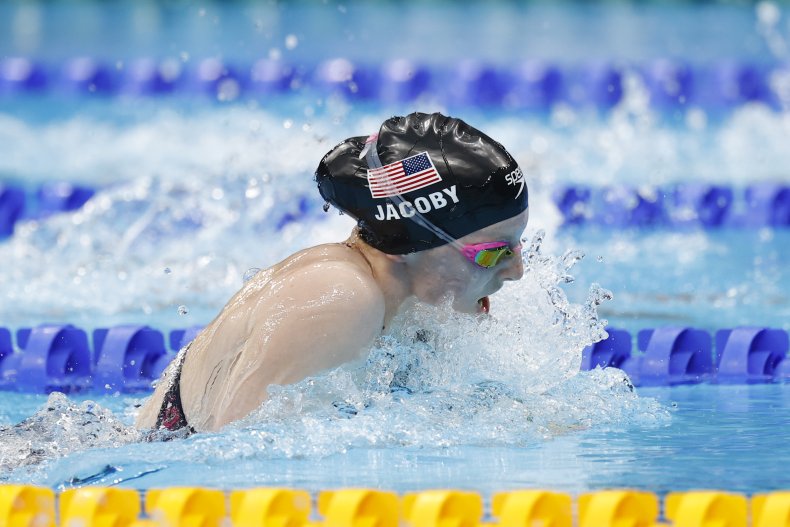 In 2019, the teenage athlete won her first junior national title in the 100-meter breaststroke event, which qualified her for the U.S. junior national team.
Jacoby also made waves at the U.S. Olympic trials in Omaha, Nebraska in June, where she set a national record for the 17-18 age group in the semifinals.
Following her Olympic gold win on Monday, the teenager said: "It was crazy. I was definitely racing for a medal, I knew I had it in me but I wasn't really expecting a gold medal. When I looked up at the scoreboard it was insane."
"It is huge. A lot of big-name swimmers come from big powerhouse clubs, but coming from a small club and a state with such a small population shows that you can do it no matter where you are from," she added.