Lyme Disease Becomes Latest Infection for New Vaccine Trials
Pharmaceutical companies are trying to launch a new vaccine against Lyme disease after cases recently increased almost five-fold in 15 years.
Pfizer and Valneva announced in a statement last week that they are conducting later-stage studies into what could be the first vaccine to fight the disease in decades.
Current studies are meant to "investigate the efficacy, safety and immunogenicity of their investigational Lyme disease vaccine candidate, VLA15," according to researchers.
"With increasing global rates of Lyme disease, providing a new option for people to help protect themselves from the disease is more important than ever," said Annaliesa Anderson, Head of Vaccine Research & Development at Pfizer, in the statement.
Anderson continued: "We hope that the data generated from the Phase 3 study will further support the positive evidence for VLA15 to date, and we are looking forward to collaborating with the research sites across the U.S. and Europe on this important trial."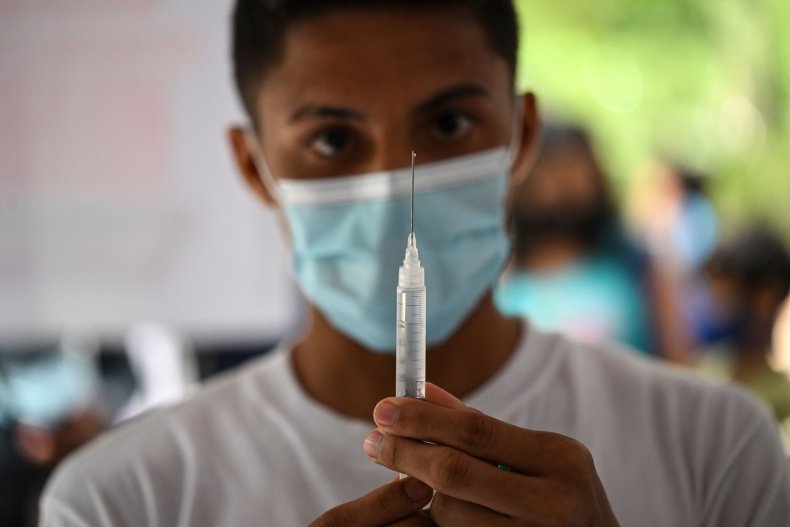 What Is Lyme Disease?
The disease is caused by the bacterium Borrelia burgdorferi, which is transmitted to humans through the bites of infected ticks. Symptoms include fever, headache, fatigue, and a certain type of skin rash called erythema migrans, according to the Centers for Disease Control and Prevention (CDC).
"If left untreated, infection can spread to joints, the heart, and the nervous system. Lyme disease is diagnosed based on symptoms, physical findings (e.g., rash), and the possibility of exposure to infected ticks," the CDC said.
Campers and hikers who are specifically prone to getting infected are encouraged to take preventative measures such as using insect repellent, removing ticks, using pesticides, and reducing tick habitat.
The CDC warned that "ticks that transmit Lyme disease can occasionally transmit other tickborne diseases as well." However, the agency added that most cases of the disease can be successfully treated within a few weeks of antibiotics.
Around 30,000 Lyme disease cases are reported to the CDC every year by state health departments, but those are only the reported cases as there are more ways for health officials to track where the disease is spreading and its frequency. Other methods used to track this data found that around 476,000 people may get Lyme disease each year in the U.S., according to the CDC.
The uptick in cases is attributed to longer summers, warmer winters and animal migration. Lyme diagnosis increased 357 percent in rural areas in the U.S. between 2007 and 2021 and rose 65 percent in towns and cities, according to analysis.
Lyme Disease Vaccine Efforts
The prior study phase by Pfizer and Valneva showed that VLA15 has demonstrated "strong" immune responses in adults and children "with acceptable safety and tolerability" for both age groups. However, the vaccine might not reach the public any time soon, the companies said last week.
Once the third phase of the vaccine clinical trials are completed, Pfizer could potentially submit a Biologics License Application (BLA) to the U.S. Food and Drug Administration (FDA) and Marketing Authorization Application (MAA) to the European Medicines Agency (EMA) in 2025.
The potential vaccine works by blocking a tick's ability to transfer Borrelia burgdorferi bacterium, which causes the disease, to humans.
"Lyme disease continues to spread, representing a high unmet medical need that impacts the lives of many in the Northern Hemisphere," said Juan Carlos Jaramillo, Chief Medical Officer of Valneva, in the statement.
Meanwhile, Yale University researchers developed a potential vaccine candidate that partially protects against the disease last year. It is said to offer partial protection against infection by the bacterium that causes the disease. The vaccine reportedly works by limiting the amount of time that ticks have to feed upon and infect a host instead of triggering an immune response.
Newsweek reached out to Pfizer for comment.