U.S. Now Has a Third of the World's Monkeypox Cases
The United States now accounts for a third of the world's monkeypox cases and the number may only rise from here, according to an infectious disease expert.
While the U.S. only accounted for 4 percent of the world's total monkeypox cases in June, a month later, it rose to 14 percent, according to Our World in Data. As of August 17, the U.S. has 34 percent of the world's monkeypox cases.
The U.S. Centers for Disease Control and Prevention (CDC) recorded 39,434 monkeypox cases worldwide as of August 17. Around 39,047 of these are in locations that have not previously reported monkeypox prior to this current outbreak.
Since May, monkeypox has continued to spread rapidly around the globe. The spread appears to be concentrated, but not exclusive, to men who have sex with men. Scientists are still researching exactly why this is. The virus spreads mainly through direct, physical contact with an infected person.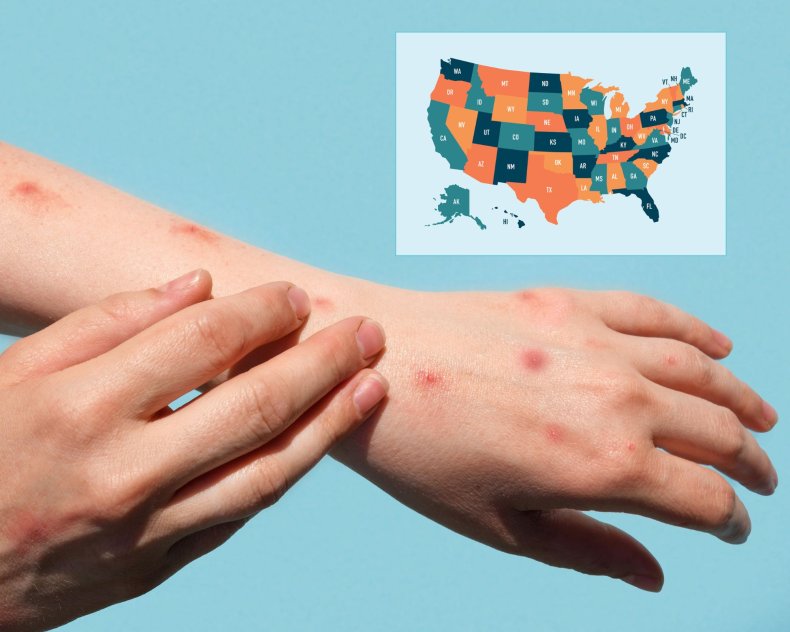 Rebecca S.B. Fischer, an infectious disease epidemiologist and assistant epidemiology and biostatistics professor at Texas A&M University, told Newsweek that she expects monkeypox cases to "continue to increase."
"This is mainly because the epidemic does not seem to be well controlled yet. Another reason I expect to see the numbers grow is that we are still learning who will be counted among the cases. Monkeypox can have a long incubation period, which is the timeframe from infection to when symptoms appear and is also about the time someone realizes they may have been exposed and seeks testing," Fischer said.
"The current data suggests an incubation period of about 7-10 days, but it can be longer, up to three weeks. And reporting delays of 5-10 days from when the positive test happens can make these data lag even farther behind the actual situation. These result in substantial delays to our epidemic awareness and affect our timely epidemic analyses."
Fischer said that there has been "a lot of attention" on the virus "for multi-partner highly-connected sexual networks, where initial spread took foothold."
However, Fischer said that it is important not to assume that other "social networks and situations are remaining unscathed."
"Monkeypox is also spreading within households and during parties and large events. These other exposure settings could play a more significant role in transmission as we move forward and as the virus becomes more widespread in the community," Fischer said. "One of the most important tools for mitigating the spread of this virus is broad access to testing and vaccination.
"These are lessons that should have been learned by now, at the very least through our recent COVID experiences, and public health interventions like these would ideally deploy immediately with wide accessibility to whoever is at risk," she said. "While for many places that ship has sailed, there may be opportunities to deploy vaccine to areas that are not yet heavily affected, where there may yet exist an opportunity to get in front of community spread.
Fischer added that in the future, there should also be a "good discussion" on sending vaccinations to countries where monkeypox is endemic.
"We should be containing vaccine-preventable diseases—these should not be the pandemic threats," she said.
Correction 08/19/22 6.38 a.m. ET: Rebecca S.B. Fischer's affiliation has been corrected.