Lyn May Says She's Engaged to Singer, 30, After Announcing Pregnancy at 68
Mexican actress Lyn May has stated that she's set to marry singer Markos D1, weeks after announcing she was expecting his baby at the age of 68.
On August 8, May caused a stir when she claimed on her Instagram account that she was pregnant and that Markos, who turned 30 on August 29, was the father.
Weeks later, on August 25, she posted a brief clip of a baby scan, alongside an indication of a January 12, 2022 due date, captioning the post: "01/12/22 👶."
And after stating that she was expecting twins, May returned to Instagram in September to announce that she was set to tie the knot with Markos, real name Marcos Hernandez.
However, soon after sharing the post, May deleted it, along with other updates on her pregnancy claims—but not before it was captured by Mexican entertainment news show Suelta La Sopa.
According to a post on the show's Instagram account, May captioned an image of herself and Markos: "I invite you to my wedding February 14 2022 in #LasVegas 👰 # 2022."
Newsweek has contacted a representative of Markos D1 for comment.
Despite the announcement, Markos told Newsweek in August that he and May could only have conceived during a drunken one-night stand when they spent time together months earlier this past summer.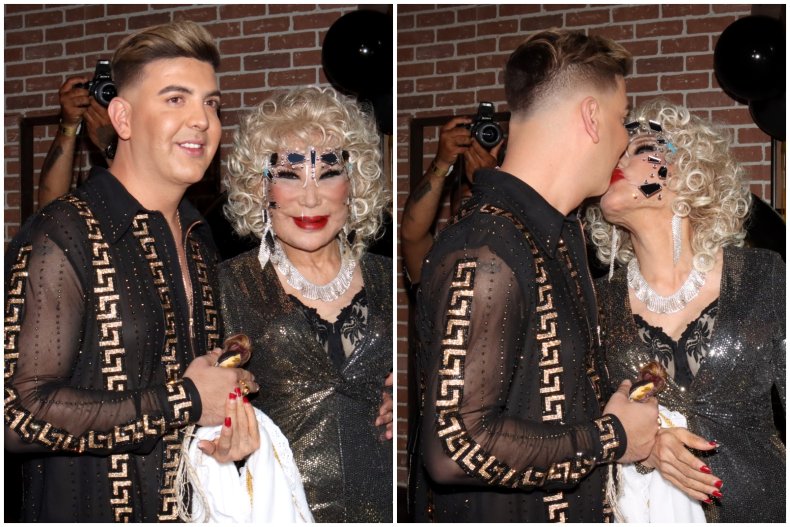 "We never had an actual relationship," he said. "It was kind of curious to me, because I did go to Mexico to the Pepsi Center, to an event that we were invited to. We drank. I drank so much that I don't even know what happened that night. It was just crazy.
"And then... she never told me anything. I was just getting [messages] on my Instagram, like, 'Happy that you're gonna be a dad,' and it just went crazy."
During the interview, Markos also ruled out marriage, as the California-based musician insisted that he and the Ficheras cinema star could only ever be friends.
"She's been married seven times already," he said. "I don't think she would want to get married again. And there have been so many stories about when she dug up her husband from the grave. She has a lot of history!"
In an interview on El Minuto Que Cambió Mi Destino (The Minute That Changed My Destiny), May revealed that she exhumed her late husband Antonio Chi-Xuo's remains as she struggled without him following his 2008 death.
"Yes I dug it up, I always had it there in my bed," said the actress, whose real name is Lilia Mendiola de Chi. "My mother fought with me every day, she told me, 'You are not going to let him rest.' We fought every day because I would not let go of him.
"He was my partner. I lived 25 years with him, a 25-year marriage. I didn't want to let him go, I wanted him."
Should May's pregnancy be confirmed and make it to full term, she would break the Guinness World Record as the oldest woman to have given birth.
Since 2006, the record has been held by Maria del Carmen Bousada Lara, who gave birth at 66 years and 358 days.