Mac Jones Has Opportunity to Take Patriots Starting QB Spot With Cam Newton Out
Cam Newton's lost week could be Mac Jones' gain.
With Newton out of the New England Patriots lineup while he observes COVID-19 protocols, the Patriots rookie quarterback could have an opportunity to earn the team's starting role for Week 1 against the Miami Dolphins.
The Patriots announced Monday that Newton would miss practice until Thursday due to "a misunderstanding of tests conducted away from NFL facilities." Newton left the Patriots for a team-approved medical appointment Saturday, and tested negative for coronavirus, but is forced to quarantine due to NFL-NFLPA protocols.
Newton is subject to the quarantine because he is unvaccinated, and Patriots brass is reportedly "frustrated" with the fact he is in this position, according to Mike Giardi of the NFL Network. Patriots coach Bill Belichick declined to address the reported organizational frustration during his press availability Tuesday, citing the statement the team released.
"I don't have anything to add to the statement," Belichick said. "We've given information, and that's all I have."
But Newton and Jones are locked into a competitive battle for New England's starting quarterback spot, and Belichick said "it is" when asked if this was a good opportunity for Jones.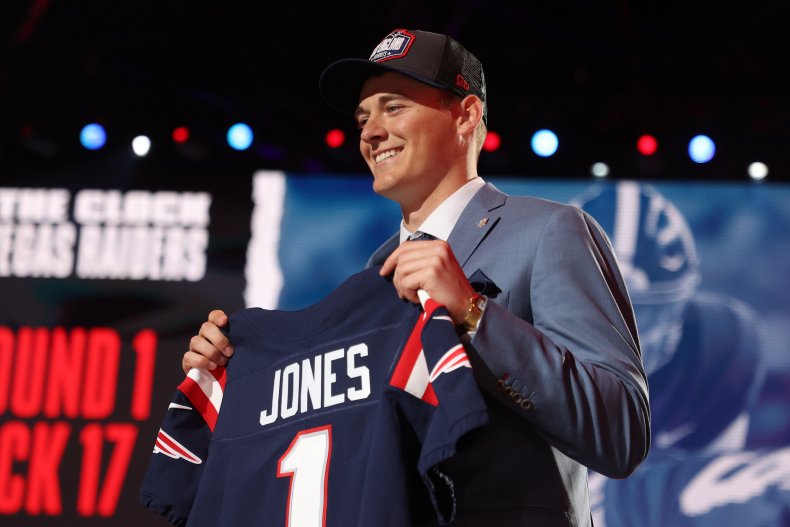 Jones will lead a joint practice against the New York Giants on Wednesday before Newton can return. Belichick also admitted the absence would set Newton back.
"Of course," Belichick said. "If you couldn't gain anything by practicing, then why would you practice?"
Belichick said "every team is dealing with the same situation," with coronavirus protocols despite the ubiquity of three highly effective vaccines in the United States. Unfortunately one of the Patriots' divisional rivals, the Buffalo Bills, proved him right when five players, including vocal vaccine opponent Cole Beasley, were sent home Tuesday due to close contact with a team athletic trainer who tested positive for the virus according to the New York Daily News.
At least four of the five Bills players, including Beasley, will miss the mandatory five days for reentry because they are unvaccinated.
The hand wringing over getting vaccinated, and the fact the NFL is still forced to manage virus protocols despite wide access to shots, has resulted in at least one unlikely vaccine proponent. Jerry Jones, the outspoken owner and general manager of the Dallas Cowboys, put out a plea for NFL personnel to get vaccinated Tuesday.
"To me this is a team game. We rely on each other to play. We rely on each other to win, and we have to have each other," Jones told 105.3 The Fan. "Everyone has a right to make their own decisions regarding their own health and their own body. I believe that completely until your decision as to yourself impacts negatively many others; then the common good takes over, and...that has everything to do with the way I look at our team the Cowboys, and the way I look at our society. We have got to check 'I' at the door, and go forward with we."