Machine Gun Kelly Insists He Wasn't Booed, Accuses Media of Lying
Machine Gun Kelly has accused the media of lying after it was reported that he was heavily booed during his set at a music festival over the weekend.
The pop-punk singer—whose real name is Richard Colson Baker—performed a set at the Louder Than Life Festival in Louisville, Kentucky on Saturday where footage has emerged of him being booed by the crowd.
Rolling Stone reports that MGK was "relentlessly booed" at the event over disparaging comments he made about the band Slipknot at Chicago's Riot Fest last weekend.
The "Forget Me Too" singer/rapper launched into a tirade against the metal band, deeply upsetting some of its fans who got their revenge at Louder Than Life.
"Hey, you wanna know what I'm really happy that I'm not doing? Being 50 years old wearing a f****** weird mask on a f****** stage, talking s***."
Kelly's comments came amid his ongoing feud with Slipknot frontman Corey Taylor who seemingly referenced the singer in a recent podcast.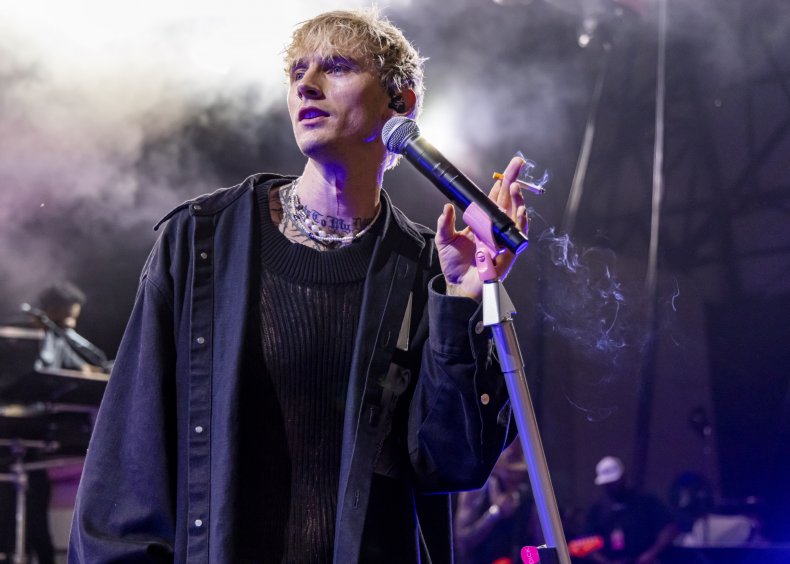 Although Taylor did not name Kelly directly on Cutter's Rockcast, he said, in an apparent jab: "I hate all new rock for the most part. I [hate] the artists who failed in one genre and decided to go rock and I think he knows who he is. But that's another story." (per NME)
Elsewhere during his performance, MGK was confronted by two festival-goers who jumped the front barricade after he made his way down to the photo pit.
Footage shows security breaking up the would-be scuffle.
However, MGK has refuted the claims that he was relentlessly booed and accused the media of lying about it, and that it was just a small number of people who behaved that way.
Sharing a fan's video of the crowd singing along to one of his songs on Saturday, MGK tweeted: "i don't know why the media lies in their narrative against me all the time but all i saw was 20,000 amazing fans at the festival singing every word and 20 angry ones."
Newsweek has contacted Kelly's representatives for further comment.
Kelly made headlines last week when he got into a scuffle on the VMAs red carpet with UFC fighter Conor McGregor.
According to TMZ, McGregor said he attempted to approach the musician to greet him with a handshake before he was pushed back by the musician's security.
Video footage of the incident widely shared on Twitter showed a furious McGregor throwing his drink, said to be aimed at Kelly and his girlfriend, Megan Fox.
However, both parties' security teams broke things up before any violence could escalate.