Machine Gun Kelly ensured a great deal of careful planning went into his recent marriage proposal to Megan Fox, including on the design of her dazzling two-stone engagement ring.
The couple took to their respective Instagram accounts on Wednesday to reveal that, after more than a year of dating, they will be taking a trip down the aisle.
As Fox, 35, shared video footage of the romantic moment on her account, Kelly, 31, posted a clip of her custom-made Stephen Webster emerald and diamond ring.
Captioning his post, the musician—real name Colson Baker—wrote: "'yes, in this life and every life' 💍 beneath the same branches we fell in love under, i brought her back to ask her to marry me."
Addressing his choice of ring, the "Rap Devil" hitmaker explained: "i know tradition is one ring, but i designed it with Stephen Webster to be two: the emerald (her birth stone) and the diamond (my birth stone) set on two magnetic bands of thorns that draw together as two halves of the same soul forming the obscure heart that is our love. 1-11-2022 ✨."
Taking to his Instagram Story, Kelly also posted a clip of the ring on Fox's finger, adding the caption: "She said 'yes.'"
He also shared slow-motion video of himself and his new fiancée falling backward into a bed adorned with red rose petals formed in a heart shape.
Transformers star Fox showed that the effort went far beyond the ring, as the location selected for the proposal also proved to be significant for the couple.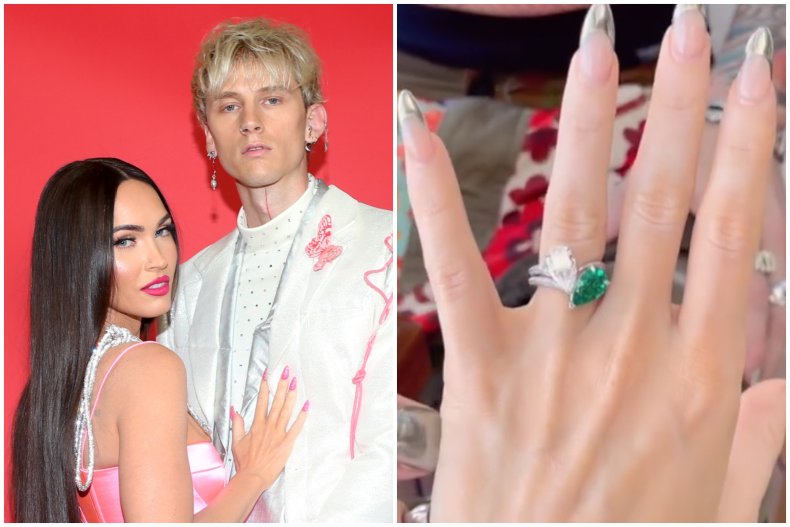 The proposal footage she shared showed the lovebirds standing together on outdoor steps beneath a tree, as Kelly got down on one knee. After a visibly surprised reaction, Fox kneeled down with Kelly before they kissed passionately.
"In July of 2020 we sat under this banyan tree. We asked for magic," Fox captioned her post. "We were oblivious to the pain we would face together in such a short, frenetic period of time.
"Unaware of the work and sacrifices the relationship would require from us but intoxicated off of the love. And the karma.
"Somehow a year and a half later, having walked through hell together, and having laughed more than I ever imagined possible, he asked me to marry him.
"And just as in every lifetime before this one, and as in every lifetime that will follow it, I said yes."
Ending her post with a statement that has sparked a strong reaction on social media, the actress wrote: "...and then we drank each other's blood."
Like Kelly, Fox signed off with "1-11-2022 ✨"—the date of the proposal.
Fox and Kelly met on their set of their critically-panned movie Midnight in the Switchgrass, which they started filming in March 2020.
After Fox landed a starring role in the video for Kelly's track "Bloody Valentine" in May 2020, she and Kelly went Instagram official as a couple months later in July.
In their first joint interview, which was released in July 2020, Fox said on the podcast Give Them Lala ... With Randall that Kelly was her "twin flame."
"I knew right away that he was what I call a twin flame," she said. "We're actually two halves of the same soul, I think. And I said that to him almost immediately, because I felt it right away."
The marriage will be Kelly's first trip down the aisle and Fox's second.
Fox's split from ex-husband Brian Austin Green was confirmed in May 2020. Their divorce was finalized in October 2021. The screen stars, who were married for 10 years, share three sons—Noah Shannon, 9, Bodhi Ransom, 7, and Journey River, 5.
Meanwhile, Kelly is the father of 12-year-old daughter Casie, whom he shares with ex Emma Cannon.