Mackenzie Scott's Gifts Cast Unflattering Light on Bezos' COVID Capitalism
Mackenzie Scott, the ex-wife of the world's richest man, Jeff Bezos, has made headlines after she announced donating $4.2 billion of her fortune to 384 organizations working to make a difference during the coronavirus pandemic.
This news came after Scott drew headlines in July for contributing some $1.7 billion to historically Black universities and colleges as well as women's rights, LGBTQ and climate change groups.
Meanwhile, Scott's ex-husband continues to draw the ire of activists and lawmakers because of his immense (and rapidly expanding) wealth, coupled with significant concerns over his company Amazon's treatment of workers, particularly amid the pandemic.
Bezos has previously been criticized for being notably less generous than other prominent billionaires. He has declined to sign the Giving Pledge, an initiative spearheaded by billionaires Warren Buffett and Bill Gates to encourage other wealthy individuals to commit to donating the bulk of their wealth to charitable causes by the end of their lives.
"This pandemic has been a wrecking ball in the lives of Americans already struggling," Scott, who quickly signed the Giving Pledge after her 2019 divorce from Bezos, wrote in a Tuesday Medium post announcing that she'd contributed more than $4 billion over the past four months.
"Economic losses and health outcomes alike have been worse for women, for people of color, and for people living in poverty. Meanwhile, it has substantially increased the wealth of billionaires," she added.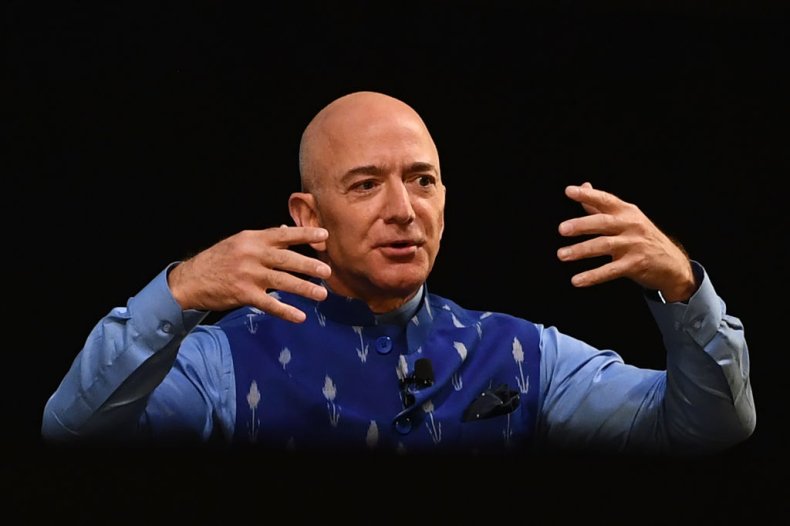 Organizations such as Goodwill, the United Way, the NAACP, the YMCA and the YWCA are among those who received contributions from Scott. The billionaire, whose net worth is estimated to be just north of $60 billion, according to the Bloomberg Billionaire Index, also contributed to food banks and programs like Meals on Wheels that are at the forefront of feeding hungry Americans—a severe problem that has been exacerbated for millions during the pandemic.
"This woman is extraordinary. Wish her former husband would follow her lead," NBC News anchor Maria Shriver tweeted on Tuesday evening, sharing the news of Scott's donations.
Chuck Collins, director of the Charity Reform Initiative at the Institute for Policy Studies, told The New York Times that Scott is "disrupting" the norms of billionaire philanthropy.
"You think of all these tech fortunes, they're the great disrupters, but she's disrupting the norms around billionaire philanthropy by moving quickly, not creating a private foundation for her great-grandchildren to give the money away," Collins said.
By comparison, the Bill & Melinda Gates Foundation doled out $5.1 billion last year. Combining Scott's $4.2 billion with the $1.7 billion from the summer brings her contribution to nearly $6 billion for 2020. Although the Gates Foundation, which also receives funds from Buffett, may surpass Scott's contributions by the end of the year, the organization has some 1,600 employees and has been in operation since 2000. Scott's philanthropy began following her 2019 divorce and is carried out with a team of advisers.
Bezos saw his net worth grow by nearly 60 percent over the course of 2020, or by about $58 billion. Bloomberg estimates Bezos' current net worth at $183 billion. Over the year, the nation's four richest individuals—Bezos, Gates, Facebook founder Mark Zuckerberg and Tesla CEO Elon Musk—saw their combined fortunes grow by nearly $230 billion.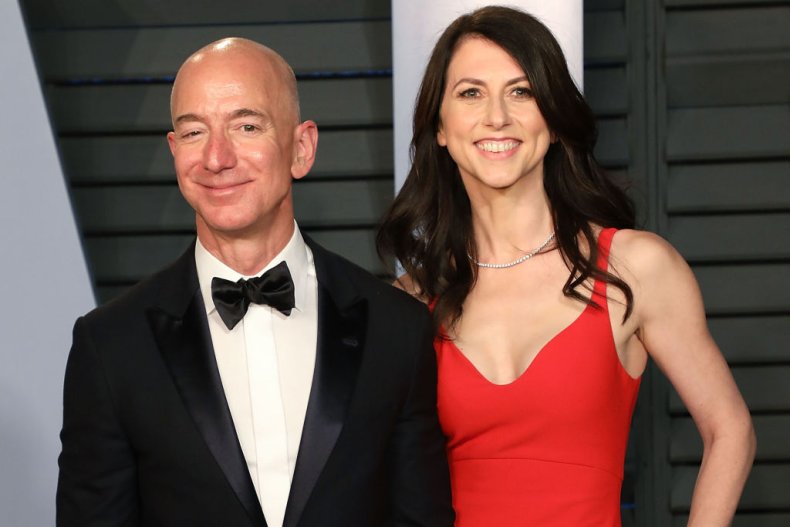 During the same period, Feeding America believes some 50 million Americans—up from about 35 million in 2019—will have experienced food insecurity this year. That number includes some 17 million children. Unemployment has jumped dramatically during the pandemic, as lockdown measures have forced thousands of businesses to close, and millions of Americans are estimated to be on the verge of eviction.
Progressives, such as Senators Bernie Sanders of Vermont and Elizabeth Warren of Massachusetts, along with the so-called Squad comprising Representatives Rashida Tlaib of Michigan, Ilhan Omar of Minnesota, Alexandria Ocasio-Cortez of New York and Ayanna Pressley of Massachusetts—have pointed to dramatically growing inequality as a signal of the need for major reforms.
"Since 1990, there has been a massive transfer of wealth from workers to the people on top. While the 1% have seen their wealth go up by $22 trillion, the bottom 50% of Americans have seen their wealth go down by $776 billion. We need a strong middle class, not an oligarchy," Sanders tweeted on November 27.
During the pandemic, Amazon workers became vital to providing Americans with necessities, and their working conditions and compensation drew national attention. While Bezos, their boss, grew wealthier and wealthier, they continued to work long hours for low wages in what many described as risky job conditions. Attempts to strike and organize were met with strong pushback and, in some cases, retribution from Amazon's management.
In March, as the pandemic began to surge and some Amazon workers in New York attempted to organize in protest of their working conditions, the company decided to fire assistant manager Chris Smalls. The organizer learned that he'd been fired as he and dozens of other Amazon employees protested their company's response to COVID-19. The Amazon workers were demanding what many saw as basic needs—personal protective gear and hazard pay—as they carried out their essential work.
Although Amazon briefly gave temporary wage increases and double overtime pay during the early months of the pandemic, those measures ended in June. The company has also invested heavily in personal protective equipment for workers and other measures in an effort to protect them. In November, Amazon gave front-line workers a one-time $300 holiday bonus, and in June they received $500. Regardless of these measures, employees have continued to express frustration.
An Amazon source told Newsweek that Jeff Bezos has been deeply engaged with the global community's response to COVID and has supported relief efforts both personally and through the company.
In February, Bezos did announce that he would give $10 billion to fight climate change. This money will be transferred through an Earth Fund vehicle he set up. Thus far, that fund has announced doling out $791 million to 16 organizations including the Nature Conservancy, the Natural Resources Defense Council, the Environmental Defense Fund, the World Resources Institute and the World Wildlife Fund.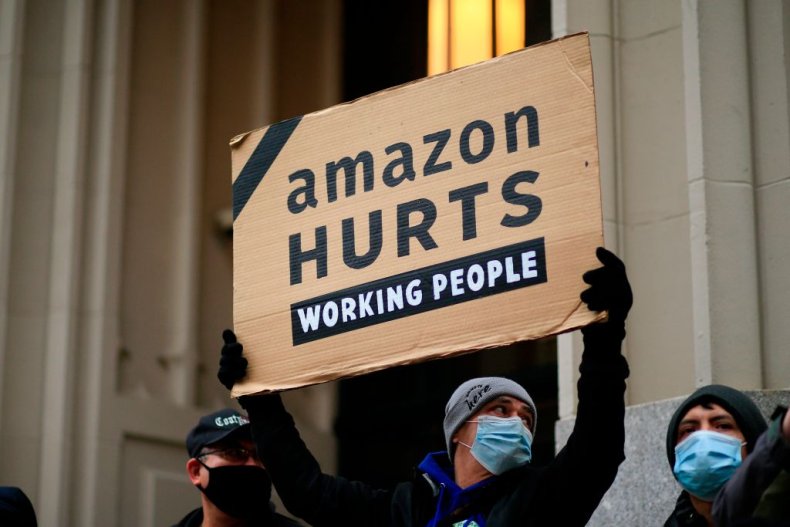 The Amazon source pointed to an April donation of $100 million from Bezos to Feeding America. Bezos additionally pledged to contribute up to $25 million to All in WA—a coalition of Washington state philanthropic, business and community leaders—back in May. The billionaire also pledged over $1 million to more than 40 homeless organizations this year.
But many believe there is a need for a systematic change at Amazon and in how billionaires like Bezos are allowed to accumulate wealth.
"Bezos has accumulated so much added wealth over the last nine months that he could give every Amazon employee $105,000 and still be as rich as he was before the pandemic," Robert Reich, who was secretary of labor in the Clinton administration, wrote in a Sunday column for The Guardian.
"So you'd think he'd be able to afford safer workplaces. Yet as of October, more than 20,000 U.S.-based Amazon employees had been infected by the coronavirus," Reich wrote.