Macron Blasts Brexit as a 'Lie,' Saying British People Are the 'First Losers'
French President Emmanuel Macron slammed the United Kingdom's failure to successfully negotiate its exit from the European Union (known as Brexit), calling the propaganda supporting the leave campaign a "lie."
Pointing out that a "no deal" Brexit would only harm the island nation, Macron said: "The first losers of this are the British people," in a video posted by British newspaper The Guardian on Thursday. He explained that in this worst-case scenario, there would be no transition period and the U.K. would suffer economically, likely facing a dramatic food shortage, as its supermarkets currently import 70 percent of their products from the E.U.
Slamming the 2016 referendum, which narrowly passed when 51.9 percent of British voters supported Brexit, Macron said the whole process had been "manipulated."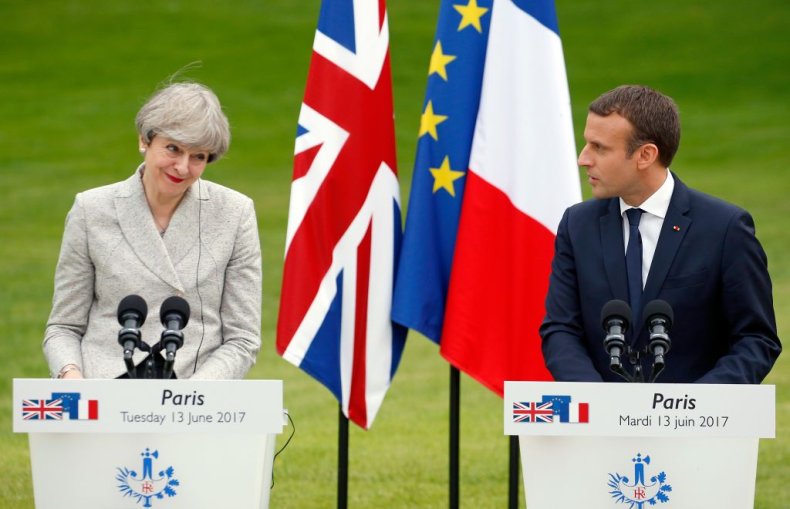 "Manipulated from the exterior by a lot of what we call fake news," the French president said, arguing that "everything and anything was said."
"It is not true," he said, adding that the British people had been lied to and saying that "what they have chosen is not possible."
British Prime Minister Theresa May faced a stunning 432-202 defeat in Parliament this week when the Brexit deal her government had negotiated with the E.U. was voted down. British media classified it as the biggest parliamentary defeat in modern history. Although May faced a "no confidence" vote following the failure, she survived and now plans to meet and negotiate with politicians opposed to her deal.
However, Macron argued in his comments that it would be difficult to adjust anything from the E.U.'s perspective, as the union had already made significant compromises. According to Euro News, France's Prime Minister Edouard Philippe said on Thursday that a no-deal Brexit was looking "less and less unlikely."
E.U. Brexit negotiator Michel Barnier told reporters the continent was "open" to negotiating a relationship that goes beyond free trade, Reuters reported. Germany's Foreign Minister Heiko Maas also said his country would "do everything" it could "so that Britain exits with and not without an agreement."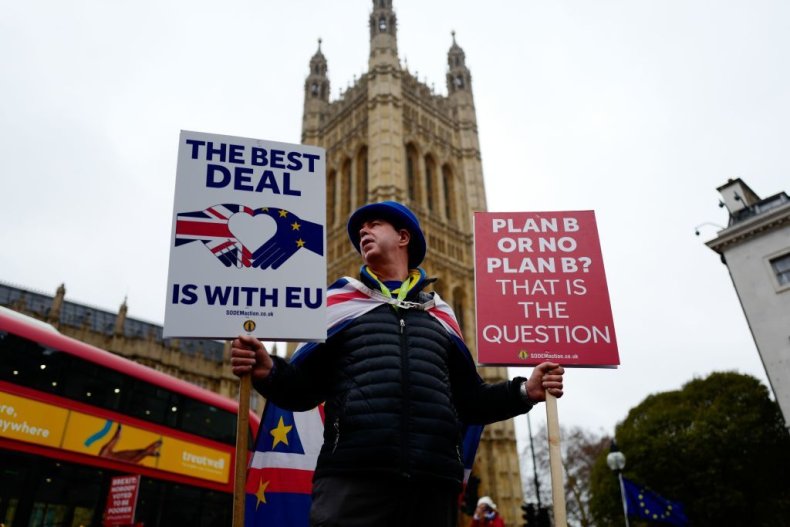 Similar to the 2016 presidential election in the U.S., the aftermath of the Brexit referendum has been plagued by allegations of Russian interference and social media pages peddling "fake news," The Guardian reported.
Last January, U.S. Democrats on the Senate Foreign Relations Committee released a report highlighting alleged actions taken by Moscow to influence the vote. It pointed to "sudden and possibly illicit wealth that may have been directed to support the Brexit 'Leave' campaign."
While supporters of the move argued that it would free the U.K. from Europe's influence and lead to greater prosperity, analysts have warned that it will actually harm the nation's economy, particularly in a no-deal scenario.