Macron Responds to Worst Riots in France in 50 Years With Minimum Wage Rise, Refuses to Tax the Rich
President Emmanuel Macron responded to the civil unrest and political protest that has torn France apart for weeks in an address to the nation, promising both compromise and continuity.
On Monday evening, Macron made a pre-recorded 13-minute declaration in which he reflected on the "Yellow Vest" movement, which has led to the worst violence in France in half a century, striking a sympathetic and conciliatory tone. According to official viewing figures, the address was watched by more than 21 million people—a greater number than tuned in for France's World Cup Final victory last July.
Macron said that while he condemned the violence, he also recognized the reasons behind the anger, took his share of responsibility and agreed an alternative course was required. Last week his government announced that the planned hike on the fuel-tax—the "carbon tax" that sparked the initial protest—would be delayed. But the protests continued as "Act 4," as Yellow Vest protesters called the latest round, rocked Paris over the weekend.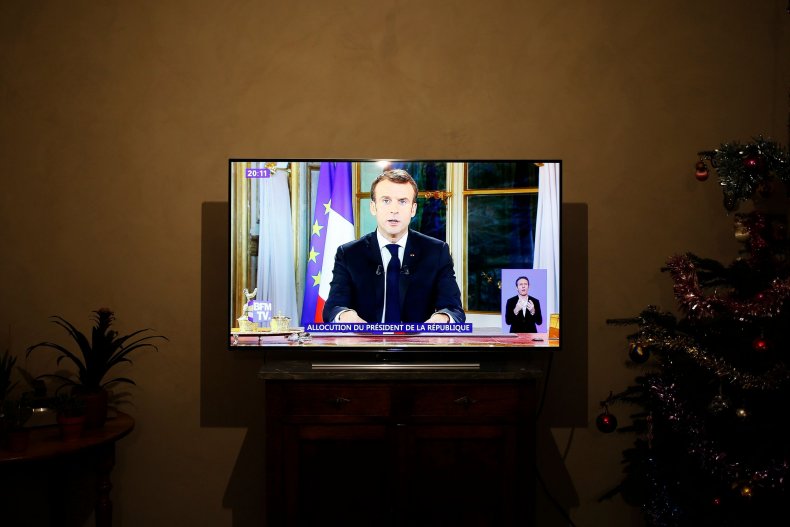 "At first it was anger against a tax, and the prime minister responded by canceling and removing all rises planned for the start of the new year," Macron said, as reported by the BBC. "But this anger is deeper. I feel it is fair in many ways."
His two most significant announcements were that workers earning the minimum wage would receive an extra 100 euros, or about $115, a month starting in January, paid for by the government, and that Macron's reduction of the wealth tax—a move that embodied the perception of Macron as a "president for the rich"—would not be revoked.
"This would weaken us, we need to create jobs," he said, reported the BBC.
Other policy announcements included dropping a planned tax on pensions that were less than 2,000 euros, or about $2,300, and exempting overtime from taxation.
The address was unlikely to be enough to quell the anger of the Yellow Vest movement. A new round of protests, or "Act 5," could still take place this weekend—and road barricades continued overnight.
It's possible that the small print of the policy proposals make them considerably less appealing than they might sound—for example, the minimum wage was already expected to rise in future legislation—and any such deception would only deepen disillusionment with Macron.
Already, in online forums, the reception of Macron's presidential address was far from positive, according to The New York Times. Last week, his popularity reached its lowest level ever.
But there was at least one demand often heard among the Yellow Vests that Macron is almost certain to resist—the call for his resignation.
"We are at a historic moment in our country. With dialogue, respect and engagement, we will succeed. My only concern is you, my only combat is for you—our only battle is for France," he said.