Macron's Approval Drops Behind France's Least Popular President Ever
France's political season is back after the summer break and President Emmanuel Macron returns to work with an approval rating of 31 percent—worse than both his predecessors at this point in their terms.
Macron's popularity has suffered greatly in the first year-and-a-half of his presidency, since he came to office in May 2017 with a handful of reformist policies and a promise to kickstart the French economy using a business-friendly approach. Some of his reforms have not proven popular, and a scandal involving his bodyguard, dressed in police gear and manhandling a protester on camera, has exacerbated the collapse of the feel-good factor Macron cultivated after his election.
The French leader's approval fell to 31 percent at the start of autumn, falling behind the country's two previous presidents, both of whom served only one term and are not held in particularly high esteem by the public today.
Macron now falls below former French President Nicolas Sarkozy's popularity of 41 percent in September 2008 and more alarmingly, below that of predecessor President François Hollande, who had 32 percent approval in September 2013, Paris Match magazine reported.
The drop is particularly alarming for Macron supporters because Hollande quickly came to be regarded as the "most unpopular president" in modern French history, as only 22 percent of French voters approved of him by 2017. At least one poll in 2016 estimated that as few as 4 percent of French voters approved of Hollande, as he experienced several dips in public confidence and eventually refused to run for re-election.
The latest polling figures from Ifop-Fiducial for Macron show that, in the eyes of the French public, his biggest accomplishments are abroad, as a majority (54 percent) believe strongly or at least somewhat that he stands up for the country's interests internationally. Only 47 percent felt he has "revived" the role of the president in France, as 53 percent were skeptical and 65 percent expressed at least some skepticism that he has a vision for France's future.
The most damning figures paint a vision of Macron in sync with the moniker many of his detractors have eagerly placed on him—President of the Rich. An overwhelming 78 percent disagreed that Macron was in close touch with the concerns of French people and 58 percent cast much or at least some doubt over how good his economic policy is.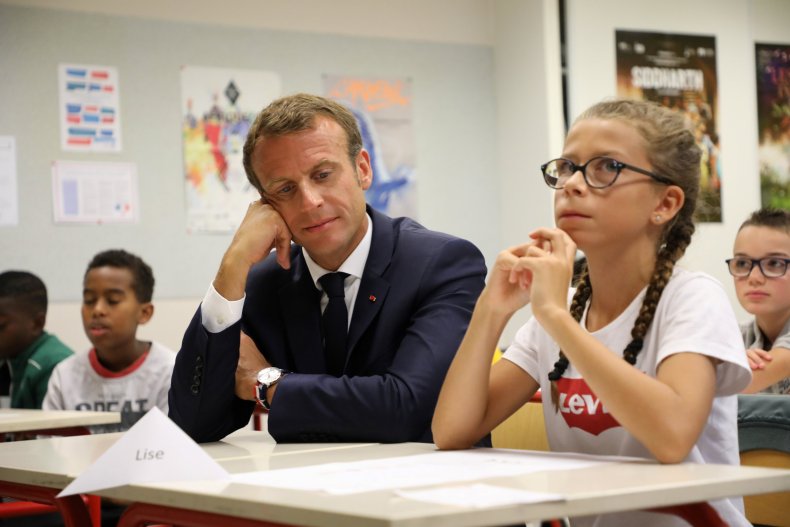 Macron's handling of the so-called Benalla affair, which implicated his guard in violence against a protester as well as his staff, which is accused of covering the incident up, has been damaging this summer. But even before the incident, his first year in office contained considerable friction.
Macron has pledged to make it easier to hire and fire workers, shake up the 5.4 million strong public sector with job cuts and address broken conventions such as moving the historic Elysee press room to another building or foregoing the traditional Bastille Day press conference.