Macy Gray Faces Angry Backlash Over Attack on 'Dated, Divisive' U.S. Flag
Grammy-award winning singer Macy Gray has sparked a lively social media reaction after she called for a new American flag which "represents all states and us."
In an op-ed for MarketWatch, she said that the riots at the U.S. Capitol on January 6 brought into focus the symbolism of the flag unfurled by protesters who ended up storming "the nation's most precious hut."
She wrote how on that day, the stars and stripes, which replaced the Confederate battle flag, had been "hijacked as code for a specific belief," and that it was "time for a reset."
"Like the Confederate, it is tattered, dated, divisive, and incorrect," she said, "it no longer represents democracy and freedom.
"It no longer represents ALL of us. It's not fair to be forced to honor it. It's time for a new flag."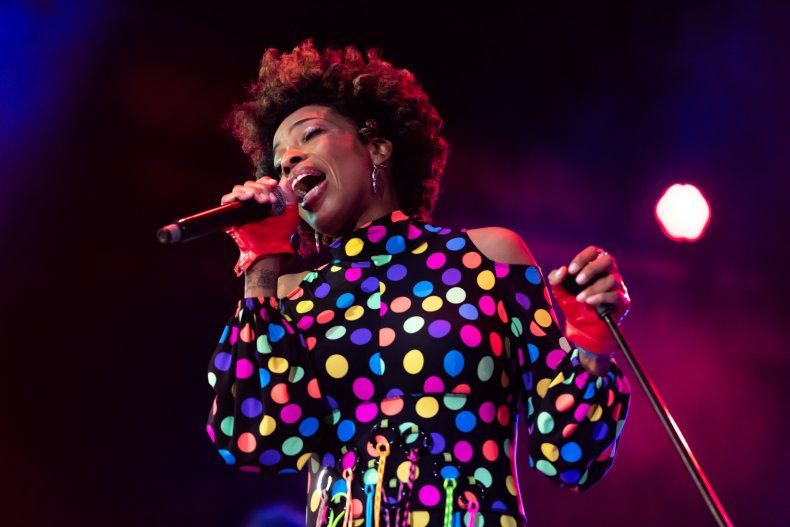 She said that there should be an extra two stars on Old Glory, to represent Washington, DC, and Puerto Rico which have unsuccessfully lobbied for statehood.
Then, referring to how the flag's white stripes "represent purity and innocence," she wrote, "America is great. It is beautiful. Pure, it ain't. It is broken and in pieces."
In offering an image of her own version of the ensign, she said, "What if the stripes were OFF-white?" and suggested that the stars be the colors of "all of us—your skin tone and mine — like the melanin scale."
"We have changed and it's time for a reset, a transformation. One that represents all states and all of us," she added.
However, some begged to differ, such as Jenna Ellis, a former attorney for ex-President Donald Trump. She tweeted: "I don't like to brag, but we're kinda proud of that ragged old flag."
Republican House candidate Lavern Spicer wrote: "@MacyGraysLife had one hit song about 20 years ago and hasn't done anything since. Now she wants to come out from the dark and say that she hates our flag. Your world would crumble if you weren't in America."
John Botti wrote: "I don't care what color you are Macy Gray but a lot of PEOPLE put their life on the line and died for what that flag represents," while another user tweeted: "I will take our current Stars and Stripes over this one hit wonder any day."
Although she did have some support, with one user tweeting: "I'm kinda with Macy Gray. The flag has turned into a hate symbol. When I see one around town now, I instantly think that person is a racist. I don't see Dems flying the flag around here."
Meanwhile, Brittany Jean Louise tweeted: "To everyone trying to cancel Macy Gray right now over her opinion of the American flag-Did you have anything to say about Trump supporters beating cops with their American flags on January 6th?"