Macy's Thanksgiving Day Parade 2022 Date, Route and Schedule
The Macy's Thanksgiving Day Parade is right around the corner and it promises to be a spectacular show of pageantry and fun.
Macy's says its 96th parade will be "bigger and better." It will start 15 minutes earlier than normal, kicking off at 8.45 a.m. rather than the usual 9 a.m. start time.
Seven new balloons and five new floats will appear in the parade, which begins in New York City at 77th Street and Central Park West.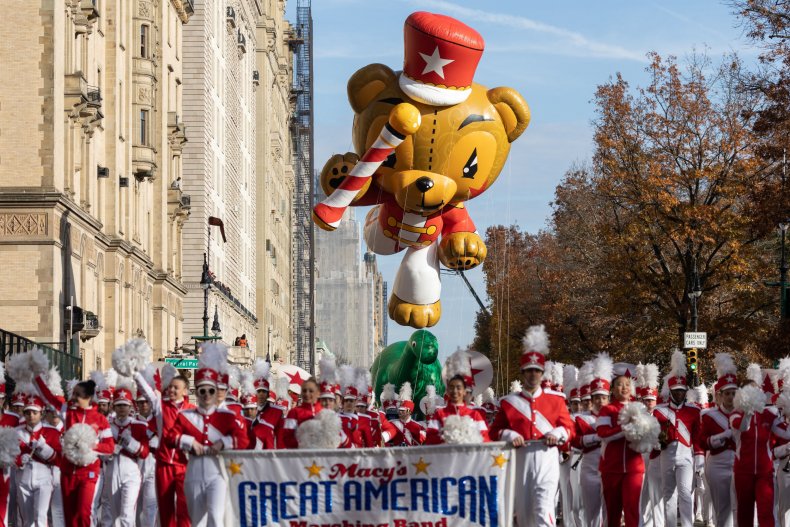 Some of the new faces at the parade will include popular animated dog Bluey, and Baby Shark turning up on a giant float.
The Thanksgiving tradition started in 1924 and it sees a parade of floats, bands, balloons and famous faces walk along the streets of Manhattan, performing for about three hours.
Thanksgiving falls on Thursday, November 24, this year, with the parade running from 8.45 a.m. to noon, local time.
2022 Macy's Thanksgiving Parade Route
The 2.5 mile route starts at 77th Street and Central Park West, where it will then travel down to Columbus Circle before turning onto Central Park South.
Once the parade hits 6th Avenue it will turn south and march down 6th Avenue until 34th Street, where it will make its final turn toward Macy's Herald Square and end at 7th Avenue.
How to Watch 2022 Macy's Thanksgiving Parade
Tune into NBC from 9 a.m. to 12 p.m. in all time zones to watch the parade. It will also stream on NBC's streaming platform, Peacock.
People wanting to watch the parade live on the streets of New York are recommended to get there early.
Macy's suggested not to watch on 77th Street and Central Park West or 6th Avenue between 34th and 38th Streets, or in front of Macy's Herald Square because of limited space. There is also no public viewing on Central Park West between West 59th and West 60th Streets.
There will be no grandstand seating.
The following items are prohibited: umbrellas, backpacks, large bags, chairs, alcoholic beverages, drones and e-cigarettes.
Spectators with special needs are required to call YAI National Institute at 212-273-6181 or visit the website at yai.org for more information.
2022 Macy's Thanksgiving Entertainers and Performers
Some very big names will appear on floats during the parade, including Paula Abdul, Gloria Estefan, Jimmy Fallon & The Roots, Kirk Franklin; Mario Lopez and Ziggy Marley.
Other famous faces to look out for include Miss America 2022 Emma
Broyles, the cast and Muppets of Sesame Street, Sean Paul, Adam
Devine, Sarah Hyland, Joss Stone, Jordin Sparks and Dionne Warwick.
The one-and-only Santa Claus will make an extra special appearance.
The first hour of the national broadcasts on NBC and Peacock features
performances from Broadway's best shows, including an opening number from Lea Michele and the cast of Funny Girl.