I Played Mouse and Keyboard 'Madden 19' and All I Got Was This Lousy Article
EA delivered more than a few surprises during EA Play 2018. We got a super casual Vince Zampella giving us our first bit of info on Star Wars Jedi: Fallen Order , a sudden reveal/release combo for Unravel Two and, finally, a PC port of Madden - the first in 11 years. During the hands-on session afterwards I got a chance to demo the new Madden and rather than add to the litany of hands-ons about how we more or less expect it to play, I dove into uncharted yardage. I played Madden with a mouse and keyboard. How'd it go? I'll let the stats do the talking. (FYI I played 3-minute quarters on Pro with an Ultimate Legends roster.)
I rushed for six yards on two carries. With the Legends version of Barry Sanders. I fared slightly better as Steve Young getting 55 yards, including an INT, to targets like Jerry Rice, Randy Moss and Shannon Sharpe. I went 0-4 on third down. I won the game with a 58-yard field goal in OT. I put up three points. On Pro.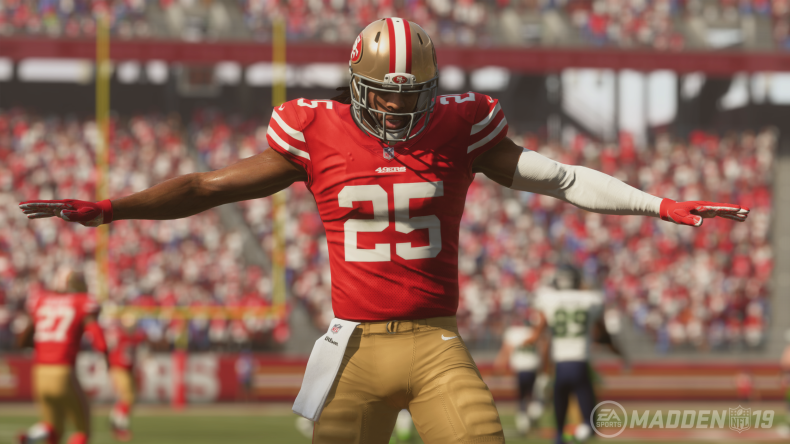 An offensive explosion it was not. Madden for PC offers a rather unconventional mouse and keyboard setup. You control player direction by moving the mouse which is … not intuitive. Running in particular suffers from the tactile absence of a thumbstick's implied forward momentum (as evidenced by my whopping 3 yards of rushing.) Your instincts reallllly want you using WASD but you're not.
Passing went far better, once you get used to how Madden maps receivers. And if you're serious enough to have a programmable gaming mouse you could make it even easier on yourself. But it's got a distinct lack of feel, and so far there have been no details on how the game will respond to keystroke button presses (i.e. holding for harder throws). Also the startled button-mashing that normally defines my Madden play isn't as graceful on a mouse and keyboard. It feels like this:
Defense was far easier since you can let the AI do the legwork after you select decent plays. But even navigating the UI with keystroke commands seemed incomplete, as it didn't update the menu layouts. So certain selections would say "Press [Controller Button]" and you'd have to click with the mouse instead. It may not sound like a big deal but the relentless pressure of the play clock makes the constant second-guessing feel costly.
Yes, I know we all understand that the overwhelming majority of Madden PC players will plug in a controller. For better or worse it was actually really fun to play a sloppy game of Madden with controls I didn't fully understand. The sacrosanct Madden controller layout is something you'd never expect to change. Doing something different felt cool, even if it was a bit of a headache. But I hope there's more than a few PC fanatics out there who apply the same mouse and keyboard purity standards found in shooters and we see some competitive champs emerge who dare to defy convention.
Madden NFL 19 release August 10 for PC, PS4 and Xbox One. You can find the minimum specs for the game here.