'Madden 21' Teams Up With Nickelodeon to Bring New SpongeBob Update to the Yard
If you saw that weird SpongeBob SquarePants teaser from the official Madden social media accounts this week and were puzzled, well, we now know what it's about. It's hyping a new update to the sports franchise's popular arcade-style mode, The Yard.
Starting January 7, Madden 21 players will be able to compete in a brand new field based on the popular Nickelodeon animated series SpongeBob SquarePants.
Players will be able to:
Compete in three challenges in the all-new SpongeBob Reef-top field in The Yard
Earn and unlock free Nickelodeon inspired content
Earn and unlock gear capsules inspired by SpongeBob SquarePants himself
While this first week with the update will see gear inspired by SpongeBob, in the coming weeks, players can expect to also earn and unlock gear capsules inspired by Patrick Star, Squidward Tentacles, Sandy Cheeks, Mr. Krabs and Plankton.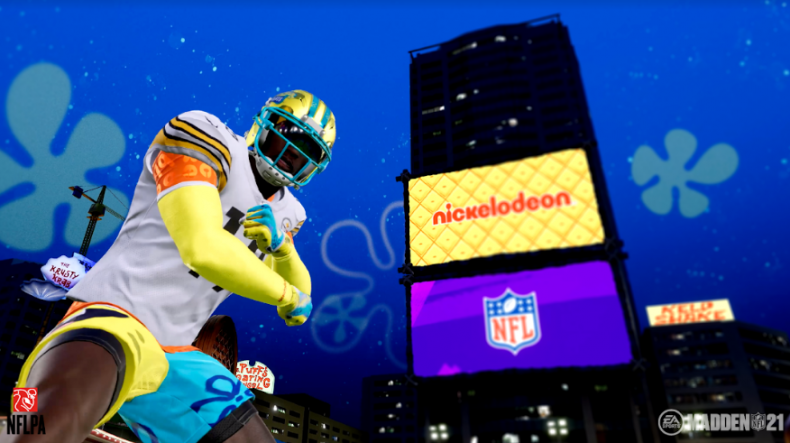 If you're asking yourself, "Why is Madden collaborating with SpongeBob SquarePants?" It's because one of this weekend's NFL Wild Card games will be broadcast on Nickelodeon.
This Sunday, January 10, at 4:40 p.m. EST, fans can watch the Chicago Bears travel to New Orleans to take on the Saints in a special broadcast on Nickelodeon. The broadcast will also be on CBS and Amazon. Play-by-play announcer Noah Eagle will be joined in the booth by CBS Sports' analyst Nate Burleson and Nick star Gabrielle Nevaeh Green (All That, Nickelodeon's Unfiltered) to call the NFL Wild Card Game on Nickelodeon.
Nick star Lex Lumpkin (All That, Nickelodeon's Unfiltered) ­­­will serve as a reporter during the game. Nickelodeon's coverage begins with The SpongeBob SportsPants Countdown Special, a sports-themed compilation special at 4 p.m. EDT hosted by the Denver Broncos' Von Miller, highlighting SpongeBob's best sports moments.
The NFL Wild Card Game on Nickelodeon will also include a special halftime sneak peek of Kamp Koral: SpongeBob's Under Years, which follows 10-year-old SpongeBob SquarePants and his pals as they spend their summer at Kamp Koral.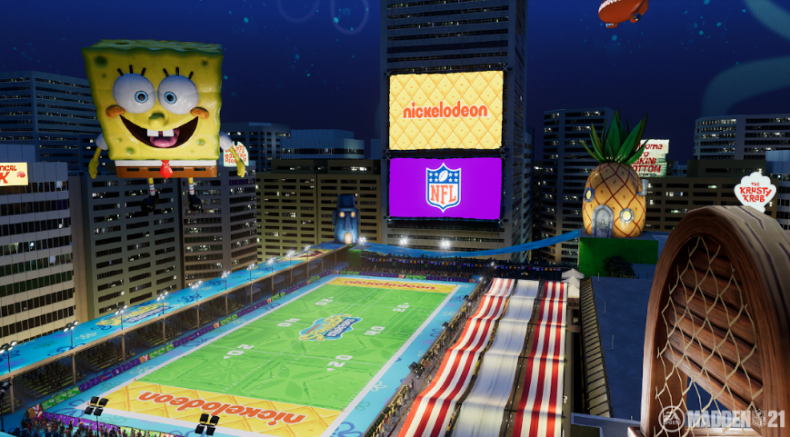 The SpongeBob SquarePants collaboration isn't the only Madden 21-related news this week. EA recently revealed the details of its second planned update to its Franchise mode, which includes better CPU choices in the draft and refined commissioner tools. You can read about all the upcoming changes, and a tease of Madden's third planned Franchise mode update, here.
The Yard mode is one of the newest additions to the Madden franchise, since it debuted with 2020's installment. This arcade-style, 6-vs.-6 backyard football mode allows for players to play alongside friends with more freedom and style.
Like other live services, The Yard in Madden 21 will have seasons with new updates and ways to customize your team and players. It'll use a new type of in-game currency called "Creds," which players can earn by completing objectives and events. Creds can be used to purchase new gear and much more.
What do you think of the Madden and Nickelodeon collaboration? Let us know in the comments section.