Madeleine Albright: Putin 'Knows How to Play' Trump
Former Secretary of State Madeleine Albright said she's worried after President Donald Trump's press conference with Vladimir Putin because the Russian president "knows how to play him."
Albright said in an interview with CNN Thursday that Putin "played a weak hand very well" following his meeting with Trump. The two presidents had a closed-door meeting Monday before holding a press conference in which Trump appeared to take Putin's word over the assertion of U.S. intelligence agencies that Russia interfered in the 2016 election.
"He is tough and smart, and, frankly, he has played a weak hand very well," Albright said of Putin, whom she has met.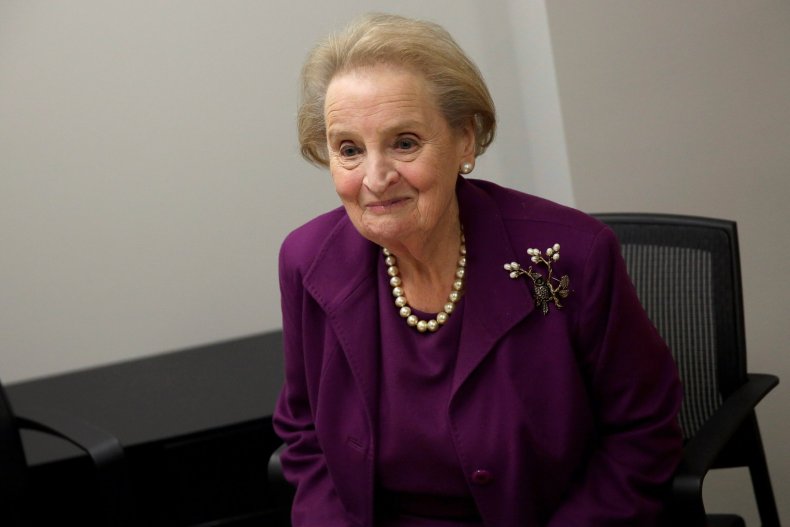 "President Trump has been a gift in terms of following out what I think is Putin's plan, which is to separate us from our allies and make it more difficult for America to be the leader of the free world," she added.
Asked if Albright believed Russia had some kind of hold or information on the president, which some have suggested following the press conference, Albright replied, "I have no idea, but I do think that he knows how to play him."
"There is this kind of flattery business," she said. "I find it so peculiar having been in meetings with an American president, President Clinton, and how you can get along. He got along with [former Russian President] Boris Yeltsin, but [was] pretty tough when things came to having to tell it like it is. And because we have no idea what went on in that very long, almost two-hour, meeting, that's what I'm really worried about at this point," Albright added.
Trump suggested during the press conference that he had no reason not to believe Putin's denials of election interference. "They say it's Russia. I have President Putin. He just said it's not Russia," Trump told reporters. "I will say this: I don't see any reason why it would be."
Trump added, "I have great confidence in my intelligence people, but I will tell you that President Putin was extremely strong and powerful in his denial today." He later backpedaled, stating he had simply used the wrong word—instead intending to say he didn't see any reason why it wouldn't be.
His comments prompted criticism from Democrats, a number of Republicans and even some typically pro-Trump media outlets.
"Am I worried? I am definitely worried. I used to say I'm an optimist who worried a lot, I am worrying more," Albright said.