Madison Cawthorn Excludes Some MAGA Allies Off His 'Patriots' List
After conceding the race to state Senator Chuck Edwards in the North Carolina GOP primary this week, Representative Madison Cawthorn took to social media to thank a number of conservatives, However, the list of what he deemed "America First Patriots" left off some prominent conservative names.
Cawthorn on Wednesday posted a list of MAGA allies who he thanked for supporting him. Those on the list, who Cawthorn referred to as "honorable men and women", included
"The time for genteel politics as usual has come to an end. It's time for the rise of the new right, it's time for Dark MAGA to truly take command. We have an enemy to defeat, but we will never be able to defeat them until we defeat the cowardly and weak members of our own party. Their days are numbered. We are coming," he said on social media.
However, Cawthorn excluded some of his supporters and fellow Trump allies from that list for unknown reasons, including author and conservative pundit Candace Owens and Republican Representative Lauren Boebert, even though all three of them share similar views on some issues.
For instance, Cawthorn and Owens agreed earlier this year that the former president shouldn't have endorsed Morgan Ortagus, a former State Department spokesperson, for the Republican primary in Tennessee, instead of Robby Starbuck who was running as a pro-MAGA Republican, according to a January report from Salon.
"I endorsed [Starbuck] months ago and I stand by my endorsement," tweeted Cawthorn at the time, while Owens said "Nope. Trump has this completely wrong," adding that Starbuck was the "correct pick."
Cawthorn holds views on gun-related legislation that are similar to that of Boebert, who touts herself as a gun-rights activist. They both defended the Second Amendment with Cawthorn previously calling for loosening gun-purchasing restrictions.
"We need to absolutely lessen a lot of the restrictions we have on our Second Amendment rights in this country. We need to make it easier for law-abiding citizens to be able to acquire firearms. We need to make it easier for them to carry those firearms," he said, ABC 13 News reported last year.
Similarly, Boebert voted against two gun control bills introduced by Democrats last year.
"The Second Amendment is not open for debate. Why do Democrats feel that this is the one enumerated Constitutional right that they can trample? Why do they build a fence surrounding the Capitol but strip away the right for Americans to protect themselves? Democrats don't respect Americans' rights because they don't care about the people—they only care about the swamp," she said in a statement at the time.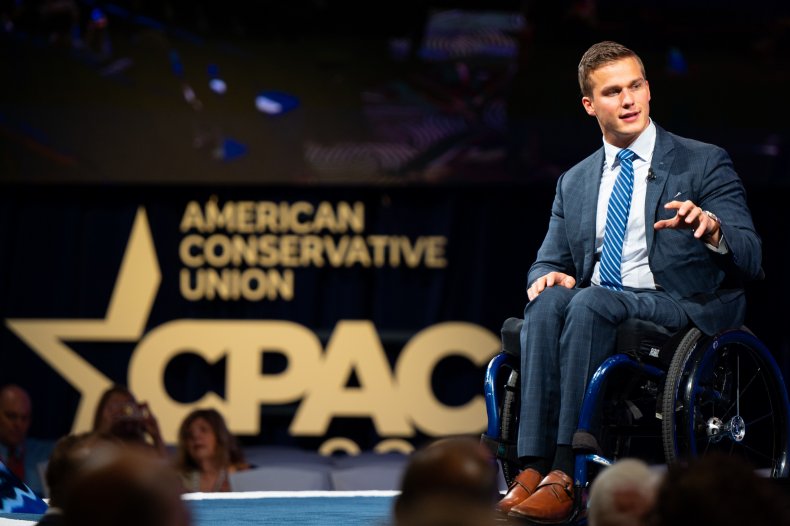 With an estimated 94 percent of votes in for the 11th Congressional District in North Carolina, Cawthorn had 31 percent of the vote, while Edwards had 33 percent. Other candidates received less than 10 percent of the votes.
Cawthorn congratulated Edwards following the results, tweeting: "Congratulations to @ChuckEdwards4NC on securing the nomination tonight. It's time for the NC-11 GOP to rally behind the Republican ticket to defeat the Democrats' nominee this November."
Newsweek reached out to Madison Cawthorn's media representative for comments.