A former Republican Senate candidate said that GOP leaders in Congress are angry with Representative Madison Cawthorn, a North Carolina Republican, because he exposed their drug use and orgy parties.
In an interview with Warrior Poet Society that aired last week on Thursday, Cawthorn said that leaders he "looked up to" in the nation's capital invited him to an "orgy" and did a "key bump of cocaine" in front of him. He contended that the popular Netflix show House of Cards—which presents the fictional story of a corrupt political couple in Washington, D.C.—is largely accurate.
House Minority Leader Kevin McCarthy, a California Republican, then this week spoke with Cawthorn, 26, about the remarks following backlash from fellow GOP lawmakers. McCarthy later told reporters that Cawthorn changed his story in their meeting, asserting that "he did not tell the truth."
Some Republicans do not believe McCarthy, however. Lauren Witzke, who unsuccessfully ran for Senate in Delaware in the 2020 election, agreed during an interview with The Stew Peters Show that Cawthorn should be praised for speaking out about what goes on in Washington, D.C.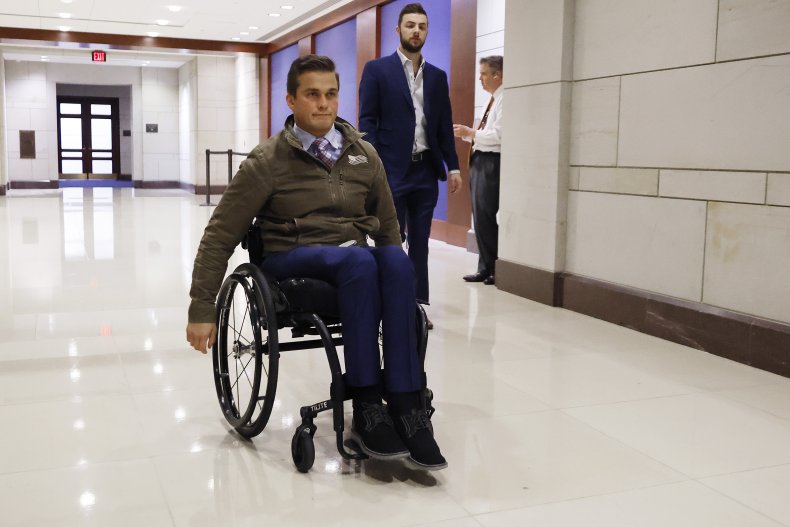 "When we hear congressmen like Congressman Cawthorn speak out in this manner, we have to applaud them," co-host Edward Szall claimed. "We have to stand with them because what he's doing is he's showing us behind the scenes. He's showing us behind the curtain. The emperor's not just naked, the emperor's having sex with a kid. OK?"
"Yes," Witzke responded. "And not only that, now [House Minority Leader Kevin] McCarthy's getting involved. He heard about it. It sparked some outrage. It's upset some people in the GOP that Madison Cawthorn would have the audacity to expose them for the orgy-attending, drug-sniffing, children-raping people that they are."
Notably, Cawthorn in his interview with Warrior Poet Society did not accuse anyone of raping children. He also did not specify who allegedly invited him to an orgy or who he observed doing cocaine. McCarthy insisted that Cawthorn admitted that his claims were exaggerated.
"He's lost my trust [and] is gonna have to earn it back," the GOP House minority leader told journalists on Wednesday, Axios first reported.
"This is unacceptable. There's no evidence to this," the top House Republican continued, saying there "very well could be" further action taken against Cawthorn. "He did not tell the truth...that's unacceptable," McCarthy said
Shortly later, Roger Stone, a prominent ally of former President Donald Trump, accused McCarthy of lying in a post shared to his Telegram channel.
"Congressman Madison Cawthorn just told me that he has NOT retracted his claims about sex fueled orgies among DC elites. Why would anyone believe anything said by RINO Kevin McCarthy or repeated by CNN?" Stone wrote.
Stone later reiterated the same claim in an interview with InfoWars. "I can tell you firsthand that these parties happen. I can tell you that they continue to happen. I can tell you that Madison Cawthorn told me yesterday that he had not retracted what he said," the Trump ally said.
Pro-Trump Arizona GOP Senate Candidate Wendy Rogers also threw her support behind Cawthorn's remarks. "Let Madison Cawthorn speak! the people deserve to know the truth about what goes on in DC!" Rogers tweeted on Wednesday.
Newsweek reached out to Cawthorn's spokesperson and McCarthy's spokesperson for comment.
In a Thursday tweet, Cawthorn wrote: "The radical left, the establishment, and the media want to take me down. Their attacks have been relentless. I won't stop fighting. I won't bow to the mob. They want to silence the America First movement. I'm not going anywhere."