Madison Cawthorn 'Has Not Retracted' Orgy Claims: Trump Ally Roger Stone
Roger Stone, a prominent ally of former President Donald Trump, insisted that North Carolina Republican Congressman Madison Cawthorn "has not retracted" his claim that he's been invited to orgies by prominent people in Washington, D.C.
In an interview with Warrior Poet Society that aired last Thursday, Cawthorn said that leaders he "looked up to" in the nation's capital invited him to an "orgy" and did cocaine in front of him. He contended that the popular Netflix show House of Cards—which presents the fictional story of a corrupt political power couple in Washington, D.C.—is largely accurate.
On Wednesday, House Minority Leader Kevin McCarthy, a California Republican, spoke with Cawthorn, 26, about the controversial remarks following backlash from fellow GOP lawmakers. McCarthy said that Cawthorn in their meeting changed his story and said "he did not tell the truth," Axios reported.
Stone, however, said that Cawthorn told him this was not what happened.
"Congressman Madison Cawthorn just told me that he has NOT retracted his claims about sex fueled orgies among DC elites. Why would anyone believe anything said by RINO Kevin McCarthy or repeated by CNN? Nothing reported by CNN is accurate or true!" Stone wrote in a post on his Telegram channel early Wednesday evening (RINO is an acronym that means "Republican in name only").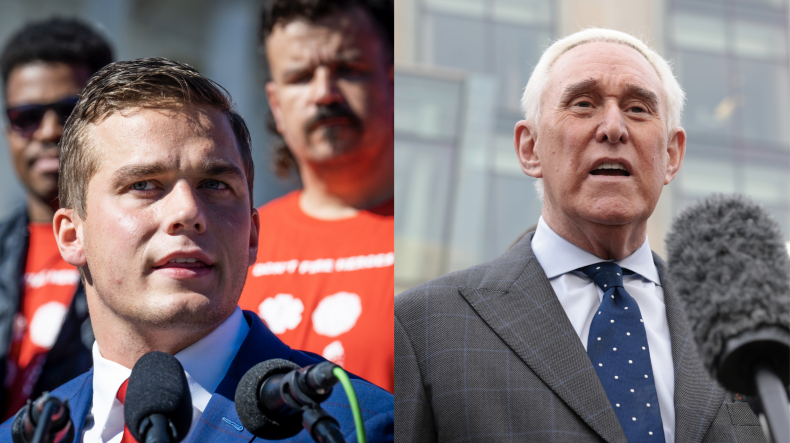 Newsweek reached out to Cawthorn's and McCarthy's spokespeople for comment but did not immediately receive responses on Thursday morning.
During the recent Warrior Poet Society interview, host John Lovell asked Cawthorn whether House of Cards was an accurate representation of how things work in Washington, D.C.
"I heard a former president that we had in the '90s was asked a question about this. And he gave an answer that I thought was so true. He said that the only thing not accurate in that show—that you could never get a piece of legislation about education passed that quickly," Cawthorn responded.
The North Carolina Republican went on to share anecdotes about interactions he has had since he first came to Congress last year.
"The sexual perversion that goes on in Washington, I mean, being kind of a young guy in Washington, average age is probably 60 or 70," Cawthorn said, "I look at a lot of these people, a lot of them that I've looked up to through my life—I've always paid attention to politics—then all of a sudden you get invited to, 'Oh hey we're going to have a sexual get-together at one of our homes, you should come.'"
The congressman then put on a shocked expression, saying his response was, "'What did you just ask me to come to?' And then you realize they're asking you to come to an orgy."
Cawthorn additionally claimed that "some of the people who are leading on the movement to try and remove addiction in our county" have done "a key bump of cocaine" right in front of him.
Fellow Republican lawmakers expressed outrage over the remarks, leading McCarthy to meet directly with Cawthorn this week.
"He's lost my trust [and] is gonna have to earn it back," McCarthy told journalists on Wednesday, Axios first reported.
"This is unacceptable. There's no evidence to this," the top House Republican continued, saying there "very well could be" further action taken against Cawthorn.
"He did not tell the truth ... that's unacceptable," McCarthy said.
Cawthorn's reference to a former president's perspective on House of Cards appears to be about a 2015 interview that the show's star, actor Kevin Spacey, did with Gotham Magazine. Spacey said that former President Bill Clinton, a Democrat, told him the show was largely accurate.
"Kevin, 99 percent of what you do on that show is real. The 1 percent you get wrong is you could never get an education bill passed that fast," Clinton told the actor, according to his comments to the magazine.
The controversy over Cawthorn's "orgy" remarks came after he also drew backlash from Republicans this month after he described Ukrainian President Volodymyr Zelensky as "a thug" and his government as "incredibly evil" amid the ongoing Russian invasion of the country. McCarthy spoke with Cawthorn about those comments as well, telling reporters, "Madison is wrong ... If there's any thug in this world it's [Russian President Vladimir] Putin."