Madison Cawthorn 'Upset' Republican Colleagues With Wild Accusations
Freshman congressman Madison Cawthorn has reportedly "upset" among many of his Republican colleagues after the North Carolina Republican claimed that he's been invited to orgies by Washington politicians and that some of them have even done cocaine in front of him.
House Minority Leader Kevin McCarthy promised to talk to Cawthorn over his remarks after multiple House Republicans stood up to express their concerns over those comments, saying they didn't think they were appropriate or didn't believe his accusations, according to Politico's Olivia Beavers.
Beavers reported that Representative Steve Womack was among those who spoke out and that the Arkansas Republican told the caucus he has received questions from his constituents about the allegations.
Last week, during an appearance on the Warrior Poet Society podcast, Cawthorn claimed that the Netflix drama House of Cards was an accurate portrayal of Washington's elite.
"I look at all these people, a lot of them that I've looked up to through my life, I've always paid attention to politics," the congressman said. "Then all of the sudden you get invited to, 'Well hey, we're going to have kind of a sexual get-together at one of our homes, you should come.' I'm like, 'What did you just ask me to come to?' And then you realize they are asking you to come to an orgy."
"Or the fact that, you know, there are some of the people that are leading on the movement to try and remove, you know, addiction in our country and then you watch them do a key bump of cocaine right in front of you," he added.
Cawthorn was reportedly not in attendance at Tuesday's meeting when several of his colleagues spoke out against his remarks.
CNN's Melanie Zanona confirmed Beavers' report, adding that House Republicans said Cawthorn needs to name names if his accusations are true.
Asked about Cawthorn, Senator Richard Burr of North Carolina told CNN's Manu Raju that the 26-year-old has "been an embarrassment at times" to the Republican party.
"That's for his constituents to figure out but clearly he's been an embarrassment at times," Burr said on Tuesday.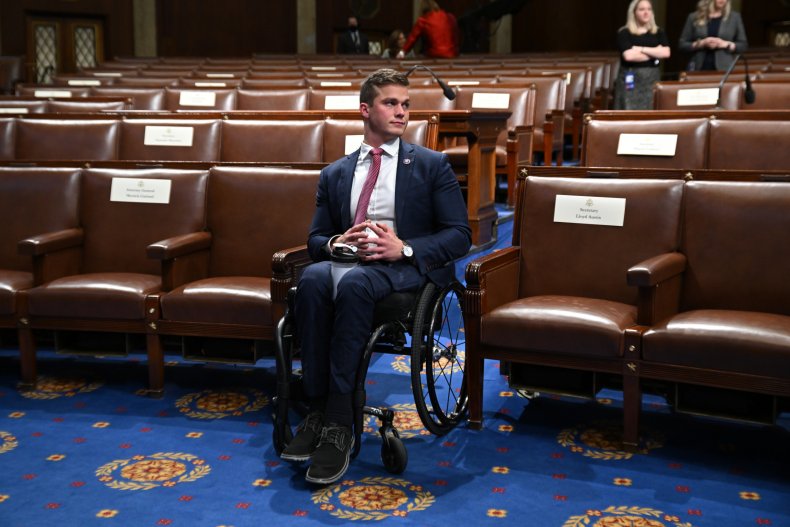 Earlier this month, Cawthorn faced pushback from his own party for his comments about Ukrainian President Volodymyr Zelensky, who the congressman referred to as a "thug."
"Remember that Zelensky is a thug," Cawthorn said in a video obtained by WRAL News. "Remember that the Ukrainian government is incredibly corrupt and is incredibly evil and has been pushing woke ideologies."
While McCarthy criticized those comments, saying "Madison is wrong. If there's any thug in this world, it's Putin," the GOP leader said he would still support Cawthorn's re-election in North Carolina's westernmost district.
Newsweek reached out to Cawthorn for comment but did not hear back before publication.