'House of Cards': Michael Kelly on Playing Doug Stamper, the Trump Effect
President Frank Underwood (Kevin Spacey) may be the face of House of Cards, but his ruthless, unerringly loyal chief of staff, Doug Stamper, is its soul. Played by Michael Kelly, Stamper has been doing Underwood's dirty work since the show began, when his boss was merely a congressman. Now, five seasons later, Underwood is in the midst of a campaign to retain his place in the White House, and Stamper as always is cold, calculating and willing to do whatever it takes—morality and legality be damned—to ensure Underwood is successful.
Related: Influence of Trump apparent in new 'House of Cards' trailer
Though Stamper is still Stamper, House of Cards finds itself in an interesting place as it embarks on its first season without creator and showrunner Beau Willimon. America's real-life political landscape is far stranger than anything a TV writer could have ever imagined, and fans will inevitably view the show through the lens of the Trump administration. The trailer for Season 5, which has its premiere May 30 on Netflix, seems to play directly off of Trump's rise to power, but according to Kelly, this wasn't the case at all; the show's writers are just that prescient when it comes to the direction of American politics. "They knew two or three seasons ago that this season was going to be the election," he told Newsweek. "It was so surreal."
In addition to the writers' political acumen, we spoke with Kelly about what it takes to play Doug Stamper, being a Netflix pioneer and the role the show will play for fans who are beaten down by the media's coverage of Trump.
So when did you shoot Season 5?
I want to say we finished in early February. Typically we finish before Christmas, but this year we started later.
Did the delay have anything to do with Trump?
We've never been a tear-from-the-headlines show. Yes, we were filming an election show while the election was happening, but it was certainly not planned for that reason. If anything, we would have wanted to do it before or after. It was such a surreal experience to be doing that. It had more to do with [series creator] Beau Willimon's departure and signing Frank [Pugliese] and Melissa [James Gibson] on for that period of time. It was just a changing of the guard and there had to be some adjustments made. It had everything to do with that and not with the election. We have never been one to be influenced by what is happening in real life. Every year, inevitably, something we do does happen or is close to what happens in the real world, but the writers write the show so far ahead of when you actually see it. When we started shooting last summer, none of that stuff was happening.
There is a lot of stuff in the new season that echoes what has happened with Trump, though. Frank is looking out of the White House at protesters holding up "Not My President" signs.
If you think about it, Frank Underwood did not change this season. Frank Underwood has been Frank Underwood from the get-go. In Season 3 there was an exploration about him failing, but he was always this Machiavellian man who played only by his rules and had absolute disregard for the way things are normally done. I'd say, if anything, the current administration stole from us rather than us taking from that. One could argue that [Trump] plays more into Frank's ways.
I know that Frank Underwood killed someone and I'd rather have him as my president. I would feel safer.
Is it a weird experience knowing that people are going to be watching the new season through the lens of what's currently happening with the Trump administration?
There are a million reasons why I would rather have Hillary Clinton as president, and that certainly is one of them. The majority of the country did not expect Donald Trump to be president. It's not something we even thought about until after the election, when we were like, 'Oh my gosh, he's really the president of the United States.' The last episode was written when he was elected, probably. We've never been one to play to an audience or to what people want or expect. We just want to make the best show we can possibly make.
Now that he is president, the thought process for me is that it will be a great escape for the audience to go and pretend to be bad. It's not real life. It's a drama. It's fun. No one is really getting hurt, because it's make-believe.
It will be interesting to see how fans who have been drowning in Trump coverage experience the show this season.
I think a lot of people are going to think that as bad as Frank is, that he would be a better alternative at the moment. I know that Frank Underwood killed someone and I'd rather have him as my president. I would feel safer.
One thing that struck me about the new season is how it gives a glimpse, through Frank, of what Trump might be able to accomplish if he had a measure of political savvy in addition to being ruthless and amoral.
And calculated. And planned. Even when he's thrown a curve ball, he dissects it, he thinks about it and he comes up with a plan. It's a drama, it's easy to think about things for months before you write it. Donald Trump doesn't have that same ability. He has to react on the spot (and he reacts too quickly, sometimes, in my eyes). But that's just where we are now. It's the way things are. Hopefully people will use House of Cards as some sort of escape from the real-life politics.
What's been the biggest difference in making the show without Beau Willimon?
The biggest thing for me was the loss of that friend and companion that I was with every day. I think that MRC and Netflix did an incredibly great job of promoting Frank and Melissa from where they were to take over Beau's role. In my opinion, it had to be someone who had the voice of the characters and the voice of the show in their head already. But Beau's a genius. Beau's work ethic is unprecedented. No one that I know works like that. Beau comes to start the season every year and he looks one way and by the end of the season he looks like total hell. He gives his whole being to that show. He has a tireless work ethic. Beau would be there all day—Frank and Melissa would, as well—and then we would go to dinner, meet at the James Joyce Pub, and then he would go and continue to write. He'd probably sleep three or four hours and wake up and come to the set. It's incredible.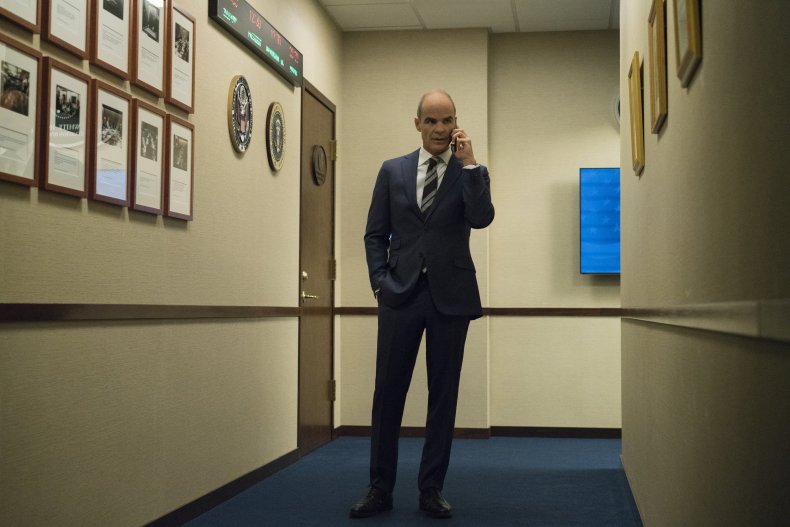 Stamper doesn't exactly display a lot of emotion in the show. He seems pretty one-note. What's the biggest challenge in playing him?
It's layering him so he doesn't come across as one-note. I try to really do so much work prior to coming to work. Even if it seems like I don't say anything, I know exactly how I feel about every person in that room, exactly how I feel about what's being discussed in every single scene. I don't look at a scene and say, 'I'm not talking, I don't have to work on that one.' Layering him so that when he's not saying something, or when he's saying very little, which is so often the case, that there's actually more going on with that character. I try to convey that without speaking. It's difficult, but it's a great challenge and one I love doing. It's the best job I've ever had.
A lot of people forget that House of Cards was Netflix's first original show and that at the time it was unheard of for an entire season to be released at once. You've been with the show since the beginning. What was your conception of this new model as they were pitching it to you and the cast. What has it been like to watch this become the norm over the past four years?
This was a time when Netflix was where you got your DVDs. They did have some streaming stuff up, but we were the first original content series for Netflix. Here we are four years later, and it's how a large part of the country is absorbing content. I'll never forget it. I was with Peter Friedlander and a couple of others from Netflix. We were sitting there and I was like, 'Wait, you're going to put all 13 episodes out in one day?' And they were like, 'Yeah.' And I was like, 'You don't want to do like seven and a month later do the other six?' And they were like, 'No, man, this is how people want to absorb content.' David Fincher showed me a couple of episodes and I was like, 'Oh, my God.' I knew when I read it it was incredible. I remember calling my manager and saying Fincher just showed me two episodes and I said, 'This is incredible. I don't know if anyone's ever going to see it, but it's incredible.' Cut to four years later and Netflix has changed the world, globally, with how people consume content. I feel so honored to have been a part of that beginning.