Freshman Madison Cawthorn Thinks GOP's Future Lies Between Dan Crenshaw and Matt Gaetz
As the Republican Party is faced with a critical decision as to how it will move forward from the Trump administration in the wake of the Capitol riot, one freshman GOP congressman thinks that two of his colleagues should pave the road ahead.
North Carolina Representative Madison Cawthorn, who was sworn in earlier this month and replaced Democrat Representative Alexandria-Ocasio Cortez as the youngest member in Congress, told Newsweek that the future of the Republican Party lies somewhere between Representatives Dan Crenshaw and Matt Gaetz.
"I think Dan Crenshaw is an incredible messenger. He is definitely able to present what [Republicans] believe in a succinct manner that makes sense to people and explain it in depth, but he's a little bit more centric than I am," Cawthorn said in a Thursday interview. "I believe Matt Gaetz is an incredible messenger as well. He's somebody who has a lot of these great ideas, but he's also kind of a firebrand."
"I think someone more in the center, a little more conservative than Congressman Crenshaw, but a little less bombastic than Congressman Gaetz," he continued. "I think that's probably the sweet spot for our party."
Gaetz, a vocal Trump loyalist, has become a controversial figure within the GOP.
In the wake of the storming of the Capitol, Gaetz was among a number of Republican officials who pushed unsubstantiated claims that the mob that attacked the congressional building last Wednesday were members of antifa and not Trump supporters.
On the House floor, Gaetz was booed by other members of Congress after said, "The left in America has incited far more political violence than the right," in reference to the racial justice protests that swept the nation last summer amid the death of George Floyd.
Crenshaw, on the other hand, has criticized fellow Republicans who helped instigate the events that unfolded on Capitol Hill last week.
"All of the members who called for everyone to come and fight and make their last stand, all of those members were scattered like cowards while the Capitol Police had to do the fighting," Crenshaw told Hearst Newspapers last Thursday.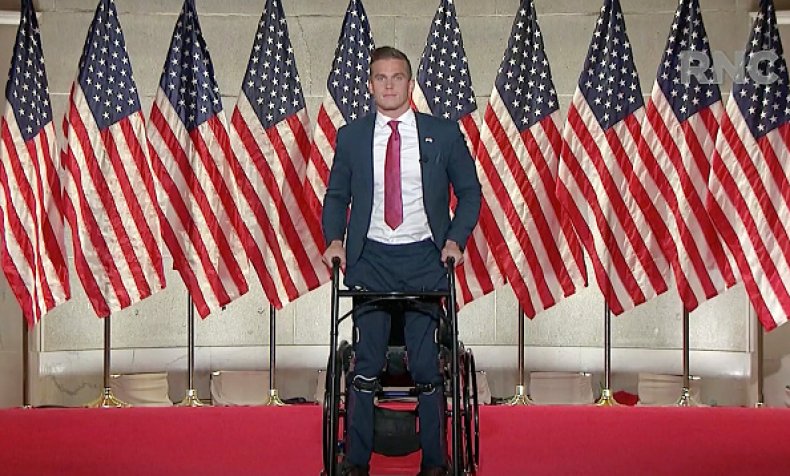 Cawthorn faced his own criticisms after some pointed to previous statements the freshman representative had made about challenging the results of the election.
Prior to the insurrection, the congressman tweeted: "January 6th is fast approaching, the future of this Republic hinges on the actions of a solitary few. Get ready, the fate of a nation rests on our shoulders, yours and mine. Let's show Washington that our backbones are made of steel and titanium. It's time to fight."
The Charlotte Observer also quoted Cawthorn as telling a crowd at a Turning Point USA Summit last month: "Call your congressman and feel free, you can lightly threaten them and say: 'You know what, if you don't start supporting election integrity, I'm coming after you. Madison Cawthorn is coming after you. Everybody's coming after you.'"
When asked about these comments, Cawthorn said they had been taken out of context, stating that he had been specifically discussing a primary challenge as opposed to a physical one.
"If you are planning on doing something like [partaking in the Capitol riot], then you are not a part of my party," he told Newsweek. "We want to forge a new Republican Party and move forward. If you're someone who participates in violence, then you're definitely not is a part of our party."
He added that while he doesn't think it's his responsibility to continue discouraging riots before next week's presidential inauguration, "every politician should be condemning violence on all fronts. Make people realize that hey, no Republican supports this, and obviously no Democrats do."
Since the January 6 riot, the House has voted to impeach Trump for a second time. Crawthorn, Crenshaw and Gaetz all voted against the article of impeachment during Wednesday's session.
Cawthorn told Newsweek that he voted on behalf of his North Carolinian constituents who are "against having an impeachment where there's really no fact finding or evidentiary revelation period."
He argued that impeaching Trump would "set a very dangerous precedent," which he believes would allow impeachments to "become a ceremonial thing that you're expected to do if you have the majority in Congress and you're against an opposing party's president."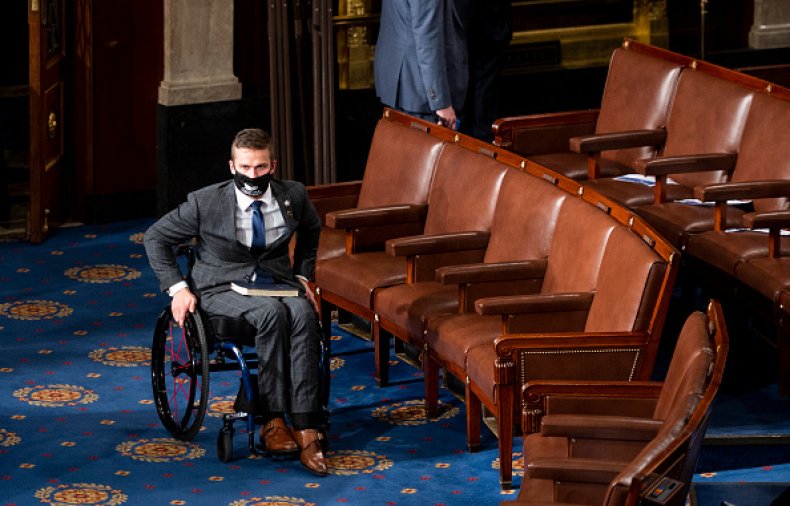 Republican Representative Marjorie Taylor Greene, another freshman in Cawthorn's congressional class, made headlines on Thursday after she told Newsmax that she is planning to file articles of impeachment against President-elect Joe Biden after he is inaugurated.
Cawthorn disagreed with his GOP colleague, saying that moving to impeach Biden on his first day in office is "not the correct course of action."
"I don't believe that's how we should be moving forward," he said. "There are parts of the Constitution that are supposed to be sacred. Obviously, impeaching a president that should be held as an absolute last resort not your first decision to make."
Cawthorn argued that the Republican Party needs to focus on bringing new ideas to the legislative chambers, rather than pitting themselves in stark opposition to the Democrats and shutting down their agenda.
"Right now it seems as though we're not a very intellectual party. It doesn't seem like we're innovative or really want to lead the way on many fronts, whereas I believe our ideas are the ones that work," he said.
The 25-year-old became the youngest person elected to Congress by any party in more than 50 years last November, after defeating Trump-backed Lynda Bennett in a political upset during the primaries.
Cawthorn succeeded White House Chief of Staff Mark Meadows as the representative for North Carolina's 11th congressional district.