New allegations that Rep. Madison Cawthorn has involved himself in an insider trading scheme have prompted calls for an investigation and have some asking what exactly is a "pump-and-dump" scheme?
The Washington Examiner published an exclusive story Tuesday stating the North Carolina congressman is involved in illegal insider trading using the "Let's Go Brandon" (LBGCoin) cryptocurrency, named after a phrase used to mock President Joe Biden.
On December 29th, 2021, Cawthorn posed for a photo with hedge fund manager James Koutoulas, who is the "ringleader" of the LGBCoin. After Koutoulas shared the photo on his Instagram account, Cawthorn commented on the photo to say, "LGB legends. ... Tomorrow we go to the moon!"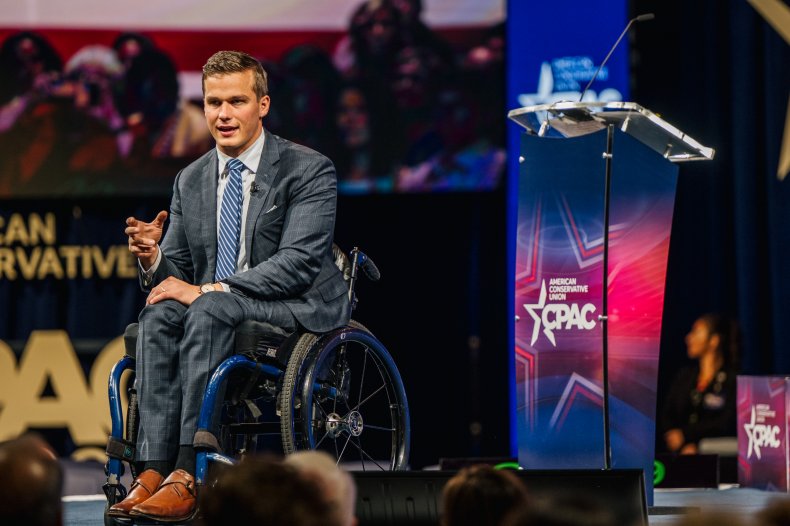 The following day, NASCAR driver Brandon Brown announced his partnership with the LGBCoin, which caused the coin's value to spike. The Examiner wrote that several watchdog groups believe Cawthorn may have known about the endorsement ahead of time and may have been involved in what's known as a "pump-and-dump" scheme.
When the coin's value dropped again in January, the Examiner reported, "unidentified insiders that owned an outsize share of the coin dumped all their holdings at once, causing the coin's market value to evaporate."
While the allegations of Cawthorn's involvement have yet to be proven or confirmed, the U.S. Securities and Exchange Commission (SEC) is aware of the kind of scheme Cawthorn is accused of participating in.
Pump and dump schemes involve "fraudsters" who "typically spread false or misleading information to create a buying frenzy that will 'pump' up the price of a stock and then 'dump' shares of the stock by selling their own shares at the inflated price," the SEC website said.
The SEC explained, "These schemes often occur on the Internet where it is common to see messages urging readers to buy a stock quickly. Often, the promoters will claim to have 'inside' information about a development that will be positive for the stock. After these fraudsters dump their shares and stop hyping the stock, the price typically falls, and investors lose their money."
Several people, including North Carolina Senator Thom Tillis, have called for a formal investigation into Cawthorn's potential involvement.
"Insider trading by a member of Congress is a serious betrayal of their oath," Tillis wrote on Twitter Wednesday morning, "and Congressman Cawthorn owes North Carolinians an explanation."
Craig Holman, a government affairs lobbyist for Public Citizen, one of the watchdog groups mentioned in the Examiner's report, told Newsweek, "If Cawthorn's public comments are truthful, then it would appear he has crossed the line into violating the law against insider trading."
"The real issue is whether Cawthorn did indeed buy or sell LGBCoin investments," Holman said. He went on to say that the North Carolina congressman hasn't reported any transactions either through Congress' STOCK Act, which requires notification of securities purchases within 45 days, or through required financial disclosure forms.
"As is widely known, Crawthorn's public statements may be fact or fiction. Whether such transactions occurred as Cawthorn publicly asserts, within the period of the company secret on Brown's endorsement and eventual repeal of the endorsement, is what an SEC investigation needs to determine," Holman added.
Cawthorn has publicly advocated for individuals to buy LGBCoin, including in a video posted by Koutoulas to Instagram on February 27, and said he also owns some of the cryptocurrency himself.
Cawthorn has been making headlines recently, found on Tuesday with a gun at the airport for the second time. He has also recently faced backlash for making comments about being invited to parties with other lawmakers, who he claims were involved in cocaine use and orgies.
Newsweek reached out to Madison Cawthorn's office and the SEC for comment.